We're Just Back: Brook's Family Trip to Egypt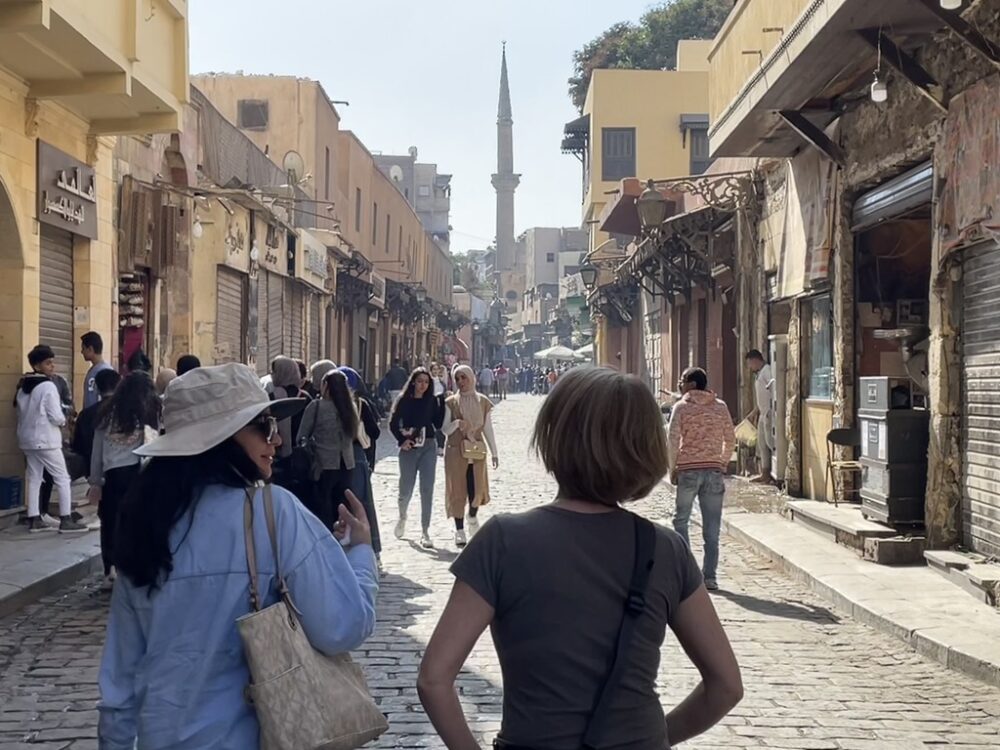 When you use our Trip Questionnaire to get a WOW trip, you start by articulating your trip goals and challenges. That's what Brook did when planning her kid-friendly adventure in Egypt. You can find the right Trip Questionnaire for you via The WOW List's CONTACT buttons.
---
My trip request:
Seeing the Pyramids had long been my son Zeke's dream. Egypt has been marked with a special pushpin on the world map in his bedroom since he was seven. When Zeke turned 11, we decided it was time to make his dream come true. We needed a kid-friendly itinerary for Egypt that hit all the highlights while avoiding the post-pandemic tourist crowds that afflict those iconic spots.
Biggest trip goals:
Goal #1: Make three-dimensional the ancient history Zeke had been learning about from textbooks.
Goal #2: Show him a slice of the country's contemporary life.
Biggest trip challenges:
People from all corners of the globe want to see the last remaining wonder of the ancient world, so Egypt's sights are notoriously crowded.
Challenge #1: Avoid the lines, crowds, and tour-bus gridlock.
Challenge #2: Make sure Zeke didn't miss too much school.
Challenge #3: Fill our days with enough physical activity to burn kid energy.
Getting there:
We were starting in San Francisco. We thought about connecting in New York (JFK) to the EgyptAir nonstop to Cairo, but decided against it because we were nervous about domestic flight delays possibly interfering with our connection to an international flight. Instead, we flew nonstop from San Francisco to Istanbul on Turkish Airlines, spent a restful six hours at the YOTEL hotel on the airside of the airport (no need to pass through security), then connected for a short flight to Cairo.
The basic itinerary:
We contacted Egypt specialist Jim Berkeley via The WOW List. He timed our trip for Thanksgiving week, so that Zeke would miss only four days of school. Jim designed our 10-day itinerary thus: two nights in Cairo, one night in Luxor, a four-night Nile cruise on a small dahabiya, two nights in Aswan, and two nights in Giza.
Challenges solved:
Jim handpicked private, English-speaking, special-access guides for us who knew how to get around many of the crowds. At Cairo's Egyptian Museum, for instance, our guide got us there as soon as the doors opened and made a beeline for the second-floor galleries containing King Tut's treasures, while most other visitors started on the first floor. At the Pyramids, she took the opposite route that most tours take—letting us have the Sphinx completely to ourselves. To me, the best local guides are people I could imagine striking up a friendship with if we lived in the same town. I never found the boundaries of our guide Reham's historical knowledge—indeed, she was studying for a master's degree between our forays around Cairo—but even more memorable than her book learning were our shared commiserations over raising pre-teens while juggling careers in travel, and the apparently worldwide phenomenon of helicopter parents trying to solve their kids' social quandaries.
Jim also found ways to add physical activity that would be fun for the whole family: We sandboarded down dunes in Aswan one day. We rode bikes early one morning from Luxor to the Valley of the Kings. (For safety, we were led by a motorbike and followed by our van, with a spontaneous police escort waving us through one intersection—but next time I'll remember to insist on helmets when planning to rent bikes abroad.)
Our food tour of Cairo involved not just eating, but also walking a few miles on bustling city streets to visit ten different stops, from a juice bar to a falafel stand to a homestyle joint where all the signage was in Arabic.
The highlight:
Our 4-night Nile cruise on a dahabiya. A dahabiya is a crewed sailing vessel that had won over even my boat-averse colleague Billie last year. Unlike the larger, Western-style cruise ships on the Nile, our 12-passenger dahabiya was able to stop at smaller sites the larger ships couldn't navigate. For instance, we pulled up beside an ancient sandstone quarry; it was fascinating to walk amongst the cliffs from which stones had been cut and then rafted downriver to build the very temples we'd visited earlier in the trip. We strolled around a village where Zeke shared photos and Frisbee throws with local kids. We even stopped at a sandy shoreline where we could swim in the Nile (our captain chose a spot where the water was moving briskly enough to keep it clean, and crocodiles are rare north of the High Dam in Aswan). As the only kid on board, Zeke was occasionally restless, and the cabins were a tad shabby—but the deeper experience of life on the river made it well worth it.
A dahabiya is by nature a communal experience (the cabins are small, so we spent most of our free time on the sun deck, and all meals are shared), and we were fortunate to join a fabulously interesting group of fellow travelers. The Thanksgiving-night talent show with the other passengers was a blast. Zeke told two jokes, and we watched new friends sing and dance; all I had to contribute was a handstand. Everyone's willingness to let their guard down among people they'd met just three days earlier bespoke the camaraderie and intimacy of our short time together.
Best surprise:
Queen Nefertari's Tomb. Jim made sure we didn't miss this gem. The millennia-old tombs in the Valley of the Kings—and even more so, in the less crowded Valley of the Queens—are exquisitely well preserved, with vibrant colors, visible brushstrokes, and everyday scenes that suggest they could have been painted just last week. But Queen Nefertari's tomb takes the cake, with multiple chambers and intricate carvings done in sophisticated high relief.
Worst surprise:
Losing Zeke for five terrifying minutes among the throngs at Luxor Temple after sunset. Already disappointed by the crowds that made the temple's innermost sanctuary feel more like Grand Central Station—it proved to be my least favorite site of the trip—we decided to cut our visit short and lost track of each other on the way out. Our guide kept his cool and found Zeke by the entrance; I greeted them both with teary hugs.
Most underrated:
The Temple of Khnum. Just before boarding our dahabiya in Esna, we visited the local temple. The ruins are below ground level but have been fully excavated; you take a tuk-tuk through the streets of this unassuming town 35 miles south of Luxor, walk down a flight of stairs, and enter one of the most impressive sites in all of Egypt—at least to my eyes. Restoration work is ongoing, and centuries of soot, grime, and bird droppings still obscure the stone in one half of the temple; in the other half, rows of columns with capitals ornately carved into flowers and palm fronds, and pastel-toned vulture-winged goddesses painted on ceiling frescos, leave you tempted to simply lie down on the gravel floor to take it all in.
Most overrated:
King Tut's tomb. It's modest by comparison to other tombs in the Valley of the Kings; at least the mummy still lies in state. Enter for the nostalgic connection to your childhood fascination with Egypt—not for the elaborate carvings you'll find guiding other pharaohs' paths to the afterlife, but not Tut's.
Best places we stayed:
I couldn't take my eyes off the view from our room at the Marriott Mena House in Giza: There was the Great Pyramid, framed between palm trees by day, and lit up in colorful lights at night. The hotel's prodigious buffets at breakfast and dinner ensured that everyone in our family could find something they were excited to eat.
You need not be an Agatha Christie fan to be charmed by the Sofitel Legend Old Cataract in Aswan. Most rooms in both the original and newer wings have broad Nile views that take in the weathered curves of granite on Elephantine Island, the graceful lines of the feluccas sailing around it, and the hotel's own highly manicured grounds. In our suite, the ornate chandeliers and richly toned wood cabinetry with mother-of-pearl inlays felt fit for royalty.
Worst place we stayed:
In Luxor, the Sofitel Winter Palace oozes history in ways both good and bad: You can imagine Howard Carter grandly announcing his discovery of King Tut's tomb from the hotel in 1922, but you also wonder if the furnishings haven't been reupholstered since then. The main restaurant is adults-only (not to mention jacket-required), and we found the alternative buffet to be overcooked and overpriced. Jim thinks the Winter Palace will get a much-needed refurbishment in the next year or two; until then, he tells me, the other options in town have their own idiosyncrasies.
Traveler beware:
In four decades of traveling, I've never been to a place as dominated by group tourism as Egypt is. A smart local fixer employs strategies to avoid the busiest times at the iconic spots—and turns your gaze to smaller, out-of-the-way details, like the careful carving of the toenails on a statue of Ramesses II—but you can't escape the crowds entirely. A single group of 25 travelers all following the same flag-toting, mic'd-up guide is more difficult to navigate around than a dozen independent couples or families. That shouldn't stop you from going to Egypt. Just be sure to book your trip through an Egypt specialist like Jim who has the proven ability to outsmart and outrun the big groups when possible.
Thank goodness I packed:
$100 in one-dollar bills. Thanks to Jim's pre-trip intel, I had plenty of cash for baksheesh, which I most often handed out unsolicited. In the tombs at Luxor, though, the security guards were persistent in their offers to take your photo or let you behind the ropes—and then equally persistent in seeking out the tip they expected in return.
If only I'd packed:
Binoculars. Our early-morning boat ride to the sandboarding spot outside Aswan was a birdwatcher's dream. Had I known about the herons, egrets, kingfishers, and other avian creatures that we spotted from the cushy armchairs jauntily nailed to the top deck of our motorboat, I would have brought binoculars and a bird book.
Lesson learned:
A few days before the trip, Jim rejiggered our plans in Cairo, which meant we wouldn't see the pyramids until the end of our trip—and boy, am I happy he did. This was the highlight of the trip for Zeke, and it allowed us to end on a high note in a way that city sightseeing (while plenty of fun early in the trip) would not have matched. I knew it was a risk to save the most anticipated site for last, but we had to fly through Cairo to get home anyway, and we vowed to extend the trip to see the Pyramids if a Covid quarantine or some other malady forced us to change up our itinerary. (Luckily, all went according to plan.) From now on, I'll always make sure there's an extra-special finale at the end of every trip.
Best trip memory:
Zeke still can't stop talking about our exploits inside the cramped passageways of the Great Pyramid! Built long before the more elaborate tombs constructed during the dynasties of Egypt's New Kingdom, most of the walls inside the pyramid are smooth but largely unadorned, and the King's Chamber is a humble precursor of later pharaonic resting places. But nothing makes you feel more like Indiana Jones than clambering up the narrow wooden ramps that lead to that chamber, ever mindful of the tonnage of stone that has held fast above your head for 4,500 years…and counting?
Transparency disclosure: So that I could experience Egypt, WOW Lister Jim Berkeley arranged reduced rates for my family's trip. Everything I did on my trip is accessible to every traveler who contacts Jim via Wendy's WOW questionnaire. Thanks to Wendy's WOW system, you'll get marked as a VIP traveler.
Be a smarter traveler: Sign up for Wendy's weekly newsletter to stay in the know. Read real travelers' reviews, then use the black CONTACT buttons on Wendy's WOW List to reach out to the right local fixer for your trip.