Weird Roadside Attractions in Every State to Visit on a Road Trip
All you need is a pandemic to make everyone nostalgic for the past. Road trips and RV convoys are just as fashionable on Instagram now as that trip to Bali was a few years back. And while today's version of road trip may be very different from our parents' (particularly if it's a cannabis-friendly one), there's one thing that cheesy playlists and retro snacks can't even begin to compare with—ridiculously weird roadside attractions. And thankfully, America's roadways deliver.
But while the country is dotted with random nonsense, not all are created equal. For every "mystery spot" or "world's largest" random object, there are hundreds of oversized cooking utensils and fossil farms waiting to lure you off the beaten path. These are the true gems, the paragons of off-highway kitsch and wonder. Point your compass in their direction, and your road trip automatically becomes more interesting. Or at least your camera roll will. If you need a little help, we've narrowed down the weirdest ones from each and every state.
Alabama
Souvenir City
Gulf Shores
Look, you're either the kind of person who immediately stops the car and sprints toward the gargantuan, warehouse-like gift shop with a giant concrete shark's mouth—a fixture of Gulf Shores since 1956—as its entrance, or you drive past without a second thought. If you're the latter, you're rewarded with an endless assault of tourist crap (think gator heads, beach clothes, fudge, and shells). If you're the former, you very likely clicked into the wrong article. —Andy Kryza
Alaska
Hammer Museum
Haines
Like many of the following items on this list, you'll find that the name of our favorite roadside attraction in Alaska is rather self-explanatory. This is a museum devoted to hammers. You'll find around 2,000 of them on display at the roadside stop off Haines Highway—one of our favorite scenic drives in the US—some even dating back to Roman times. There are other hammer museums in other cities, but this one was the first (or so we've come to believe). And don't worry, it's pretty easy to find. "If you have any trouble finding us," the museum's website instructs, "just look for the 20-foot hammer out front." —Kastalia Medrano
Arizona
Rainbow Rock Shop
Holbrook
Route 66 isn't what it used to be, but the roadside town of Holbrook maintains some of the highway's magic appeal thanks to its unexpected collection of cement dinosaurs outside the Rainbow Rock Shop. The dinosaurs, some up to 25 feet tall, were built by the shop's owner and cost a few cents to pose with. Strangely enough, these aren't the only dinosaurs you'll find in the town: others come from the International Petrified Forest and Painted Desert—a now-defunct tourist attraction that offered access to some of the area's petrified wood and fossils. —Jamie Killin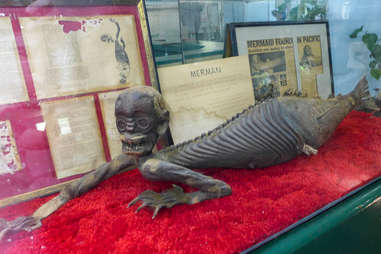 Arkansas
Arkansas Alligator Farm & Petting Zoo
Hot Springs
It's not the pygmy goats and baby alligators that make this 117-year-old petting zoo such a gem, though their presence—along with primates and wolves and the whole alligator feeding thing—certainly makes it worth a stop. No, it's the merman that really lands it on this list. The leathery oddity straight out of an old tabloid looks like somebody stitched the bug-eyed head of a mustachioed gym teacher to a fish. That's kind of it. And it's kind of incredible. —AK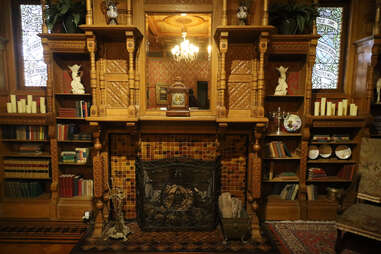 California
Winchester Mystery House
San Jose
Apparently Sarah Winchester, heir to her family's firearms fortune, believed the ghosts of every single person killed by the company's then-innovative repeating rifle—so, like, half the casualties of the Old West—were haunting her. She began construction on a mansion designed specifically to discombobulate the spirits. Think: hallways that narrow as you walk them. Stairways that lead to nowhere. Windows that overlook other rooms. Decoy toilets everywhere. In all, it's 24,000 square feet and 160 rooms of ghost-thwarting madness, and one of America's most haunted attractions. Also, they have axe throwing in the stables, just for fun/to make things interesting if anyone, you know, gets possessed. —AK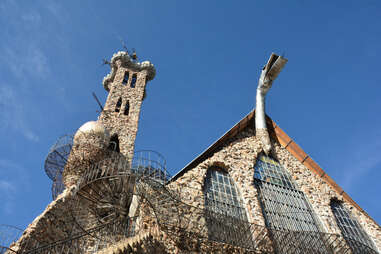 Colorado
Bishop Castle
Rye
A 160-foot-tall structure of stone and steel, Bishop Castle includes four towers, two catwalks, a ballroom, and a whole lot of wrought-iron railings and flourishes. It's a bona fide castle, too, complete with drawbridge and fire-breathing dragon, all built by one man: Jim Bishop. You can walk the bridges between the towers, albeit at your own risk. Or just admire the decor, which ranges from hand-painted signs airing Jim's personal views to an arm with an axe sticking out of the floor in the main hall. —Cheryl Rodewig
Connecticut
PEZ Visitors Center
Orange
Yes, this one feels like kind of a cheat, since it's the Pez Factory and all. But this visitor's center is next-level incredible—it's a 4,000-square-foot wonderland where you can peruse the world's most comprehensive collection of PEZ dispensers. Pop culture characters from the past century leer at you with all-watching PEZ eyes as you traverse the kitschy, candy-colored wonderland packed with such wonders as a bench made of giant rolls of candy and the world's largest dispenser. It's a high-tech, high-camp exploration of one of America's most enduring candy brands. —AK
Delaware
Oddporium
Arden
Delaware's Oddporium bills itself as a gallery of the peculiar and bizarre, and it lives up to its promise with a deliciously dark twist. Browse vintage electroshock therapy kits, embalming pumps, and jewelry tenderly handmade from bat skulls. One glass case displays torture—er, medical—devices, while another sports a collection of bones (from legally obtained species, they're quick to point out). Not everything's for sale, so you're not walking out with that cyclops pig, but you might pick up a bat in a glass coffin that will look nice by your bed. Sweet dreams. —CR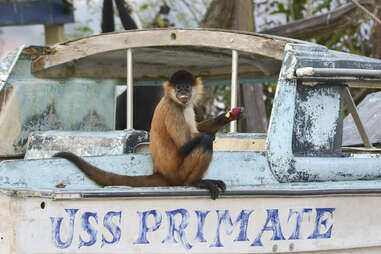 Florida
Monkey Island
Homosassa
Head to Florida's western coast, on the Homosassa River, and you will find Monkey Island. Naturally, your first question here is, Are there actual monkeys on Monkey Island? We are pleased to report there are. A family of spider monkeys has had the run of Monkey Island for decades. They used to live on the mainland, but kept escaping and being rude to tourists (pickpocketing, biting, presumably a lot of poop-based vandalism). Thus, they now live on their little monkey Alcatraz. Roll up to the Homosassa Resort and you can watch them while you enjoy food and drinks. Safely out of reach, the monkeys—Ralph, Ebony, Eve, and Emily—will in turn enjoy their own snacks while watching you. —KM
Georgia
Doll's Head Trail
Atlanta
Constitution Lakes Park has a unique history. The park was originally used as the site of the South River Brick Company, but in the early 1900s, when the company stopped digging massive holes in the ground to extract clay for bricks, nature ran its course and the holes started to fill with rainwater. And thus, the lakes were born. The story of the uh, interesting trail, however, begins with Joel Slaton, a local carpenter, who in 2011 began finding discarded doll parts and other pieces of what others would consider "junk" throughout the trail area. Over the years, Slaton began arranging and building art displays with these abandoned scraps and voilà! Now you have an interactive art display full of muddy, creepy doll heads in the depths of a muggy patch of woods. —Kristen Adaway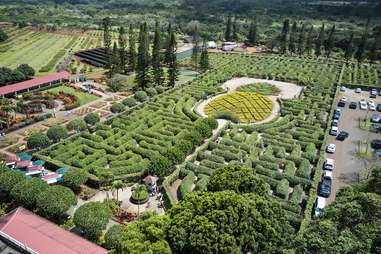 Hawaii
Pineapple Garden Maze
Wahiawa
You've probably seen at least a couple of corn or hay bale mazes in your life (the type that pop up around Halloween), but there are only a handful of botanical mazes in America that are fixtures year-round, of which the Pineapple Garden Maze is one. Reigning titleholder of "World's Largest Botanical Maze" for the past decade, this Dole Plantation garden stretches across three acres and comprises some 14,000 plants. Wander inside the maze and see how long it takes you to reach its giant pineapple center. —KM
Idaho
Oasis Bordello Museum
Wallace
Located in a quaint little mining town, the Oasis bordello actually operated up until 1988, meaning the artifacts in this downtown building (and its infinitely creepy basement) include old-timey dresses, gas lamps (so romantic!), antique guns, and, weirdly, some VHS tapes encased in glass. The tour includes trips to the rooms, where lists of Johns' names are on display—which is probably not that great a look for mining magnates who are still alive. —AK
Illinois
Leaning Tower of Niles
Niles
While it's roughly half the rival of the famed Italian tower (94 feet to Pisa's 177-foot stature and a mere 7.4 feet off of vertical vs. Italy's 15-foot lean), the Midwestern version built in 1934 holds its own as a tourist attraction. Stop by while swinging over to the first franchised McDonald's in nearby Des Plaines and take all the "dad photos" of you pushing it over. —Nicole Bruce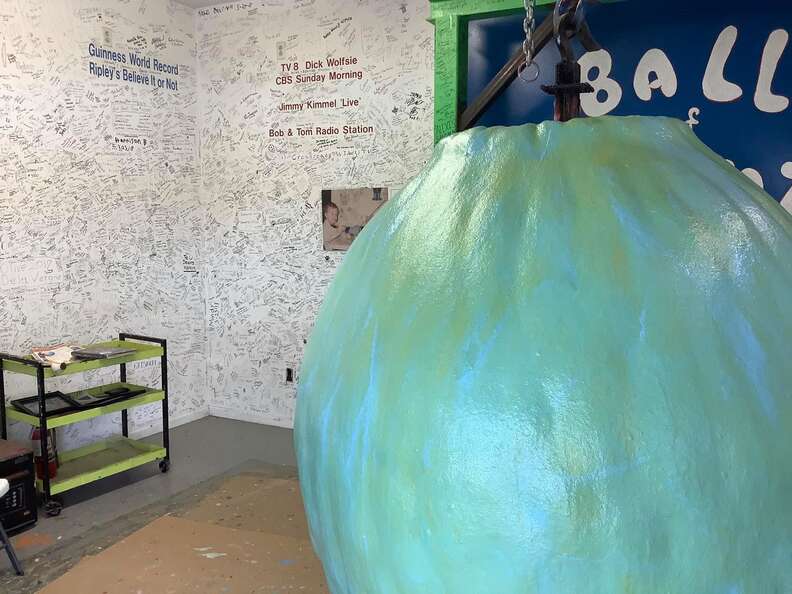 Indiana
World's Biggest Ball of Paint
Alexandria
Once upon a time this was just a normal baseball, but more than four decades and 24,350 coats of paint later, it's a 4,200-pound ball of paint—and the world's largest at that. Does it look like a giant testicle? Kind of. Would it be a solid nuclear option when engaged in a life-or-death paintball grudge match? Definitely. —AK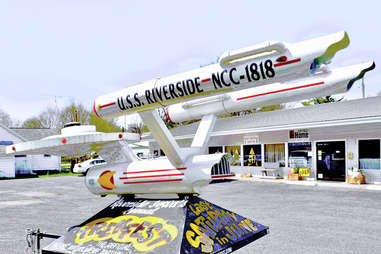 Iowa
The Future Birthplace of Captain Kirk
Riverside
Did you know this Iowa town is the future birthplace of James T. Kirk, Captain of the USS Enterprise and the future's foremost lover of centuries-old Beastie Boys jams? His 23rd-century DOB (March 22, 2228) is engraved on a stone monument located behind a hair salon at Riverside's Voyage Home Riverside History Center. While they first claimed the Starship Enterprise captain in 1985, the museum didn't open its doors until 2008. It's since become a hub for Star Trek collectibles, home-built exhibits, and alternate history disputes. —NB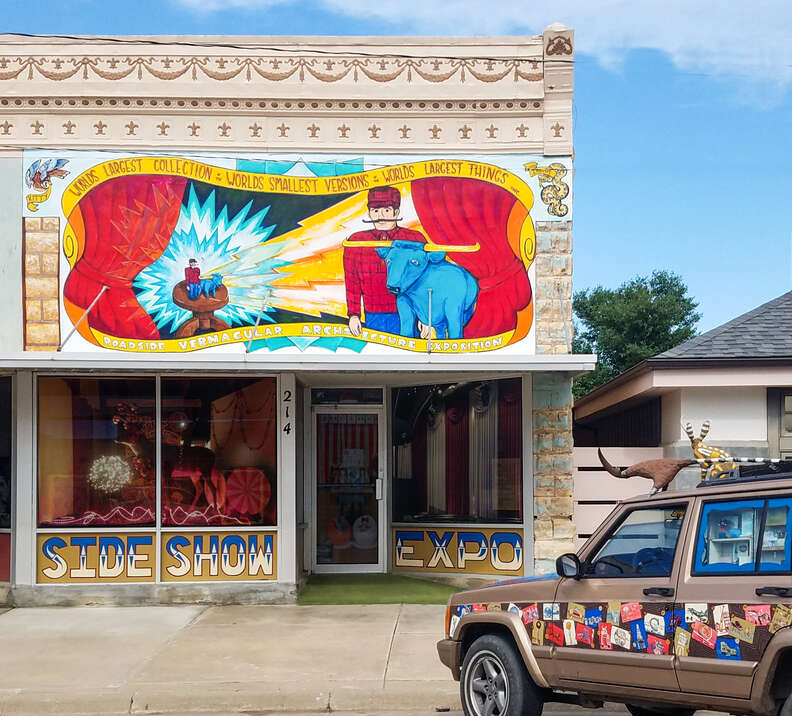 Kansas
The World's Largest Collection of the World's Smallest Versions of the World's Largest Things
Lucas
How's this for meta: Erika Nelson dedicates her time to visiting over-the-top (and ridiculously large) roadside attractions—think the world's largest bottle of ketchup—then photographs them, goes home, and makes a miniature version to display at her tiny traveling museum of little versions of big things, which is open "by chance." It's one-stop shopping to see all of America's weirdest roadside oddities in miniature form, which makes it all even odder. —AK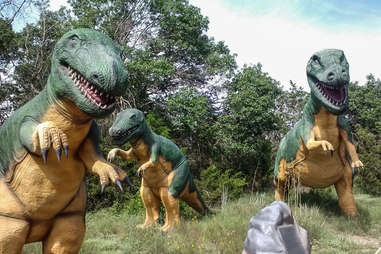 Kentucky
Dinosaur World
Cave City
There is a longstanding tradition in my family: If you see a dinosaur on the side of the road, you stop immediately. Dinosaur World is one of the best collections of life-sized behemoths in the country, with hundreds of thunder lizards—T-Rexes, raptors, you name it—scattered around a dog-friendly property. It's located near the stunning Mammoth Cave, so that means, of course, that there are woolly mammoths kids can climb on. And by kids, I mean grown-ass men who annoy their families by making them stop at every dinosaur on the American roadside. —AK
The Britney Spears Museum
Louisiana
Kentwood Historical & Cultural Museum
Kentwood
Britney Spears was once—and arguably still is—the world's biggest star. Many of us watched the singer at her peak and throughout her highly-publicized downfall, subsequent comeback, multiple husbands, and more recent book deal. As true fans know, Britney's story began in a dusty town off I-55 near the Mississippi/Louisiana border. What many don't know is if you go there, you'll find a shrine to the princess of pop built inside an old funeral home. The unofficial Britney Spears museum is packed with memorabilia, including calendars, dolls, life-sized cutouts and wings from her Femme Fatale tour. The most precious exhibit is her childhood bedroom, moved from her parents' house up the road. —Joel Balsam
Maine
Wild Blueberry Land
Columbia Falls
Driving along US-1 in Columbia Falls, you will know you have come upon Wild Blueberry Land when you spot the giant blue geodesic dome designed to resemble half a giant blueberry. But we wouldn't send you here if it was just a big blue circle to get out of your car and stare at and take a picture and then get back in your car and leave. This is a seven-acre, family-run, blueberry-themed theme park. Everything is blue. You can learn about sustainable farming, play some mini golf, snack on some berries, and check out the offerings at the bakery tucked inside the dome. No prizes for guessing what varieties of baked goods are sold there. —KM
Maryland
The William P Didusch Center For Urologic History
Linthicum Heights
Have you ever wondered what sorts of medical tools man has jammed up his penis through the years? Curious if people used to make dildos out of whale bones with secret compartments to hold pipe tobacco? Well, you're in luck! The national urology museum can show you all of these things and more: Victorian anti-masturbation devices, medical samples, other household items dudes have pushed up their peehole. It's a damn good time, and it's FREE! If you're peckish after your visit, visit the Cracker Barrel right across the street. —Allison Robicelli
Massachusetts
The Paper House
Rockport
In 1922, Ellis Stenman wanted to see if he could insulate his summer house with newspaper. Somehow, the experiment turned into a full-fledged obsession, and he ended up using 100,000 newspapers to actually build it (at least everything but the roof, floors, and frame). This also might serve as an antidote to the whole "print is dead" thing. Maybe it just needs to pivot to construction products. —AK
Michigan
Da Yoopers Tourist Trap
Ishpeming
"Yooper" is Michigan slang for a person who lives in the state's pristine and isolated Upper Peninsula. Da Yoopers is a novelty band formed by actual Yoopers who sing about fishing and cars in goofy accents that may or may not be fake. And Da Yoopers Tourist Trap is an ode to both UP life and tacky, slightly funny shit. There's a ton of folk art, including the world's largest working chainsaw, a tableau of beer-drinking deer hanging out in a man-hunting lodge, lots of outhouses, and a gift shop with a large section dedicated to the hilarity of farting. There's nothing quite like it, which is probably a good thing—but good luck not stopping. —AK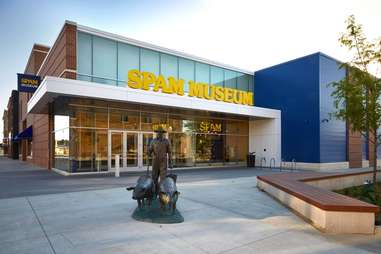 Minnesota
The SPAM Museum
Austin
Minnesota is home to the world's biggest Paul Bunyan statue, an enormous Jolly Green Giant, and a ball of twine so massive that Weird Al penned an entire song about it. So, it's really saying something to call this surprisingly gorgeous, ultra-modern ode to America's most misunderstood mystery meat the state's best roadside attraction. Within its walls, you'll find out the history of SPAM, including its massive cultural cache in island diasporas. You will be tempted to buy an ironic T-shirt or register as a SPAMbassador. And you will definitely be tempted to purchase a can of pumpkin spice SPAM. As a bonus, the town of Austin is full of restaurants that make their own SPAM specialties, just in case you didn't get your fill in the museum. —AK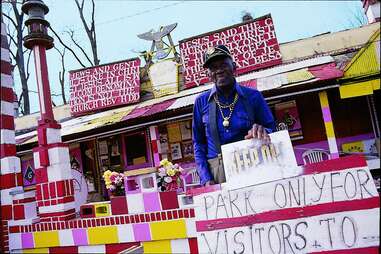 Mississippi
Margaret's Grocery
Vicksburg
People have been working to save Margaret's Grocery for years. More singular than odd, the iconic roadside stop off US Highway 61 is possibly the most distinctive grocery store you'll ever see, its aesthetic a blend of folk art and Byzantine Empire. Desperately in need of restoration, Margaret's Grocery is currently closed for repairs, its future uncertain. But just because you can't buy anything inside doesn't mean the place is any less mesmerizing to look at, and this is just one of those things you want to see before you die, or before it's gone (whichever comes first). You can even help with the ongoing fundraising efforts to restore Margaret's Grocery and speed along the process. —KM
Missouri
Red Oak II
Carthage
Veer off Route 66 in Carthage, and you'll soon find yourself in a bizarre little corner of the world: an idyllic small town, seemingly untouched since the 1950s. Looks, of course, can be deceiving, and Red Oak II is anything but untouched. In fact, every inch of the tiny village, from its retro diner to its dusty blacksmith shop, has been completely manufactured by the late Lowell Davis. The mastermind behind this roadside icon grew up in the real Red Oak, a once thriving Missouri hamlet that, by the time the adult Davis returned to check on it in the 1980s, had been abandoned due to economic strain and urbanization. Determined not to let his childhood home go down without a fight, Davis purchased a piece of property about 20 miles from the OG site and began building. Today, passersby can visit the tiny metropolis, pop into the general store, snap selfies in front of the vintage tractor, and admire Davis' art scattered around the grounds. If nostalgia was a place, this would be it. —Meredith Heil
Montana
Havre Beneath the Streets
Havre
OK, this is a little outside the box for a state littered with cool roadside fossil museums and whatnot, but there are only so many dinosaurs and ghost towns we can write about, and seldom is a roadside attraction actually under the road. There's basically an entire city underneath the town of Havre, a series of underground tunnels that houses the preserved remains of a Chinese laundry, opium dens, and even a bordello. And since this is the West, the saloon still stands, too. It's basically a living museum of a boomtown past, one that's slightly creepy and endlessly fascinating. —AK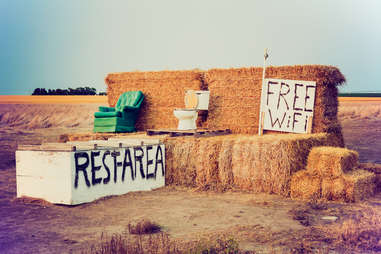 Nebraska
Nebraska Rest Area
Box Butte-Wright-Lake Election Precinct
There's a well-known roadside attraction along US Highway 87 known as Carhenge, which is like Stonehenge but with cars. It's lovely! Definitely stop and see it. But keep driving just a couple of miles north up 87 and you will come to the actual roadside attraction: the Nebraska Rest Area. The Wi-Fi is free. The toilet is non-flushing. That's it. Enjoy. —KM
Nevada
Goldwell Open Air Museum
Beatty
Words like "ghost" and "death" are particularly appropriate to use in any description of Goldwell, located near the eastern edge of Death Valley. Now exceedingly well-documented on Instagram, the open-air museum is a quirky sculpture park in the middle of the Amargosa Desert that's specifically known for the ghoulish, shrouded figures staged in a reinterpretation of Leonardo da Vinci's The Last Supper. Belgian artist Charles Albert Szulaski launched the museum with these plaster figures in 1984. He followed his Last Supper up with two more pieces featuring the same haunting figures, though only one, Ghost Rider (featuring a shrouded figure with a bicycle), still stands. Other European artists followed his lead, and today, there are seven sculptures on display in the middle of this eerie, godforsaken desert. —Nicole Rupersberg
New Hampshire
Chicken Farmer Rock
Newbury
The story of Chicken Farmer Rock is as follows: At some point in the '70s or '80s, the words "CHICKEN FARMER, I LOVE YOU" were painted on a rock by the side of the road in the small town of Newbury. Legend holds that this was the work of a boy too shy to confess his crush on a girl living on a chicken farm there to her face. The rock became a local treasure, and its message remained there, lightly maintained by Newbury residents, until around 15 years ago, when one of these anonymous restorations updated the message to "CHICKEN FARMER, I STILL LOVE YOU." In 2011, the New Hampshire Department of Transportation responded to some horrible person's complaint about the art and painted over it. The rock's unnamed custodians, though, didn't take long to paint it back. —KM
New Jersey
Lucy the Elephant
Margate City
There are infinite roadside attractions in America, but the first was Lucy (no relation to Lucy, the first human ancestor remains ever discovered). Built in 1881, this six-story elephant resides in Margate City. She has survived lightning strikes, Hurricane Sandy, being converted into various restaurants and taverns and summer homes, and one vanity presidential run. She's a National Historic Landmark, and, most importantly, is much more than simply something that's fun to look at—you can climb up the spiral staircase inside her leg and take in the view from upstairs. —KM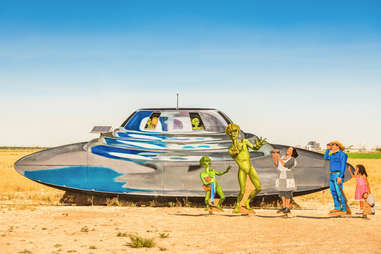 New Mexico
Basically everything in Roswell
Roswell
Is it fair to call an entire town a roadside attraction? Probably not. But the sheer number of alien-related shit populating the streets of Roswell makes it unavoidable. There are makeshift spaceships you can tour. Straight-up UFO "museums." A fake (obviously) alien autopsy site. Gift shops galore. If there are actual aliens tucked away in Roswell, they pulled the ingenious move of hiding in plain sight, surrounded by every kind of gaudy, over-the-top kitsch possible. Well played, Martians. —AK
New York
Cross Island Chapel
Oneida
If you're already out this way, you only need to take a 3-mile detour from Thruway Exit 33 (en route south toward Sconondoa Road) to reach the world's smallest church. Cross Island Chapel is essentially its own island, as well, since the tiny white clapboard chapel (which measures just under 29 square feet) sits on a floating jetty in the center of a pond. Large enough to fit three people (and technically seats two), the chapel still holds weddings—as long as you can find someone to perform the duties and row you across. —Lane Nieset
North Carolina
World's Largest Chest of Drawers
High Point
Oh, you didn't know that High Point is the Home Furnishings Capital of the World? Well, this 38-foot dresser is here to remind you. It was built in 1926, making it very desirable to colossal antiques collectors, and comes complete with two gigantic socks. Unfortunately, the world's largest pair of underpants is in Egypt. —AK
North Dakota
The Enchanted Highway
Regent
Driving across the flat North Dakota prairies can be pretty monotonous, so the towering, whimsical sculptures along a 32-mile stretch of Highway 21 (now dubbed the "Enchanted Highway") between Regent and Gladstone can seem to come out of nowhere. Metal sculptor and retired school teacher Gary Greff's metal works—from giant metal deer and a huge grasshopper to a complex underwater world—pop up every few miles along the empty road to keep you from zoning out on the open road. —NB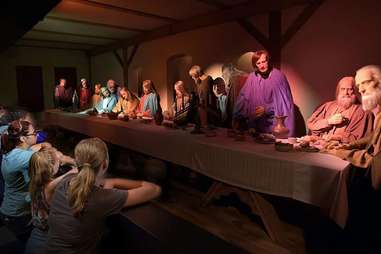 Ohio
BibleWalk
Mansfield
Yeah, Ohio has traditional roadside attractions like weird museums, giant robots, and the Goodyear blimp. But if you want to get a genuinely weird experience, look no further than the BibleWalk. We generally stayed away from non-Precious Moments-related religious stuff, but BibleWalk is our exception. This is not, mind you, something marketed as weird—your snickering will not be appreciated. But if you can control yourself, you'll be treated to the Madame Tussauds of Biblical tableaux, a wax museum dedicated to martyrs, Reformation, and other pious figures. The fact that many of the wax figures appear to be actual repurposed celebrity effigies—there's even Clark Gable and Liz Taylor—gives it a surreal, slightly hilarious edge, one whose mileage will definitely vary depending on your disposition or feelings about wax figures, fire, and brimstone. —AK
Oklahoma
The Blue Whale
Catoosa
A giant, friendly whale in the middle of a landlocked state is, in and of itself, odd. But the story of the ocean titan dipping halfway into a pond makes it even more strange and wonderful. Built as a gift from husband to wife, the whale became the centerpiece of a larger roadside attraction, The Animal Reptile Kingdom (A.R.K.), which was built to resemble Noah's Ark. As the couple grew old, the attraction was abandoned, with the ark falling into disrepair. But the whale remains vibrant. Yes, this sounds like the setup for a Scooby-Doo mystery—as abandoned amusement areas are wont to—but it's actually a very charming site to see along Route 66, where its presence has perplexed drivers for four decades. —AK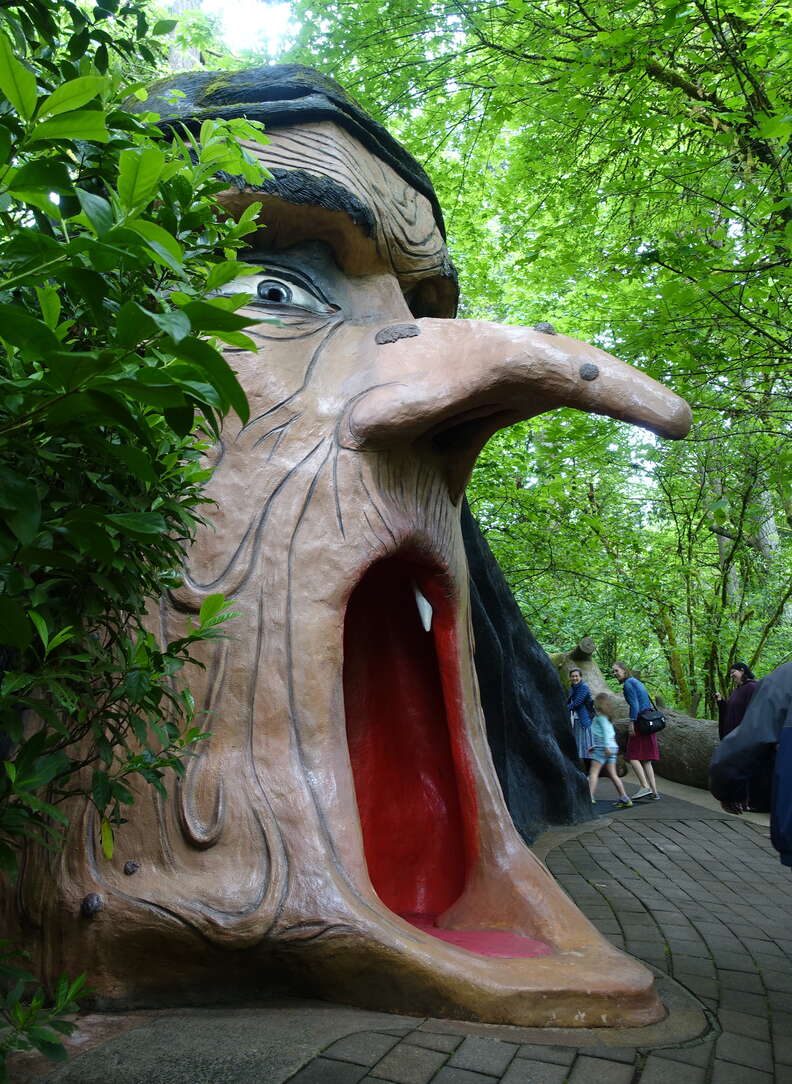 Oregon
Enchanted Forest
Turner
Part slightly aloof amusement park, part folk art fantasia, Enchanted Forest sits tucked into the evergreen branches alongside Oregon's I-5, right next to Salem. For generations, local artist Roger Tofte's surreal, slightly skewed handmade attraction (well, handmade except the ride mechanics) has drawn families and naturopathically enhanced adults with such landmarks as a castle, a forest dotted with foreboding fairytale characters, miniature villages, rides, and a gigantic witch's head whose mouth doubles as an entrance to a slide. And for the psychedelically inclined, it's a riotous journey down a very different kind of rabbit hole. —AK
Pennsylvania
Vintage Electric Streetcar Company
Windber
Journey into Pennsylvania's coal country and you may come upon the small town of Windber. There lies the Vintage Electric Streetcar Company, more commonly known as the Windber Trolley Graveyard. It contains 14 long-decommissioned trolley cars trucked into the Pennsylvania woods by a trolley enthusiast, Ed Metka. This means the scrapyard is private property—so don't try to find it on your own, but you can email [email protected] to set up a tour ($30). —KM
Rhode Island
The Fantastic Umbrella Factory
Charlestown
The Fantastic Umbrella Factory does not have just umbrellas. The Fantastic Umbrella Factory has everything. A regionally beloved bazaar and the shopping experience to end all shopping experiences, this outpost of US Highway 1 is a collection of five stores where you can pick up every conceivable type of artisanal wares (many of them local), from plant baskets to blown glass to vintage eyeglasses to drums to organic vegetables growing around the premises. There is also a bamboo forest, a seasonal cafe, and a petting zoo (goats, emus, chickens, ducks). —KM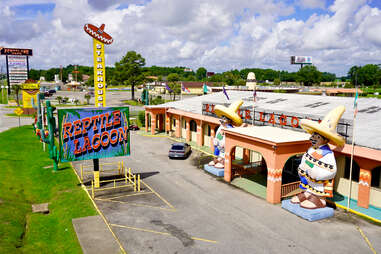 South Carolina
South of the Border
Hamer
What started as a simple beer stand serving the neighboring dry North Carolina counties morphed into a 10-seat grill, motel, souvenir shop, fireworks store, barber shop, drug store, post office, and even go-kart track. We'd continue listing everything South of the Border now offers, but we think you get the idea—you can eat, shop, and sleep here. While the kitsch is too large to miss, the 104-foot-tall mascot, Pedro, is certainly the star—aside from, well, the largest indoor reptile display in the US. —LN
South Dakota
Wall Drug
Wall
Wall Drug is the roadside attraction to end all roadside attractions rising out of the prehistoric landscape preceding the Badlands. It's a city-sized paragon of Western kitsch. A necessary pitstop in the middle of capital-N Nowhere. An actual drug store, where you can get a prescription filled and also see a gigantic animatronic dinosaur or cowboy band, peruse Native American art, eat an open-face turkey sandwich, play in a shooting gallery, or snap a photo with a jackalope. You can't miss it—not only because it's massive, but because you'll see hundreds of hand-painted signs across multiple states, luring tourists in with the promise of free ice water and $.05 coffee (the ice water's great, BTW, the coffee not so much). And even if you wish to avoid it, you kind of can't. At the intersection of East and West, North and South, it's one of the last places to get gas for a while, regardless of where you're going. Just grab a "where the heck is Wall Drug" bumper sticker, eat a donut, and soak in the Americana. —AK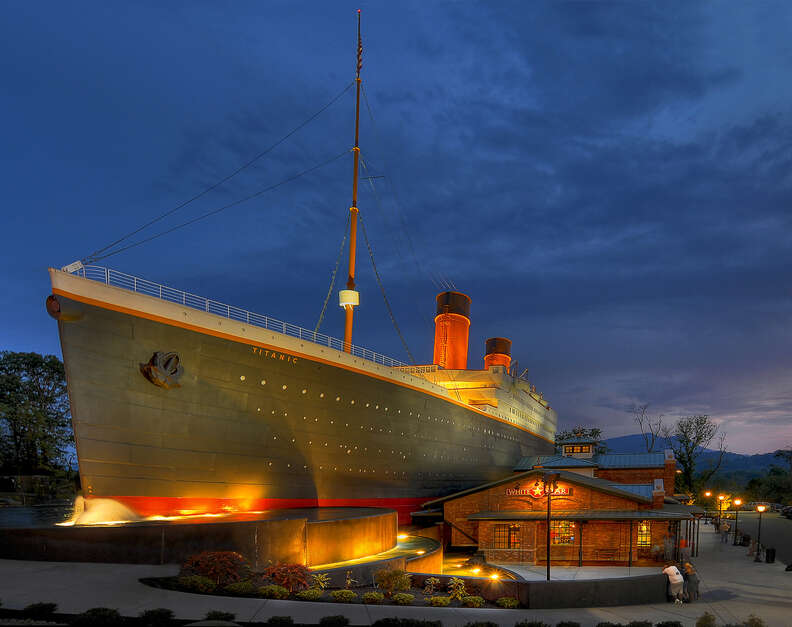 Tennessee
Titanic Museum Attraction
Pigeon Forge
If you've ever wanted to know what it was like to board the RMS Titanic—you know, before its tragic final journey—you're in luck. Yes, I know, Pigeon Forge is for tourists, but the "world's largest Titanic museum attraction" is something you truly have to see with your own eyes. The interior and exterior of the museum look just like the actual ship, so you'll get all the bang for your $35. You'll walk through real-life replicas of the corridors, rooms, and even the Grand Staircase while imagining you're a millionaire in 1912 (before 2:20 am, of course). Speaking of passengers, everyone who enters the ship receives a boarding pass of someone who actually boarded or worked on the real Titanic—all of whom are deceased. Not creepy at all, right? —KA
Texas
The Orange Show
Houston
You might be really into pineapple. Or perhaps you have a strong affinity for apples. But no fruit-focused love can compare to the passion the late Jefferson Davis McKissack had for oranges. Not convinced? All you have to do is pull up on McKissack's 3,000-square-foot Houston shrine to the prized citrus and you'll immediately check any skepticism at the tangerine-hued door. The folk artist began constructing the Orange Show back in 1956, filling it with hand-painted signs detailing orange-related statistics, health benefits, and other musings, as well as a wishing well, gift shop, stage, and carnival-like collection of vintage rides and artifacts. He put the finishing touches on in 1979, and it's now backed by the Orange Show Center for Visionary Art, a nonprofit organization dedicated to promoting and preserving quirky creations throughout Houston. A mere $5 gains you admission—and it might just be the best $5 you've ever spent. —MH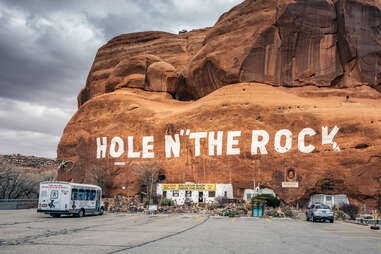 Utah
Hole N" The Rock
Moab
You're driving down US Highway 191, thinking vaguely of finding a place to pull over and stretch, maybe get some snacks, when you see in the distance: a massive red rock face with blazing white detailing. You drive closer. "HOLE N" THE ROCK" is painted in block letters. Is it, literally, a hole in the rock? It is, kinda, yes. Hole N" The Rock is a 5,000-square-foot home carved into the rock where you'll also find a trading post, general store, art collection, and petting zoo with camels, zebras, and albino raccoons. You are wondering whether you can feed them—why yes, yes you can. "WE ARE NOT YOUR DESTINATION" explains/yells the Hole N" The Rock website, "WE ARE AN AMAZING STOP ALONG THE WAY." —KM
Vermont
The Museum of Everyday Life
Glover
This tiny roadside museum in Glover, in northeastern Vermont, is dedicated to the mundane and the familiar, to the sorts of objects that don't often make it into museums—or at least not before several centuries have passed. Pencils. Scissors. Toothbrushes. Keys. But not everything here is static—there are intermittent puppet shows and other live performances (and sometimes guided tours). The museum is self-serve. Make your donations at the door; turn off the lights when you leave. —KM
Virginia
Dinosaur Land
White Post
Seventy-five miles outside of Washington, DC lies a prehistoric oasis worth the detour: Dinosaur Land. What originally began as a small gift shop has transformed into a massive park scattered with more than 50 towering, handmade dinosaur statues. If you weren't a dinosaur expert before, you'll leave the park a genius. There's just about every species, from lumbering Stegosaurus to the creepy, meat-eating Coelophysis (the lizard-like guys who terrorized everyone during Jurassic Park). I'm partial to the kind of derpy-looking T-Rex, who stands next to the long-necked, plant-eating Apatosaurus in a way that makes it seem like they're just gossiping. —Kalina Newman
Washington
Marsh's Free Museum
Long Beach
Spend enough time in the Pacific Northwest and Twin Peaks starts to look like a documentary. So it makes perfect sense that an idyllic ocean town is as well known for its boardwalks as it is for the mummified gator/human creature that has become the town's mascot. That humanoid is Jake the Alligator Man, a star of the Weekly World News who resides at Marsh's Free Museum, a sprawling peculiarium filled with ceiling-to-floor weirdness and kitsch. Here, you can find seashells and kites, two-headed calves and jarred tapeworms, and vintage baseball games. Oh, and a celebrity sighting is all but guaranteed. It just so happens that said celebrity is a ghoulish reptilian nightmare.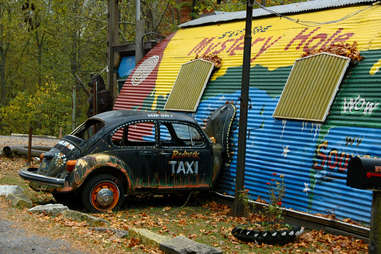 West Virginia
Mystery Hole
Fayetteville
Near New River Gorge in Fayetteville—another of our fave scenic drives—lies Mystery Hole. What will you see here? That depends on you. Some report seeing objects roll uphill instead of down. Some find furniture balanced in ways that furniture should not be able to balance. Gravity, it seems, does its own thing here. Mystery Hole is open May through October. Guided tours cost $10 (cash preferred), and be sure to leave your phone and all electronic devices in your car—they are forbidden during the tour, and if you're caught with one you won't get a refund. —KM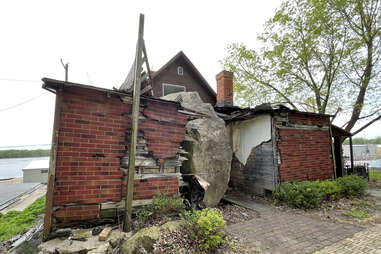 Wisconsin
The Rock in the House
Fountain Springs
Architecture buffs will have undoubtedly heard of the House on the Rock, eccentric builder Alex Jordan's 1960 home-turned-offbeat museum near Dodgeville, Wisconsin. Its wonders are well documented, a major tourist attraction for anyone winding their way along Southern Wisconsin's Frank Lloyd Wright Trail. But despite all House on the Rock's curiosities, Fountain City's Rock in the House is a much, much more peculiar sight.
Cruise along the northern portion of Wisconsin's scenic Great River Road and, out of the corner of your eye, you might just spot a wooden sign announcing the pull-off for Rock in the House. And what you see is most definitely what you get: The modest brick house, perched at the bottom of a tall cliffside, showcases a 55-ton boulder lodged in its gaping back room. One night, in April 1995, the giant rock rolled down the abutting hill and crashed into what was then Maxine and Dwight Anderson's bedroom. No injuries were reported, thankfully, but the retired couple's recently renovated home was totalled. An enterprising real estate investor snatched up the property and subsequently turned it into a roadside attraction, inviting travelers to swing by to marvel at the disaster scene and learn about the area's unique topography. The museum closed in 2021, but anyone looking to quench their curiosity can still park in the small lot and walk around the exterior of the building for a fantastic view. —MH
Wyoming
The World's Largest Elk Horn Arch
Afton
Afton is a tiny town in middle-of-nowhere Wyoming, but the hamlet south of Jackson has a hell of a unique centerpiece. Assembled from the antlers of more than 3,000 elk, the town's elk horn arch stretches across four lanes of the sleepy town's road, weighing in at a whopping 15 tons. That's enough antlers to decorate every hunting lodge in Wyoming and still have leftovers to decorate dozens of hip "New American" restaurants in bigger cities. —AK
Want more Thrillist? Follow us on Instagram, Twitter, Pinterest, YouTube, TikTok, and Snapchat!