The Ultimate Guide To Indianapolis & Things To Do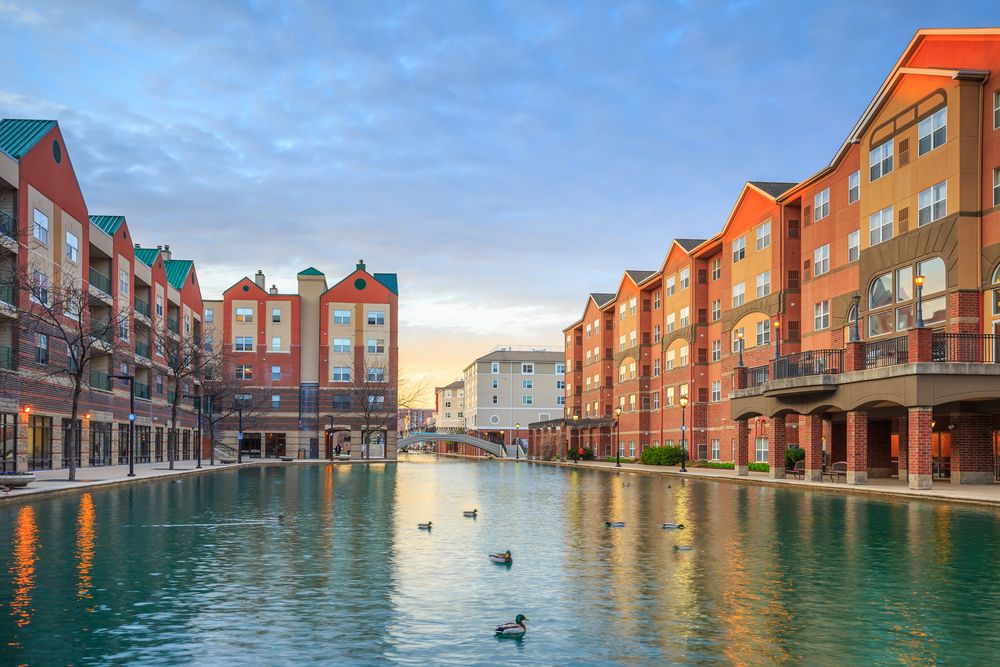 Indianapolis, Indiana, is perhaps most famous for being the "racing capital of the world." It is home to the iconic Indianapolis Motor Speedway, which hosts top-tier events like the Indy 500, Verizon 200, Brickyard 400, and formerly the United States Grand Prix. But those aren't the only major sporting events in the city. Incredible Indy harbors several professional franchises, including the Indiana Pacers (NBA), Indianapolis Colts (NFL), and Indiana Fever (WNBA), making sports one of the best things to do in Hoosier State.
Sports aside, Indianapolis has a lot more in its bag of goodies. It hosts several award-winning restaurants, boasts a bustling craft beer scene, offers national historic landmarks, and lays claim to the world's largest children's museum. Indy has a little bit of everything, which is why it is one of the coolest Midwest cities tourists can visit. Whether a sports fanatic, art connoisseur, food enthusiast, outdoor adventurer, or history buff, there is something for everyone in the Hoosier capital. Check out this ultimate guide to Indianapolis and things to do.
What To Know When Visiting Indianapolis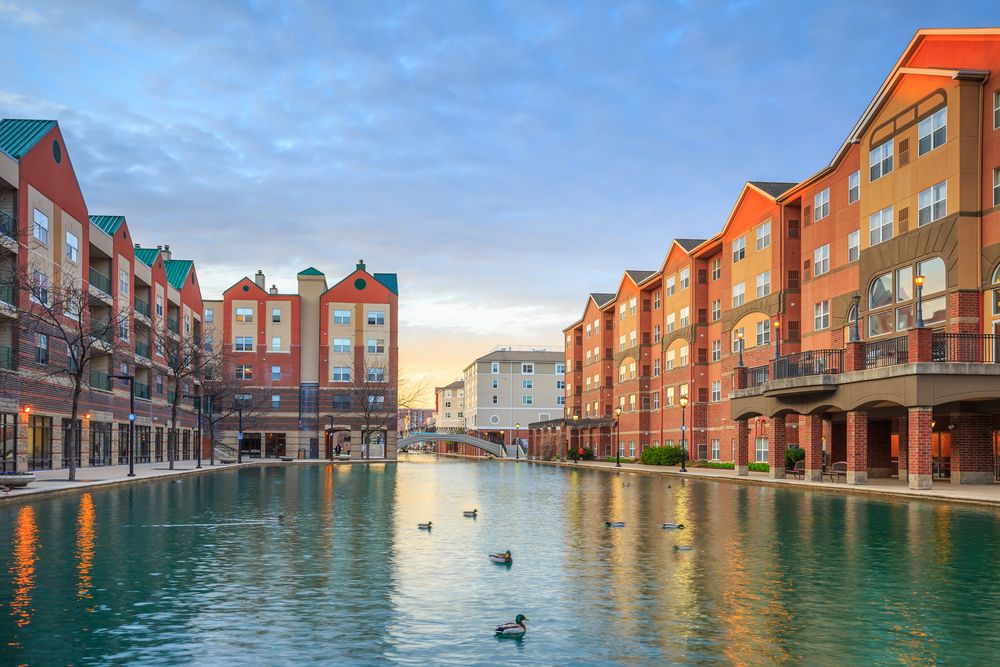 The Canal in White River State Park in Indianapolis, IN
Indianapolis, also known as Indy and Naptown, is the capital of Indiana and the most populous city, with over 800,000 residents. Indy is renowned for its friendly and down-to-earth locals, so don't hesitate to stop a stranger for directions. Hoosiers are always happy to lend a helping hand.
The city is centrally located in the state and the country, at the intersection of four major interstate highways. This is why it is sometimes referred to as the Crossroads to America. Thanks to this, adventure travelers get easy access to various charming small Indiana towns worth exploring and extend the fun with a visit to Chicago, just three hours away.
Indianapolis experiences a typical Midwestern climate, and the unpredictable weather can swing from cozy sunny to dull rainy without warning. A warm 70-degree Fahrenheit day could be followed by a wet and cold day.
Tourists should pack enough layers to add or reduce appropriately depending on the weather.
While Indy is a major city, it is divided into multiple small neighborhoods with distinct personalities, offering that warm small-town feel many first-timers in a new area seek. And with attractions like sports, parks, museums, restaurants, trails, and wildlife, Indianapolis is the perfect destination for all kinds of travelers.
Related: 10 Sights Worth Seeing In Hendricks County, Indiana
Best Time To Visit Indianapolis
Downtown of Indianapolis by Indiana Central Canal
The best time for visitors in Indianapolis is from May to August when the weather is warm and ideal for getting out and exploring the city.
Summer is marked by clear skies, plenty of sunshine, and humid conditions, with the temperatures rising to a high of over 83 degrees Fahrenheit in the peak of July.
This is the busiest time for tourists in Naptown, featuring multiple outdoor activities like hiking, biking, and exploring outdoor attractions. As flight and lodging providers hike prices to take advantage of the inflow of travelers, tourists are advised to book well in advance to avoid overspending.
Key summer events include the 4th of July celebrations, Symphony on the Prairie, and the Indiana State Fair.
Pack a swimsuit to cool off in a wading pool or water park when the heat gets unbearable.
For those trying to skip the crowds and avoid the high humidity, the shoulder seasons in spring and fall are an excellent time to visit. Spring hosts the biggest show in town as the Indianapolis 500 race draws fans in their thousands to enjoy the speed spectacle.
During fall, the air is crispy and clean, and the cool colors of fall foliage bring a cheerful vibe to the city. The mild weather allows guests to remain cozy in jeans and a sweater while exploring Indianapolis.
Indianapolis city skyline at daybreak
This is a great time to get swept in the festival atmosphere of an Indianapolis Colts game at Lucas Oil Stadium, partake in the Oktoberfest celebrations, or attend the spooky Headless Horseman fall festival.
Winter can be harsh in Indianapolis, lasting three months, with temperatures dipping to a freezing low of 20 degrees Fahrenheit. Several events like the Indianapolis Marathon and Circle of Lights help spread the holiday cheer in winter, but visitors skip town after the New Year's celebrations.
The best time to travel on a budget is from November to March. Guests can take advantage of great deals during this low season, and hotels offer generous discounts from January to March. Just be ready to brave the Indy cold!
Best Ways To Get Around Indianapolis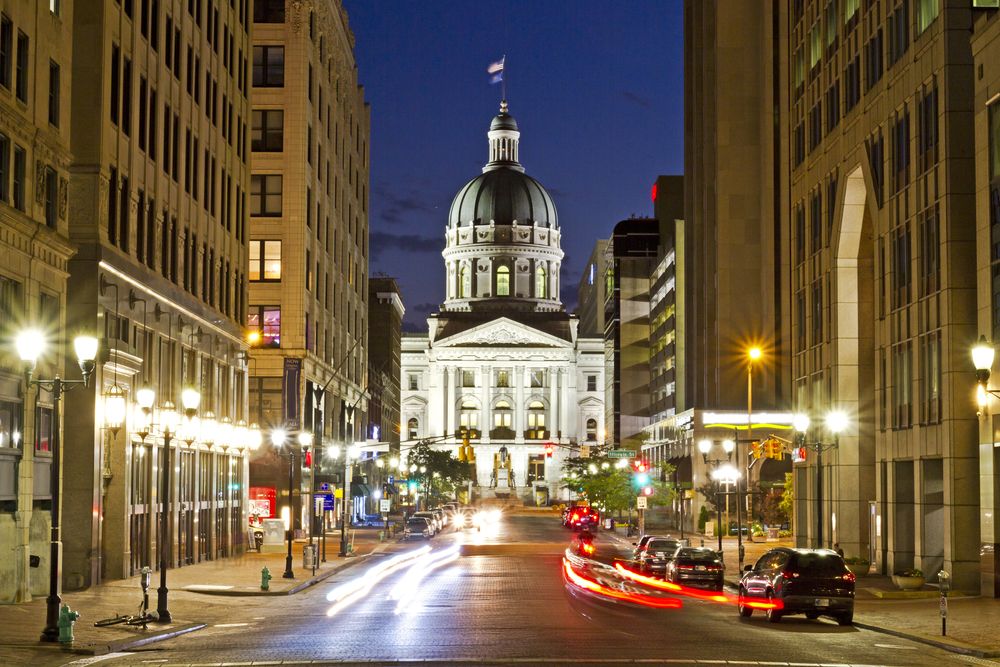 A dramatic view of the Indiana capitol building at night in Indianapolis
Travelers have ample options for moving around the beautiful city of Indianapolis and need not worry about getting from point A to B.
Public transportation
There is every reason to learn the ins and outs of public transportation in a new place, as there is a high likelihood it will come in handy. In Indianapolis, IndyGo operates a public bus transit system to ferry residents. The buses ply 31 fixed routes traversing different areas in the city, making it convenient for tourist expeditions.
IndyGo introduced the Red Line, comprising a fleet of new rapid-transit e-buses covering a 13-mile route from Broad Ripple to the Indianapolis University campus via the downtown district.
These come with luxuries such as phone-charging ports, Wi-Fi, and bike storage, which tourists will find convenient.
Hours: Monday to Friday (5 am – 1 am), Saturday (6 am – 1 am), Sunday (7 am – 10 pm), passing at 15-minute intervals
Ticket: Red Line ($2), Non-Red Line ($1.75, 1-day pass $4, 7-day pass $20, 31-day pass $60, or $17.50 for 10 trips)
Tourists can download the MyKey app to purchase Red Line tickets digitally.
Bike
Indy is an excellent city to explore on two wheels, and its Pacers Bikeshare program boasts more than 500 bikes spread across 50 stations in the downtown area that travelers can grab anytime they feel like cycling. The bikes are available for hire 24/7, accessible at a bike-share kiosk or via an app.
Furthermore, bike trails abound in the city, with the Indianapolis Cultural Trail among the favorite. This state-of-the-art bike path cost the city $63 million and stretches 8 miles, linking five districts in downtown Indy (Mass Ave, the Canal and White River State Park, Fountain Square, the Wholesale District, and Indiana Avenue).
Bike rental rates: $1 plus .15 per minute or $125 for an annual pass (unlimited hour-long rentals)
Related: The Hike To Rose Island Is Indiana's Perfect Spooky Trail
E-scooters
Those who prefer a less strenuous way of moving around can opt for an electric scooter as a bike alternative. These come in handy when covering short-range travels or bridging the gaps between stops on the IndyGo routes.
However, users can only ride the scooters on the street and bike lanes, never on sidewalks.
To rent one, visitors can download an app and then scan a QR code to access the scooter.
E-scooter rental rates: $1 plus .30 per minute
Tourists risk a fine when parking their hired electric scooter in restricted areas, including parking spaces and private driveways, or when blocking sidewalk ramps.
Taxi
Taking a cab is another great option when tourists are unsure where to go or what to see. These can be found at the airport upon arrival and all the way to the downtown district.
Over 30 taxi companies in the city offer this critical service, so it shouldn't be a problem finding one whenever necessary.
Taxi rates: On average, $30-$35 for a 20-minute drive (may vary subject to traffic)
Those who like to soak in the city's sights and sounds at a snail's pace will be glad to know that Indy is also very navigable on foot. The downtown area is especially suitable for walkers thanks to its relatively small size and grid system.
Take this opportunity to explore the lively scene and stores in the area. Still, you'll need to catch a cab to get to key attractions outside the city's core, such as the Indianapolis Motor Speedway and the Children's Museum of Indianapolis.
Where To Stay In Indianapolis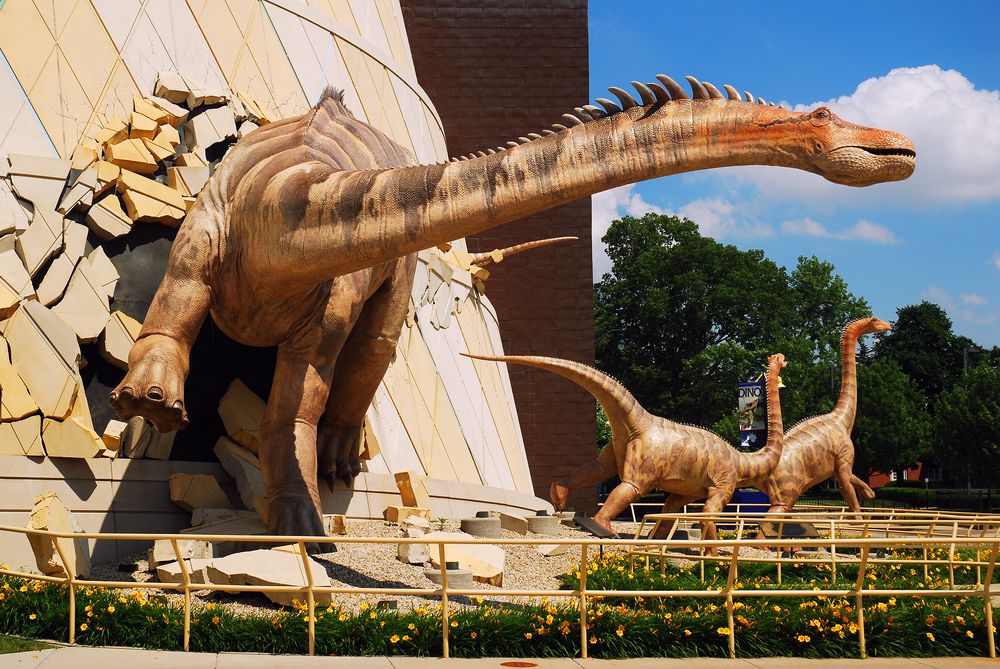 A dinosaur "breaks out" at the Indianapolis Children's Museum in Indianapolis, Indiana
Indianapolis is a mesmerizing metropolis split into 237 neighborhoods. Each comes with a unique cultural vibe mixed with trademark Hoosier hospitality to culminate in the perfect setting for first-timers to mingle with locals and learn about their lifestyles.
Guests should have no issues finding a nice neighborhood for their accommodation options. While the choices can be overwhelming, here are the top areas to stay in incredible Indy:
Mass Ave
Short for Massachusetts Avenue, Mass Ave is one of the four cultural districts within Indy's urban core. It is among the city's most coveted addresses, known for its vibrant atmosphere.
The area features a five-block stretch dotted with art galleries, theaters, restaurants, hotels, shopping centers, and watering holes.
Some nearby attractions include Old National Center on New Jersey Street, which hosts thrilling live music performances and Broadway productions.
Just across the street, guests can find Rathskeller, the perfect joint to sample authentic German cuisine and beer.
Fall Creek Place
Situated two miles from the downtown area, this upcoming suburb consists of old residential structures being remodeled into modern homes. It boasts an urban core ripe with shopping centers, entertainment options, and lush green parks and open spaces.
There's plenty to do in Falls Creek, with quaint coffee shops and old-school diners among the highlights. Tourists can also check out Goose the Market deli or hop into the Koelschip for a refreshing craft beer.
Broad Ripple
Many Indianapolis residents consider Broad Ripple among the town's best places to stay. This scenic neighborhood offers a laid-back vibe and can easily be accessed by bike, electric scooter, or foot. Several businesses feature in the area, culminating in a buzzing atmosphere with so much to do.
From boutiques and restaurants to coffee shops and breweries, there is always something new to be discovered. But if tourists want a break from the hustle and bustle, they can head to the nearby Broad Ripple Park, which offers a calm and quiet environment, perfect for a lazy stroll.
Woodruff Place
Visiting Woodruff Place is like taking a trip down the Midwestern memory lane. This classic neighborhood comprises well-manicured Victorian homes dating back to the 1890s. Esplanades and fountains highlight the streets of the first organized residential neighborhoods in the city.
Some tourist attractions include Beholder, a classy restaurant with fine cuisine and a sophisticated ambiance. Shops, grocery stores, and several taverns also draw visitors to the area, and on every first weekend of June, a summer flea market turns the area into a bee hive of activities.
Speedway
Speed enthusiasts and drag racing fans converge at the iconic Indianapolis Motor Speedway to witness one of the best shows Indy has to offer. The electric atmosphere when a race with roaring engines and cheering spectators makes for an awesome experience.
However, the Indianapolis Motor Speedway is still worth visiting, even without a race. Several businesses like restaurants, wineries, microbreweries, and distilleries line the area, making it the perfect spot to sample the local nightlife.
Top Hotels In Indianapolis
World War I memorial inspired by neoclassical design, Indianapolis
Guests need not worry about finding a nice cozy place to rest and rejuvenate after a long day of exploration and discovery. Indianapolis offers multiple accommodation options that bring out the best of Hoosier hospitality.
Luxury options:
Crowne Plaza at Union Station
Address: 123 West Louisiana Street, Indianapolis, IN 46225
Cost per night: Starts from $284 for 2 guests
Amenities: Complimentary high-speed internet, valet parking, fitness center, coffee machine business center, bar/lounge, an indoor pool, on-site restaurant, tea/coffee maker, room service, express check-out
The Westin Indianapolis
Address: 241 West Washington Street, Indianapolis, IN 46204
Cost per night: Starts from $255 for 2 guests
Amenities: Large flat-screen HD TVs, meeting facilities, fitness center, bar/lounge, coffee machine, coffee shop, Wi-Fi in all areas, valet parking, business center, roll-in shower, cable/satellite TV
Mid-range options:
Courtyard by Marriott Indianapolis Downtown
Address: 601 West Washington Street, Indianapolis, IN 46204
Cost per night: Starts from $184 for 2 guests
Amenities: 24-hour fitness center, complimentary Wi-Fi, air conditioning, valet parking, business center, coffee machine, on-site mini-market, restaurant, bar/lounge, 24/7 front desk
Hotel Broad Ripple
Address: 6520 Westfield Boulevard, Indianapolis, IN 46220
Cost per night: Starts from $165 for 2 guests
Amenities: Free self-parking, meeting/banquet facilities, free internet, coffee machine, room service, free toiletries, bar/lounge, daily housekeeping, snack bar, hairdryer, refrigerator, ironing board
Related: 9 Perfect Cabin Rentals In Indiana
Budget options:
Sleep Inn & Suites And Conference Center Downtown
Address: 1244 West 16th Street, Indianapolis, IN 46202
Cost per night: Starts from $109 for 2 guests
Amenities: Free Grab n Go Breakfast, microwave, free Wi-Fi, banquet facilities, meeting rooms, iron and ironing board, an indoor pool, refrigerator, desk, flat-screen TV, hair dryer, and a hot tub in some rooms.
Super 8 by Wyndham Indianapolis
Address: 4033 East Southport Road, Indianapolis, IN 46237
Cost per night: Starts from $62 for 2 guests
Amenities: Laundry facilities, free internet, coffee maker, free toiletries, free parking, cable/satellite TV, wake-up service, 23-hour front desk, room service
Where To Eat In Indianapolis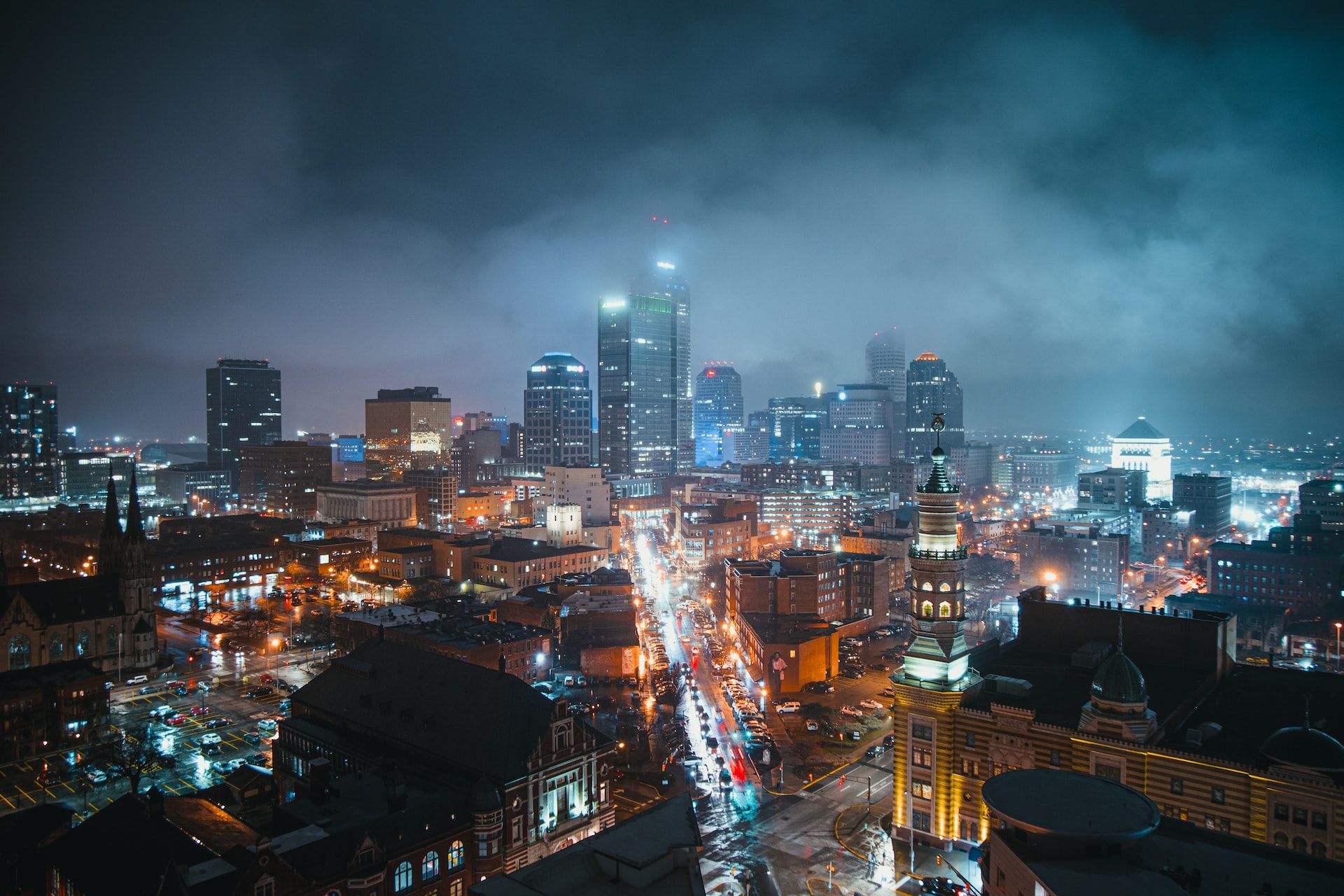 Nighttime in Indianapolis, Indiana
Indianapolis boasts a lively dining scene with a blend of local flavors and international cuisine. Many restaurants focus on farm-fresh and sustainable ingredients to prepare healthy and delicious dishes inspired by creative menus that keep changing depending on the available seasonal produce.
Whether looking for fine or local dining options, there is no shortage of eateries and food houses to cater to all preferences. Here are the best places to eat and drink in Indianapolis:
For breakfast:
Café Patachou
Café Patachou is where Hoosiers go to get a sumptuous serving of the day's most important meal. This quaint joint in downtown Indy offers an interesting menu with creative made-from-scratch dishes like cinnamon, avocado, and prosciutto toasts.
Their delicious omelets feature playful names such as the "Hippie with a Benz." Café Patachou has four more locations across the Hoosier capital, so tourists can always be on the lookout for this popular joint wherever their adventures take them.
Address: 225 W. Washington St. Indianapolis, IN 46204317-632-0765
Business hours: Monday to Friday (7 am – 3 pm), Saturday & Sunday (8 am – 3 pm)
For lunch and dinner:
King Dough Pizza
This local pizzeria is the perfect place to stop by for a lunchtime pizza. Specializing in handmade pizzas prepared from classic recipes, customers can choose from a wide selection, including vegetarian, gluten-free, and vegan pies.
The menu features starters such as fried calamari, homemade meatballs, and salads. The fresh and high-quality food makes Kind Dough Pizza a crowd favorite in Indianapolis.
Address: 452 N Highland Ave, Indianapolis, IN 46202, USA
Business hours: Thursday–Sunday from noon to 9 pm, Monday–Wednesday from 4 pm to 9 pm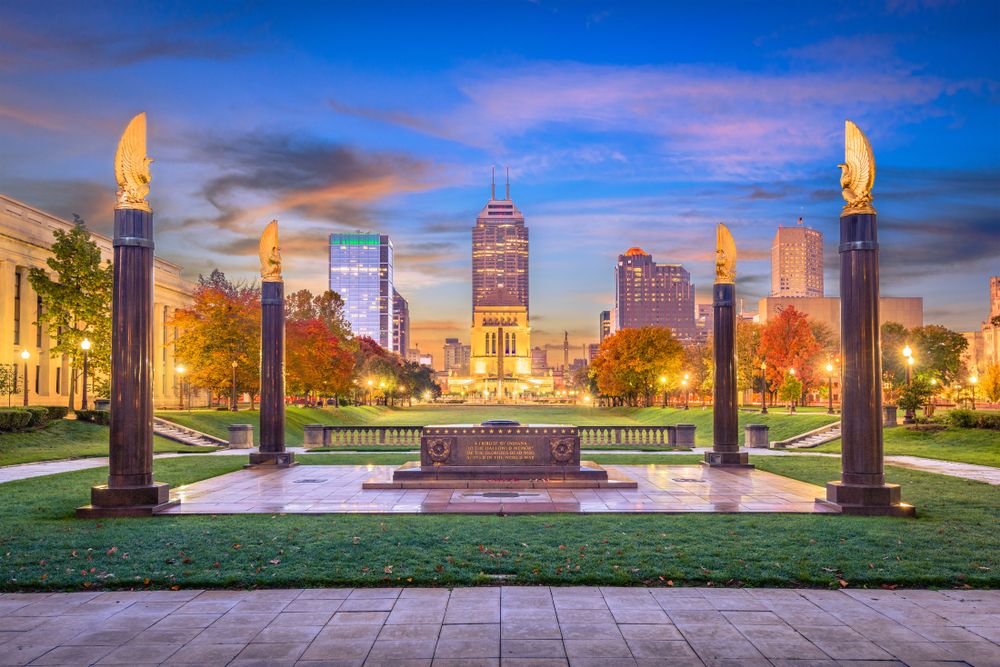 Monuments and downtown skyline at dusk, Indianapolis, Indiana, USA
St. Elmo Steak House
Indy is big on meat, and residents converge at this lively spot to get a tantalizing taste of dry-age steak and fresh seafood. The menu impresses with a mix of traditional steakhouse options like wedge salads and shrimp cocktails served with sweet sauces on the side.
The bar seating area features large kitchen windows that allow customers to watch all the action as chefs prepare the meals. There's also a wine cellar with thousands of fine bottles guests can indulge in while waiting for the meal.
Address: 127 Illinois St, Indianapolis, IN 46225, USA
Business hours: Sunday to Friday (4 pm – 10 pm), Saturday (3 pm – 10 pm)
For drinks:
The Rathskeller
Hoosier capital is famous for its numerous craft breweries, and The Rathskeller represents the best of what the city has to offer. This vibrant joint offers a mix of Bavarian ambiance and great beverages in the downtown Mass Ave district.
The sprawling facility features a dining room, event area, and spacious outdoor with picnic tables where patrons converge to enjoy a refreshing craft beer while watching live entertainment.
Address: 401 E Michigan St, Indianapolis, IN 46204, USA
Business hours: Sunday to Thursday (11 am – 9 pm), Friday & Saturday (11 am – 10 pm)
Top Things To Do In Indianapolis
Lucas Oil Stadium Preseason Colts Football, Indianapolis, Indiana 
When it comes to finding a favorite pastime in Indianapolis, tourists will be overwhelmed by the long list of choices at their disposal. Luckily, there is something to guarantee everyone a fun time full of lifelong memories.
Indianapolis Motor Speedway
For years, this iconic racing venue has put Indianapolis on the map by hosting top events like the Indianapolis 500, U.S. Grand Prix, and Verizon 200.
Auto racing fans gather from around the country to cheer and jeer as the rubber meets the tarmac in a battle of speed and agility.
Guests can also visit the Indianapolis Motor Speedway Museum, which displays exclusive racing car collections and artifacts chronicling a century of racing history and culture.
Inside the museum, the Hall of Fame holds precious records of former drivers and team owners that graced and left a lasting impression at the IMS.
Admission and hours: Visit the website to confirm, as these vary depending on the event
Downtown Indianapolis
Downtown Indy, also known as "Mile Square," is the city's heartbeat and features architectural marvels from the late 1800s. The area offers tourists much to do and discover, with several historic sites, public art, event spaces, and shopping options spread throughout.
History buffs can visit the Indiana War Memorial Plaza Historic District to pay homage to the heroes who fought in different battles in America's history.
Downtown is also where visitors will find the Old National Center to enjoy a live performance from top musicians or watch a thrilling Indiana Pacers game at the Gainbridge Fieldhouse arena.
The Children's Museum of Indianapolis
Visitors vacationing with their young ones can take them to this magnificent facility dedicated to providing useful learning opportunities to children and satisfying their curiosities.
Established in 1925, the largest children's museum in the world features amazing displays of huge dinosaur fossils that will leave the kids lost for words.
A good example is the Mastodon skeleton from 12,500 years ago. Children can also experience the pirate shipwreck in the planetarium or marvel at multiple interactive galleries exhibiting art pieces and artifacts.
Admission: Prices vary depending on days and times, confirm on the website
Hours: Tuesday to Sunday (10 am – 5 pm, closes at 8 pm on Thursdays)
Related: Indiana Beach Is Home To A Boardwalk, Amusement & Water Park
White River State Park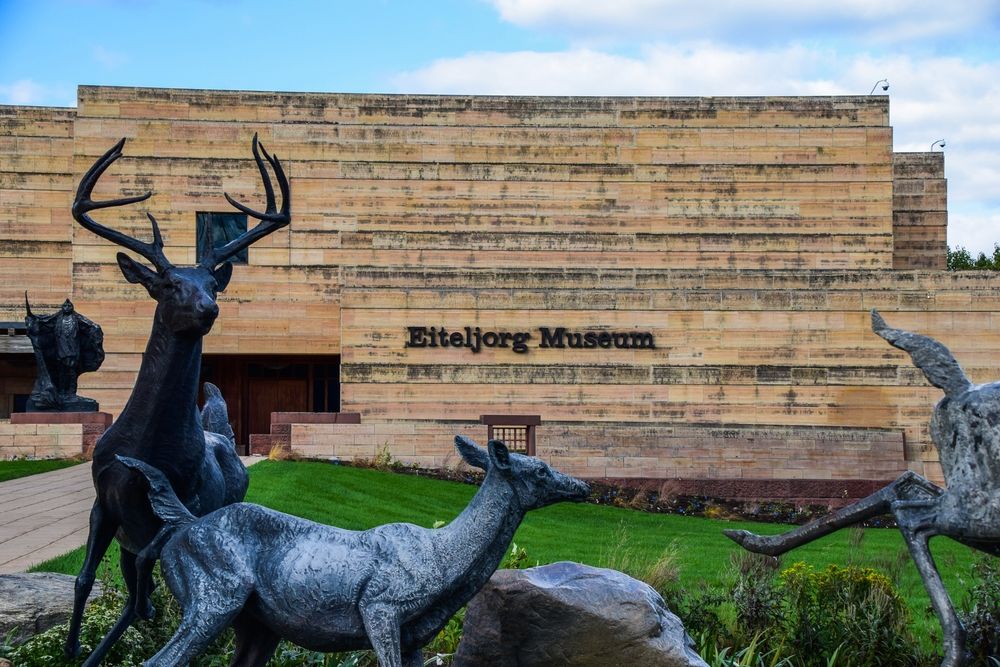 The Eiteljorg Museum in White River State Park in Indianapolis, IN
Located in downtown Indy, the White River State Park is a 250-acre outdoor space on the bank of the White River. It hosts diverse attractions that draw visitors in their thousands, including the Indianapolis Zoo, IMAX Theater (largest in the state), and the NCAA Hall of Champions Museum.
Guests can also venture into the water by renting a kayak, Stand-Up paddleboard, or pedal boat to enjoy a laid-back drift down the clam river.
Admission: Free
Hours: 5 am – 11 pm daily
Lucas Oil Stadium
Sports is a big deal in Indianapolis, even if the local fans aren't the most spirited in all the US. Lucas Oil Stadium, home of the Indianapolis Colts (NFL), brings fans together in the city's heart to enjoy an exciting football game.
The 67,000-capacity facility features a retractable roof and offers awesome views of the ongoing action.
Attending a football game at the Lucas Oil Stadium is one of the best ways to spend time in Indy. The arena's proximity to the city's business district gives tourists direct access to some of the region's top restaurants, cafés, and shopping centers.
Admission and hours: Visit the website to confirm as these vary depending on the event
How To Spend The Perfect Day In Indianapolis
Spectators enjoying a race at the Indianapolis Motor Speedway, Indianapolis, Indiana
The best part about spending a day in Indianapolis is that tourists get a complete dose of fun things to do at once. While there's a lot that Indy city offers, follow this precise itinerary to make the most of the short visit:
Start the day with a hearty breakfast at Milktooth and enjoy luscious dishes like grilled cheese, Dutch pancakes, and potato latkes. Head to the Children's Museum of Indianapolis for fun family time and precious learning opportunities for the young.
Catch a ride to Mass Ave and explore the numerous stores in the area. Be sure to stop by The Flying Cupcake for a sweet treat and Global Gifts, Silver in the City, to get a cute souvenir to take back home.
For lunch, King Dough Pizza will be perfect for rejuvenating and stocking up on energy reserves in preparation for the afternoon's adventure. Afterward, discover the over 30,000 plant types and at least 1000 animal species at the Indy Zoo before visiting the Monument Circle to honor fallen heroes at the Soldiers and Sailors Memorial.
Before the day ends, tour the iconic Indianapolis Motor Speedway for an exciting go-kart drive and hop into St. Elmo's Steak House for a sumptuous shrimp cocktail with a side of spicy sauce.
FAQ
Q: Is Indianapolis worth visiting?
Hoosier capital is the ideal destination for all kinds of visitors. It boasts many attractions, the most popular being the Children's Museum of Indianapolis, Indianapolis Motor Speedway, and Lucas Oil Stadium. For curious adventurers drawn to mystery, exploring Indy's underground tunnels is the perfect way to experience the city.
Q: What is the nicest area of Indianapolis?
Indianapolis is easily the most beautiful town in Indiana, divided into more than 200 neighborhoods. While each area offers a unique personality worth experiencing, most locals and tourists agree that the downtown area, or "Miles Square', is the best place to visit.
Q: What is the number 1 attraction in Indiana?
The top attraction in Indiana is probably the Indianapolis Motor Speedway, but there's so much to explore that it's hard to really name a highlight. Indy has an underground catacomb to tour, and there are countless things to do in the city and around the rest of Indiana.