That old canvas smell of camping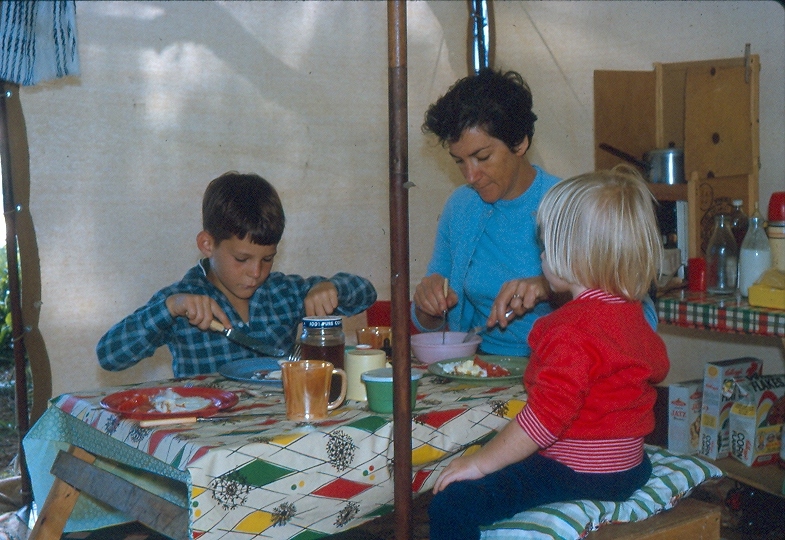 I have recently been on a road trip with my 21-year-old daughter, part of which included three nights in a tent at Byron Bay. Apart from finding out on the first night that the tent leaked (albeit a wee bit, but reminiscent of the water torture method from all good war comic books), we had a brilliant time. I will bet though, that when she looks back on it later in life, the smell of the tent won't feature strongly in her memory as tents do in my childhood memories. A whiff of good old canvas is far more emotive than nylon (with a nice layer of new blue plastic tarp).  
As Dad was a teacher, we disappeared every school holiday. Dad had made a timber box trailer and painted it to match the FJ. Both trailer and car were loaded to the gunwales with the white and green canvas tent and all the essentials, sometimes with the heavy old wooden boat and cane fishing rods, and we would head off to go camping. There were no fancy plastic ground sheets, just a large piece of hessian covering the floor, more to help keep the sand out of our beds than anything else. The poles were wooden ones that came apart in two pieces and the guy ropes held fast with enormous metal pegs and had a timber slider. There were always trenches dug around the tent and if it rained we were told not to touch the canvas as it would break the seal. I vaguely remember in my dream-washed sleep, mum and dad racing around digging more trenches and tying things tighter when it did rain. The bliss of being a sleeping child, totally oblivious to what was happening.      
Dad had also made various boxes for storage or gas cooking, and a folding table which mum covered with a plastic tablecloth – we had some standards! Plates and cutlery were the 'camping set', a mish-mash of various bits and pieces that Mum could scrounge with the ever faithful peach lustre Fire King mugs doing duty for the endless cups of tea. If anything looked remotely useful Dad would say, 'That would be good for camping,' even if it wasn't – it's still part of our family vernacular.