Royal Caribbean's new cruise ship aims to be the ideal vacation for young families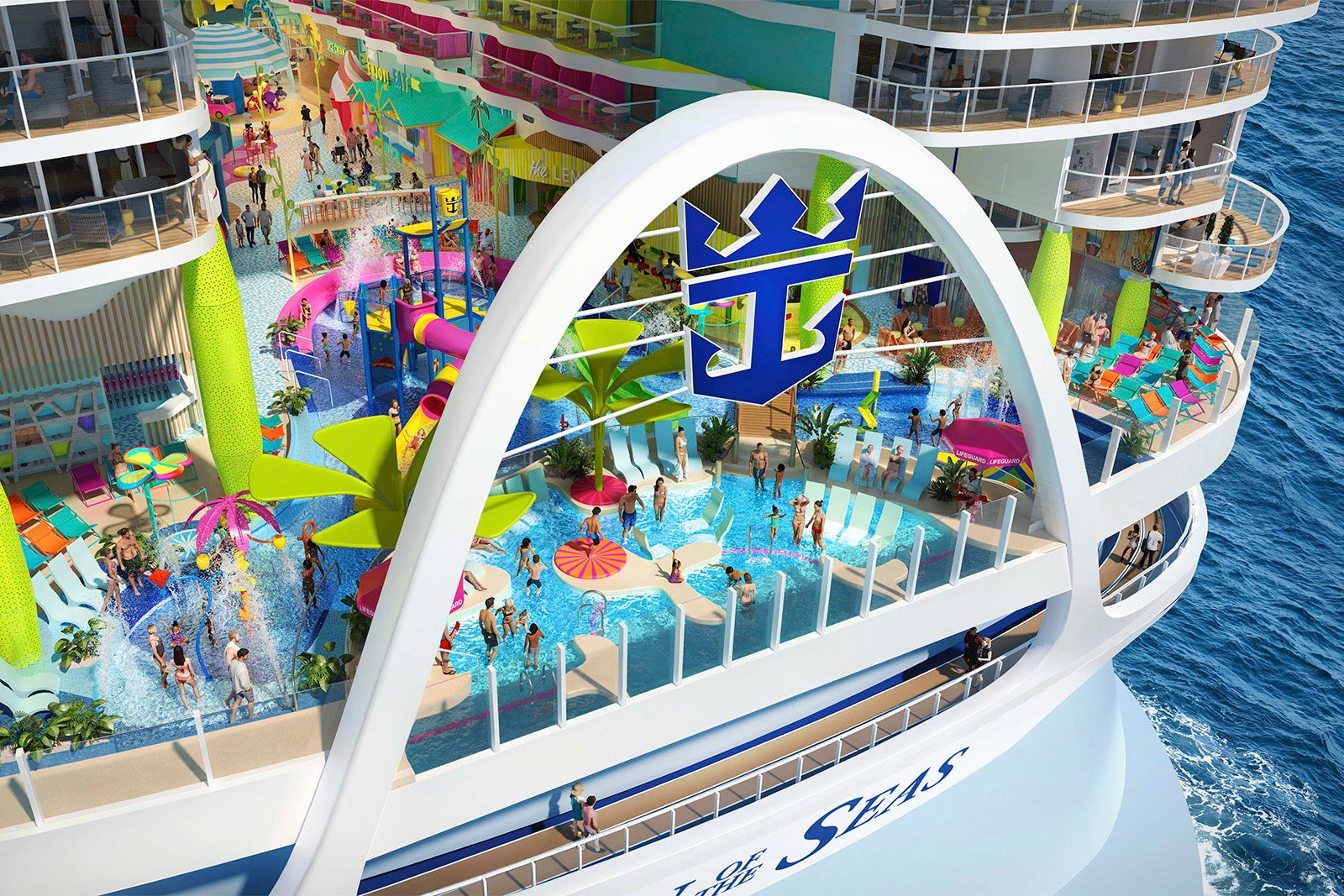 Royal Caribbean is betting big on young families with its newest, biggest cruise ship, Icon of the Seas.
When the 7,600-passenger vessel launches in 2024, the line hopes it will create "the best family vacation in the world," according to Michael Bayley, the line's president and CEO — the kind of no-compromises, something-for-everyone experience that will create believers out of cruise skeptics, lure well-heeled families away from their beloved land resorts and finally give parents some much-needed relaxation time.
If Royal Caribbean can pull it off, Disney should be scared.
TPG got a sneak peek into what the line plans for families on Icon of the Seas at an event in Miami on Tuesday, and it's impressive. For the first time, the line is going all-in on young families with an open-air area at the back of the ship devoted to everything a family with young kids could want, surrounded by family-focused accommodations and with easy access to the kids club and other popular onboard attractions.
For cruise news, reviews and tips, sign up for TPG's cruise newsletter.
Royal Caribbean has long been a family favorite. Its Adventure Ocean kids club features activities for kids and teens of all ages, plus a nursery and little-kid play areas for children under 3. Its biggest ships thrill kids with splash parks, waterslides, rock climbing and miniature golf. But real family-focused cabins, with separate sleeping spaces for kids and multiple bathrooms, and plentiful activities for the preschool set have been harder to come by.
No longer. Royal Caribbean realized that the five vessels in its current largest class of ships, the Oasis class, routinely carry 200 to 600 young kids on any given cruise, and that these young families sail year-round as they're not yet tied to the school calendar. With Icon of the Seas, Royal Caribbean aims to lure those families with more amenities catering to them, presented in a way that lets parents get a real vacation at the same time.
Here's what we currently know about Icon of the Seas' family attractions.
Related: Royal Caribbean's new Icon of the Seas will be world's biggest cruise ship, with room for nearly 10,000 people
Sign up for our daily newsletter
Surfside neighborhood for young families
On Icon of the Seas, Royal Caribbean has created its first neighborhood (or themed section of the ship) dedicated entirely to young families. It's located in an open-air space at the back of the ship, approximately where the Boardwalk is found on the line's Oasis-class ships.
The concept behind this area is to create an all-day play area for families with kids ages 6 and under (though everyone is welcome), where parents don't need to give up their relaxation time just because their kids want to play. The centerpiece will be adjacent water play spaces for kids and adults, including Splashaway Bay and Baby Bay splash parks for junior cruisers and the Water's Edge pool for grownups. Colorful deck chairs line the space so parents can lounge with their feet up or soak in the pool while maintaining sightlines to their playing kids.
Royal Caribbean will bring back its Oasis-class carousel to the Surfside neighborhood, but the ride will be newly pool-themed with the ride-on animals designed like pool floats and the carousel roof a giant beach umbrella.
Related: The ultimate guide to Royal Caribbean | Royal Caribbean cabins and suites guide | The 6 types of Royal Caribbean ships, explained | How to maximize your perks with Royal Caribbean's loyalty program
Surfside will also house family-friendly dining venues, so no one has to go far when hunger strikes. The venues have not been announced, though Royal Caribbean staffers told me there would be some complimentary options. Surfside's bars will serve some exclusive-to-Surfside "mommy and me" drinks, where kids can order the nonalcoholic versions of their parents' tropical cocktails. (Caregivers may also want to focus on mocktails while supervising their preschoolers in a slippery play zone.)
Retail outlets will include the Sugar Beach candy shop and boutiques selling beach necessities and fun souvenirs for kids.
The ship's arcade, Adventure Ocean kids club and Social020 teen club will all be nearby. Even better, Surfside will be accessible from the deck above by both a staircase and a slide.
New family-focused cabins
Royal Caribbean will outfit Icon of the Seas with several new cabin layouts aimed at families with three or more kids. Many of these will be located near the Surfside neighborhood, with some overlooking it with interior-facing balconies. This will be the first time Royal Caribbean is creating large numbers of cabins created exclusively with families in mind.
The Family Infinite Balcony cabin is an ocean-facing, extra-long family cabin measuring 285 square feet. It can sleep up to six people with an alcove featuring upper and lower beds for kids, a separate sleeping area for grown-ups, a living area and split bathroom (toilet and sink in one room and shower and sink in the other). The infinite balcony design takes an idea from Royal Caribbean sister line Celebrity Cruises where instead of a standard balcony external to the ship, the room features a glass wall with a window that can roll down halfway (like a car window) to allow fresh air in, and curtains to close off that area from the rest of the cabin to create a veranda-like space.
Across the hall from these family balcony rooms will be the 269-square-foot Surfside Family Suites. These suites sleep four with a glassed-in living area that can turn into a kids bedroom at night, plus a real 53-square-foot balcony overlooking the Surfside neighborhood. Though not in the Suite Neighborhood, these accommodations are designated as Sky-class suites and come with some of the Royal Suite-class perks, such as access to the exclusive Suite Neighborhood sun deck and restaurants.
There are also smaller, 196-square-foot Surfside Family View Balcony cabins and 187-square-foot Surfside Family View Interior cabins for families who want a cheaper alternative near all the family neighborhood fun.
The creme de la creme of family accommodations is the three-deck-high Ultimate Family Townhouse, an evolution of the Ultimate Family Suite that wowed guests on Oasis-class ships. In addition to kid and adult sleeping areas, this 1,772-square-foot top-level suite features an in-suite slide, movie-viewing room, a karaoke machine and spacious indoor living spaces. It also features 751 square feet of outdoor space, divided among two balconies and a "backyard" with a pingpong table, outdoor seating and a white picket fence leading directly to all the Surfside neighborhood attractions. It can sleep up to eight guests.
Related: The 5 best destinations you can visit on a Royal Caribbean ship
In total, 313 cabins and suites are listed as family-focused accommodations. However, many regular cabins and suites can sleep three or four guests should families wish to reside in other parts of the ship.
Bottom line
Bookings for Icon of the Seas' maiden season, which begins Jan. 28, 2024, go on sale Monday for Royal Caribbean loyalty members and Tuesday for everyone else. You can bet that its most innovative family cabins will sell out quickly. If you're a young family, wondering how you're going to catch a break on vacation with a baby, toddler or preschooler, this ship might just be the answer to your vacation prayers.
Planning a cruise? Start with these stories: