'Just not right': London traveler fumes over canceled-flight runaround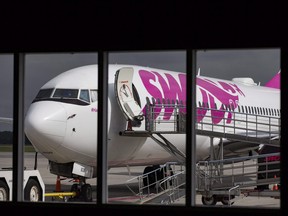 Article content
A Londoner is warning buyers to beware after a cancelled Swoop Airlines flight from London to Cancun triggered a days-long runaround searching for answers on the fate of her getaway.
Article content
Swoop is a low-cost carrier owned by WestJet. Melissa Laprise said she was caught in limbo when her family's flight, booked as part of a WestJet vacation package, was cancelled – leading to hours on hold with customer service and an unproductive back-and-forth with Swoop officials.
Article content
"It's been a very frustrating situation, and I think without the persistence we've had, we've phoned every single day, several times a day, they wouldn't contact us," she said Sunday. "We've had to fight, fight, fight constantly, for days on end, just to get some action after being bounced back and forth between the two companies."
Laprise said she booked the vacation through online travel agency RedTag early last month. The all-inclusive resort and flight were both included in the price, about $5,400, Laprise said.
Article content
Laprise, her husband and son were scheduled to fly from London to Cancun Friday afternoon on a Swoop flight, but it was cancelled 22 hours ahead of the departure time, Laprise said.
Laprise said she never received an update from Swoop or WestJet Vacations about next steps following the flight cancellation, which came amid a severe snowstorm that pounded the region Friday afternoon.
Swoop's cancellation of Orlando flights causing headaches for London travellers

Gonna fly now: London airport expects 2023 passenger traffic boom
She tried to reach customer service at WestJet, waiting on hold and not getting clear answers on the status of their vacation package after the flight cancellation, Laprise said. At one point, she said a representative told her they would have to forfeit the resort portion of the package cost since it could not be refunded.
Article content
Getting direction from Swoop was even more difficult, Laprise said. There was no in-person or phone customer service option, forcing her to correspond with the company on Facebook, she said. The replies were slow and unhelpful, she said. Swoop kept directing her to speak with WestJet Vacations, she said.
In an emailed statement Monday, Swoop officials said the London-to-Cancun flight Friday was cancelled due to weather and all passengers were "notified by email and provided with the option to be rebooked on the next available WestJet or Swoop flight or receive a refund."
For Swoop flight cancellations linked to a WestJet Vacations package booking, the carrier said "every effort is made to re-accommodate impacted travellers on the next available flight and they are notified of their new itinerary by email."
Article content
Swoop officials added: "Unfortunately, due to the significant weather system that impacted Southern Ontario this weekend, re-accommodation options were limited across both WestJet and Swoop's networks and we sincerely apologize for the interruption to the travel plans of our travellers."
Laprise said she called WestJet again first thing on Sunday morning and was able to re-book the flight. The family drove to Toronto to catch a Swoop flight to Cancun that afternoon for the four remaining days of their trip.
It is unclear if they will be out the three missed days due to the flight cancellation, she said, adding that it's an irritating headache for her family, such a setback could really hurt others who plan and save for years for vacations.
Article content
"On principle, it's just not right," Laprise said. "Our hearts were hurt by this, but to think that someone could have been in a position where this was a lot of their money, and being told they were going to be out of luck."
This is not the first time Londoners travelling with Swoop have dealt with headaches and setbacks involving the ultra-low-cost carrier.
Just last month, Swoop cancelled several flights to the Orlando, Fla., area from the London International Airport, rescheduling them days later. The closing of U.S. customs offices at the Orlando-area airport where Swoop flies at 5 p.m. meant even slight delays trigger a full cancellation of the flight, London airport officials said, demanding solutions to the service issue.
Article content
From April to December 2022, Swoop had the third-highest complaint rate of any Canadian airline, data from the Canadian Transportation Agency shows. Flair, another ultra-low-cost carrier, had a rate of 13.4 complaints per 100 flights, the highest of the seven domestic airlines, while Sunwing had a rate of 12.6 and Swoop came in at 12.2 complaints per 100 flights.
For flights cancelled due to weather, airlines have a duty to rebook passengers on the next available flight, said Gabor Lukacs of Air Passenger Rights, a Canadian advocacy group for air traveler rights.
It doesn't matter if the flight is booked as part of a vacation package or through a travel agent or directly from the airline's website, the responsibility is the same, he said. Airlines may attempt to muddy the waters with flights booked as part of vacation packages, but the law is clear, he said.
What worries Lukacz the most is the characterization of Swoop as a small airline, by both regulators and the public, therefore with limited options for passenger rebookings. The carrier is affiliated with WestJet and cancelled Swoop passengers should be automatically accommodated on WestJet flights when other Swoop ones are unavailable, he said.
"WestJet and Swoop are partner airlines. It's a no-brainer."