Governor General's week-long Middle East trip cost taxpayers $1.3M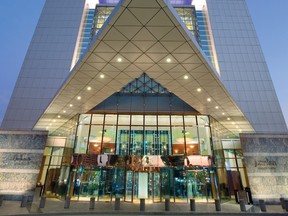 A detailed itinerary for the trip indicates the vice-regal and her entourage stayed at five-star hotels during many legs of the trip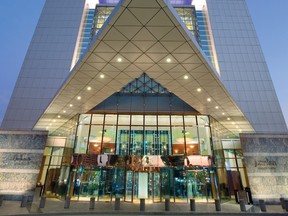 Article content
OTTAWA — Gov. Gen. Mary Simon's week-long trip to the Middle East earlier this year — the target of a government expenses review — cost Canadian taxpayers more than $1.3 million, new documents reveal.
Article content
The documents, made available by the four government departments that coordinated the trip, break down the $1,307,731.39 cost of sending Simon, her husband and a planeload of dignitaries and staff to visit Expo 2020 in Dubai for a week this March.
Article content
Published online on the website for the Commons standing committee on government operations and estimates, the documents show most of that cost was borne by Global Affairs ($518,741.24), followed by National Defence at $472,591.74, the governor general's office with $160,467.41, and the RCMP at $155.931.
In June, the National Post first reported on a response to an order paper question regarding the cost of flying and dining the vice-regal, her husband and her 28 passengers aboard a Canadian Forces CC150 Polaris transport plane, between March 16 and 24. 
Article content
While receipts put the cost of food at $93,117.89, detailed invoices obtained by the Canadian Taxpayers Federation and the National Post in September put food costs just shy of $100,000, and included such fare as beef wellington, pork tenderloin and carpaccio — complete with special meals plated on china for the vice-regal and her husband, both referred to in documents as the "VVIP."
Those redacted receipts also included nearly $1,000 for Flow boxed water, 150 euros ($221.67) for an unknown quantity of orange juice, 400 euros ($526.76) for a redacted quantity of lemons and limes, and 75 euros ($110) for four litres of apple juice — the only item without a redacted quantity. 
In September, the House of Commons government estimates committee grilled senior government officials on the cost of the now-notorious eight-day trip.

Article content
Canada's head of protocol, Stewart Wheeler, admitted to the committee that some of the costs — which were criticized by MPs of all parties — were "problematic." He said the government had since launched a review to make sure it never happens again.
The officials repeatedly told the committee that they could not provide them with receipts for the trip at the time because they were not immediately available.
But that same day, the Canadian Taxpayers Federation provided all the trip's catering receipts obtained via an access to information request to the National Post. MPs said those receipts told a very different story than the officials' testimony and demanded the officials return to committee to explain the discrepancies.
Article content
Beef Wellington, $230 flowers: More details on how Governor General spent $99K on catering

MPs to grill Rideau Hall again over 'misleading' testimony on GG's $100K flight tab
The receipts released this week include $35,955.83 for a December 2021 advance trip by three Rideau Hall staffers — a trip that included $3,563.44 overtime pay as per their collective agreement, $734.50 for COVID-19 tests and immunizations, and $159.47 for tourist/travel guidebooks for the Arabian Peninsula.
Rideau Hall also charged $17,511.02 for transportation costs related to an unknown number of delegates testing positive for COVID-19 while overseas, $29,627.97 in staff per diems, and $64,339.12 in staff overtime.
Costs also included $7,435.30 for official gifts from the vice-regal — less than the $10,000 originally budgeted by Rideau Hall — and $500 to transport luggage to and from the Canada Reception Centre, the government's VIP arrival departure terminal at Ottawa International Airport.
Article content
Gifts handed out by the GG include books, several inukshuk sculptures, and two Indigenous talking sticks.
Receipts from National Defence show much of what was previously reported, including just over $18,000 for crew accommodations at the Hampton by Hilton hotel near Stansted airport in London, $5,757.21 in crew transportation costs in both Canada and overseas.
Expenses filed by Global Affairs, according to the cover letter, do not include per diems or expense claims filed by individual employees.
Global Affairs' expenses also include $44,844.80 for what appears to be a cancelled trip to Abu Dhabi, with no further details provided.
A detailed itinerary for the trip indicates the vice-regal and her entourage stayed at five-star hotels during many legs of the trip, including Jumeirah Emirates Towers in Dubai, and the Sheraton Grand Doha Resort in Qatar.
Article content
The RCMP reported $155,931 in expenses related to the trip, including $47,924 in overtime, $103.520 in travel expenses and $4,487 listed as "other expenses."
The expenses, wrote RCMP Commissioner Brenda Lucki, include salary and overtime costs for the delegation's protective detail, meals and incidentals.
While the RCMP declined to provide specifics out of security concerns, Lucki wrote that Mounties travelling with protectees are "afforded the same level of travel and meals as the protectee while in their immediate company," adding such expenses are deemed to be incurred by and recovered from Global Affairs Canada.
Franco Terrazzano, federal director for the Canadian Taxpayers Federation, questioned the value taxpayers got for their $1.3 million — saying that money could have been used to hire 16 nurses for one year, or cover the income tax bill for 78 Canadians making $75,000.
"This is a huge expense for a week-long trip, and we haven't heard the government justify why all this money and all these people were sent on a lavish trip to the Middle East," he told the National Post.
"Canadians can barely afford to pay their mortgage or buy groceries, and it looks like these bureaucrats spared no expense."
With additional reporting by Christopher Nardi
• Email: [email protected] | Twitter: bryanpassifiume