Family trip abroad ends in 'bad dream' as Home Office strands father in Turkey | Home Office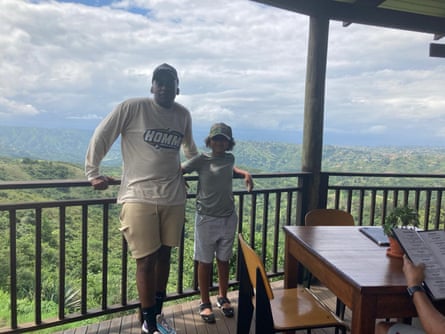 For more than two months, Siyabonga Twala's life has been in a strange state of purgatory, waiting in an unfamiliar country to see if the Home Office will let him back into Britain.
Since New Year's Eve he has been stuck in Turkey after being barred from boarding a return flight to Manchester, waking each day and wondering if he will ever live with his British son again.
The case of Twala, who told the Guardian of being "stuck in limbo'", gives an insight into the continued impact of the so-called hostile environment on families at a time when the government is toughening immigration laws.
Last December Twala, a heavy goods vehicle driver, took his son, Mason, eight, and parents on their first foreign holiday together to South Africa, the country the family had emigrated from nearly a generation before. The trip was the first time Twala, 34, had been back since his family had left Durban for Chester when he was 15.
They flew via Turkey to keep costs down but when they reached the boarding gate in Istanbul for the flight home, Twala was handed a letter refusing him permission to fly.
While Twala was given indefinite leave to remain in the UK in 2010, the Home Office was barring him from re-entering Britain because of a 2018 conviction for cannabis possession with intent to supply. He had no previous criminal record.
Twala's parents moved the family to Britain 18 years ago so his father could work in the NHS as a nurse. Twala went to school and university in Britain and has no close family or friends in South Africa.
Speaking in an accent more Chester than South African, he said: "I consider the UK my home. I don't know anything else."
Recalling the moment he was turned away at the gate, Twala said: "My son just started crying. That really broke my heart."
Twala went to the British embassy in Ankara, but as he was not a British citizen and his son had already gone home with his grandparents, they said they were unable to help.
Since then, he has been living out of his carry-on bag in Ankara, rotating two outfits, after his suitcase was wrongly sent on to Manchester. He said: "It feels like I'm in limbo, stuck in some kind of bad dream."
He knows nobody in Turkey and has run out of money paying for rented rooms. "I had some savings initially for the first month. Now I'm relying on my parents but they can't help me much past the end of March as they, too, have been struggling because my father is a nurse and my mother is a carer."
When the Turkish earthquake struck last month he heard its rumble like a heavy truck driving past. He was away from its centre but it made him long for home. "I didn't feel safe at that point," he said.
His younger brother, Honor Twala, 31, has been a British citizen since 2019. Twala said: "I think of him as British. He's been here as long as I have. You feel at home until something like this happens and it feels like the government is trying to put you in your place."
Deportation is usually triggered by a sentence of 12 months or more but Twala had a nine-month sentence, of which he spent just over four months in prison. He said the Home Office argued his case justified deportation because the only reason his sentence was not 12 months was because he had pleaded guilty.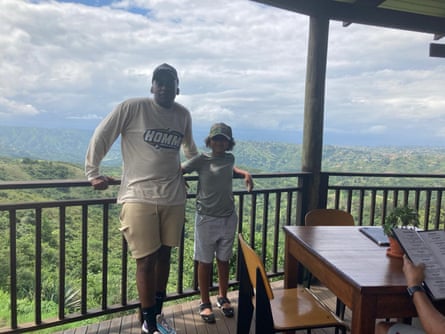 Shortly after Twala was released from prison, he was issued with a deportation order, which was appealed several times. There was an outstanding application to overturn it from 2021 relating to his role caring for his son, who was living with him Friday to Monday most weeks.
There was no signed deportation order in the case, but the immigration minister, Robert Jenrick, said in a letter to Twala's MP last month that Twala had been barred because "[he] is now considered to have departed the UK voluntarily".
Jenrick said the department was considering whether to grant an exclusion order that would allow Twala to return. But while the Home Office deliberates, Twala's life in Britain is unravelling.
After leaving prison, he had trained to drive heavy goods vehicles and had a steady driving job that gave him Friday afternoons off, allowing him to collect his son from school to stay for the weekend. Now he has lost his job as well as his home, a rented bungalow near Wrexham surrounded by farmland that his son loved to run around in.
Twala's father, Siyabonga Twala senior, 55, said his grandson "was really devastated without his dad". He added: "We're not denying that junior has committed a crime. They found him with cannabis and he served his sentence. But the decisions they are taking against him, they're treating him like a hardcore criminal or a terrorist to society."
A Home Office spokesperson said they would not comment on individual cases, adding: "Foreign national offenders who exploit our system and commit crimes here in the UK will face the full force of the law, including deportation at the earliest opportunity for those eligible."