Discover The Magic Of Wailua Falls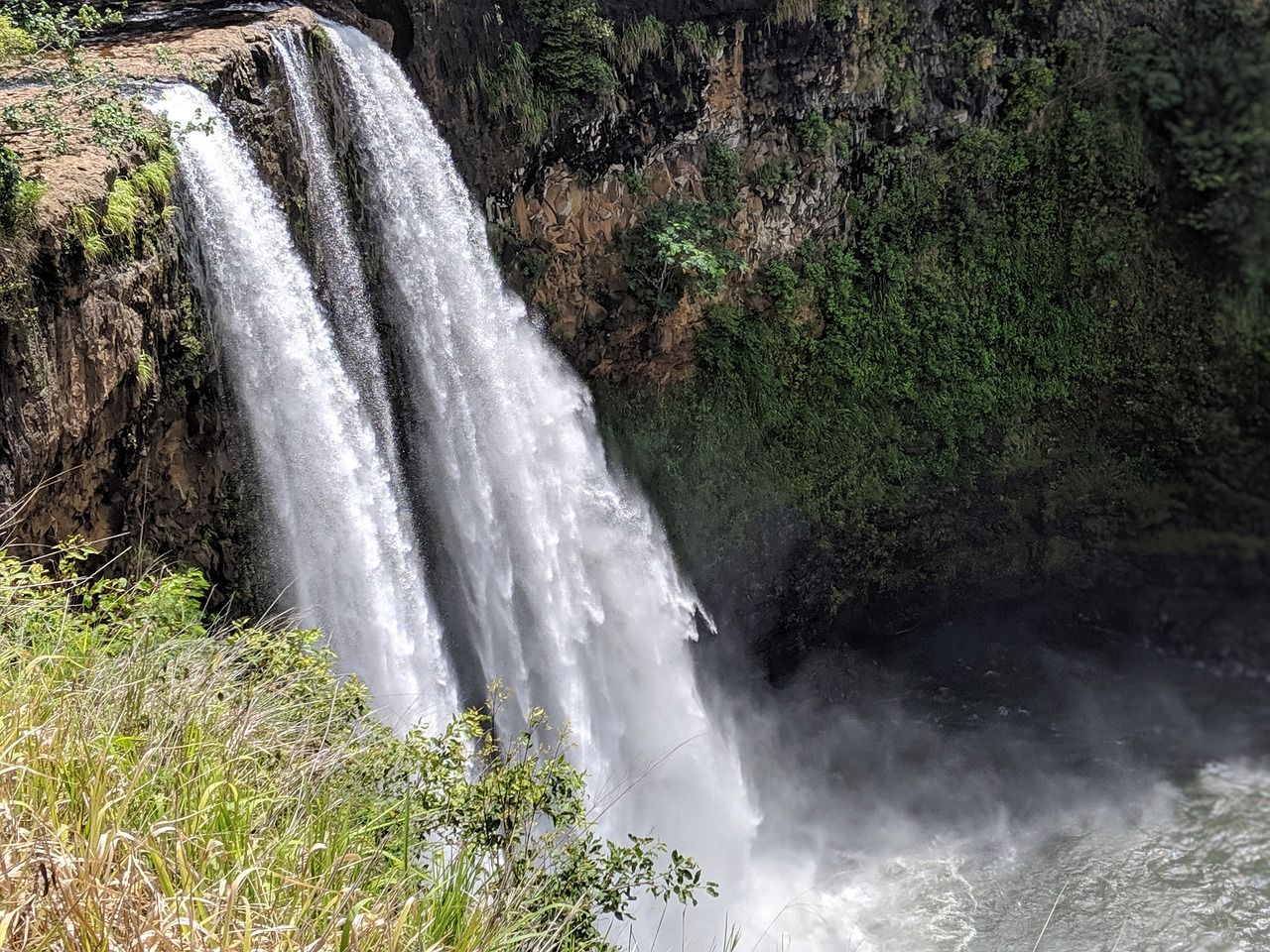 Wailua Falls, a breathtaking 173-foot waterfall located on the South Fork Wailua River near Lihue, is a must-visit destination for all travel enthusiasts.
This stunning waterfall is one of the most popular attractions on the island of Kauai, and it's not hard to see why. With its sparkling waters cascading down into a deep pool, Wailua Falls is a perfect spot for those seeking adventure and natural beauty.
Here, tourists can hike the surrounding area, swim at the base of the falls, and even take a helicopter tour from high in the sky. There are endless ways to experience this natural wonder.
Wailua Falls will be especially familiar to fans of the hit television series "Fantasy Island," as it was prominently featured in the show's opening credits. This only adds to the waterfall's allure and mystique.
Although there are many gorgeous sights throughout Hawaii, Wailua Falls are a must for anyone wanting an authentic Hawaiian vacation.
Related: 10 Most Beautiful Waterfall Hikes Around The World
How Long Does It Take To Hike To Wailua Falls?
Both ways take 15-20 minutes to hike the trail to Wailua Falls.
This walk is approximately a third of a mile long.
Visitors need to hold on to roots, limbs, and handy ropes while venturing into the falls.
In general, visitors can expect to spend 15-20 minutes hiking down into the area of the forest where Wailua Falls are located. This should not be a lengthy journey, but it can be slippery.
Since guests will be going down to get to the falls, expect a bit of rugged, moist soil, which can be challenging to navigate. Therefore, many past visitors and locals suggest holding onto roots, limbs, and ropes if available.
The key to this adventure is keeping with a group and moving slowly. Since the entire walk should be about an hour, if travelers are going slow, make sure to allow for enough time.
It's also crucial to stick together and help others down into this gorgeous waterfall. The US is filled with beautiful waterfall hikes, so Wailua Falls is certainly one to add to the itinerary.
To get to the falls, visitors will need to take the road leading to Wailua Falls, located right after mile marker one on Highway 56. There should also be a road on the left: Maalo Road/Hwy. 583, accompanied by a sign pointing in the direction of the falls.
Again, this is a bust tourist spot, so other adventurers will likely be entering and exiting the area. Nearby, visitors can also escape to a garden oasis at the Botanical Gardens of Kauai, so this entire region is filled with natural beauty.
Related: The Best Time To Hike Mānoa Falls (& How)
What Time Of Day Is Best For Wailua Falls?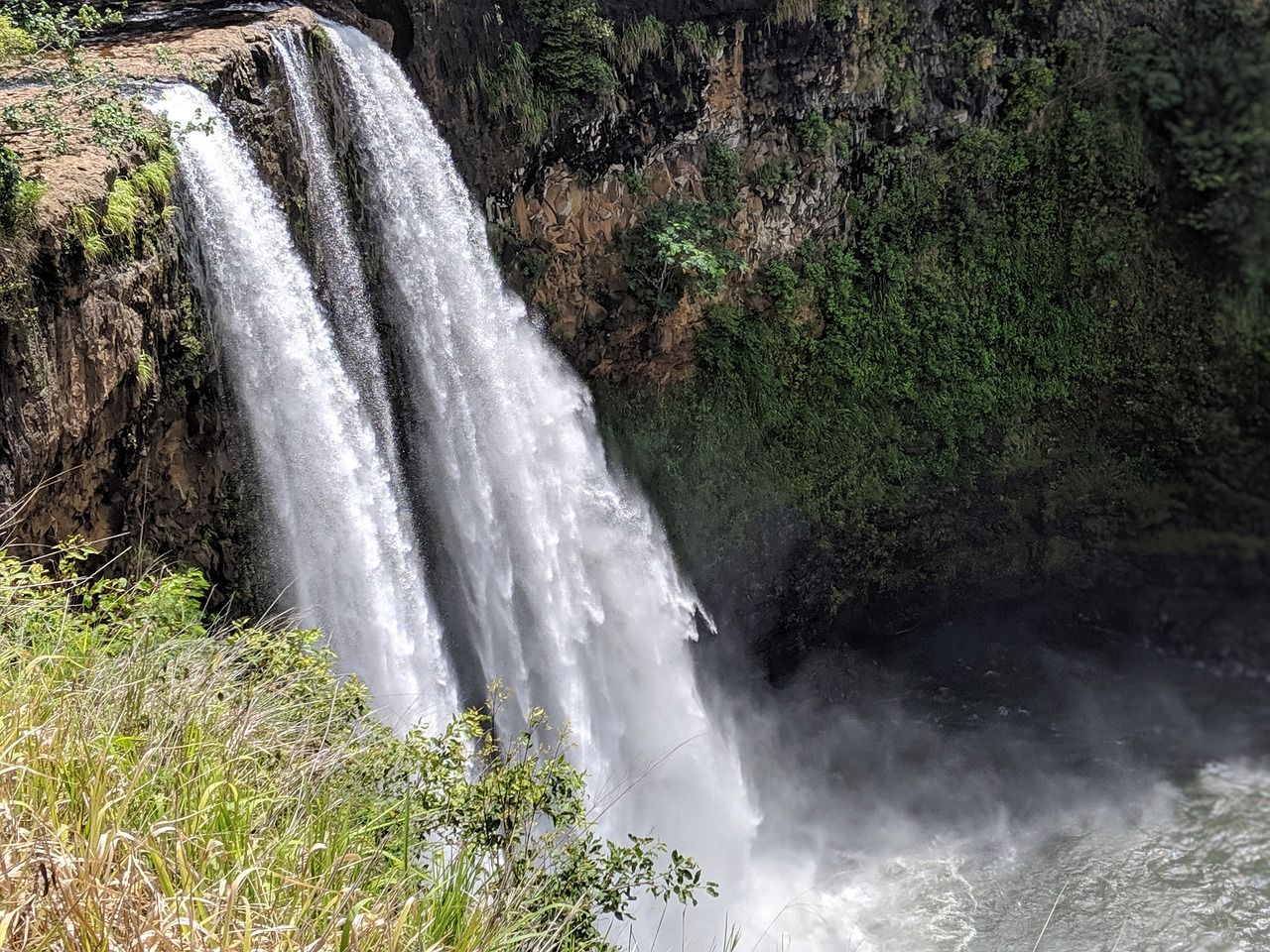 Gorgeous view of Wailua Falls in Kauai, Hawaii.
Tourists want to see Wailua Falls in the morning.
Afternoon hours are also great for lighting.
Getting to Wailua Falls is a short trip, but it should be done at certain times throughout the day. Generally, it's better to see these falls during the early morning or afternoon.
The best lighting is during the afternoon, as the sun is shining through the surrounding mountains. It's not a good idea to voyage into the waterfall in darker hours, as this can be dangerous.
Remember, Wailua Falls are down an incline, which is known to be slippery and hard to maneuver. If large groups are going to the waterfall, the earlier morning could be better as it will be less crowded.
According to various photographers, the morning will provide a glimpse of sunrise behind/above the waterfall, which is perfect for those wanting to capture the moment.
Since Hawaii is one of the states with the most beautiful hiking trails, it's hard not to find a picture-perfect spot for memory-making.
Regardless, getting out to the falls sooner than later is a good idea to avoid getting caught in the slippery terrain with limited visibility. Safety is the number one priority here.
If the group wants to go on another adventure, exploring the beauty of Diamond Head in Oahu may be another great activity.
Wailua Falls are located at the bottom of a rocky, slippery path that has an incline. It's best to get to them during bright daytime hours to avoid injury.
Can You Swim In Wailua Falls?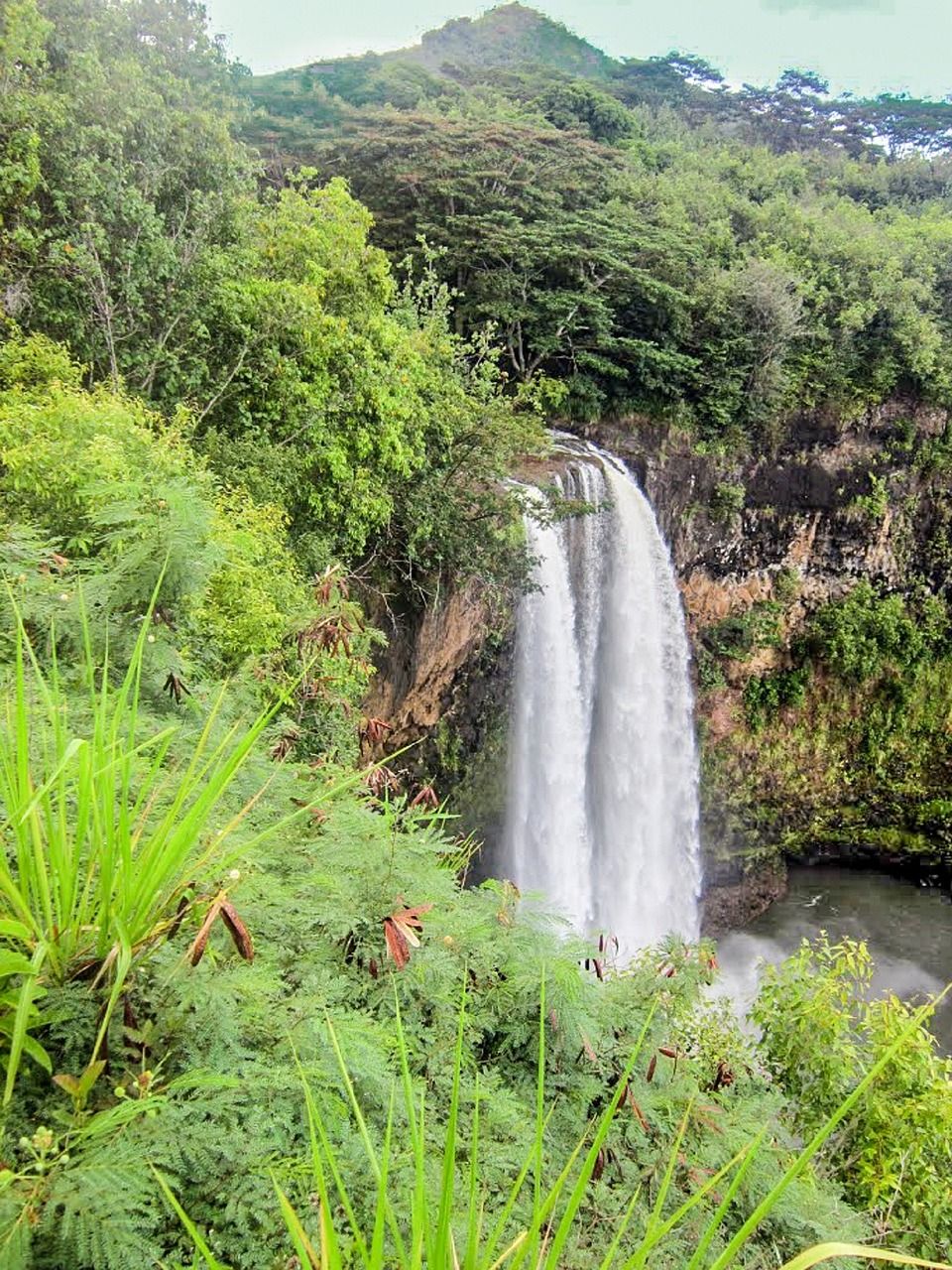 Above view of Kauai Wailua Falls crashing water.
Travelers can swim at the base of Wailua Falls.
Steer clear from the end of the waterfall, and stick to the main pool.
Yes! Visitors can swim at the base of Wailua Falls. However, getting too close to the crashing waterfalls is not a good idea, as they can become dangerous.
Many explorers of the area recommend taking a dip in the crystal clear waters. Again, this can be dangerous if someone gets too close to the bottom of the falls, so keep that in mind.
The current at the waterfalls' base is strong, which can suck people under. However, it's crucial to check with the locals before taking a dive, as this is sometimes not allowed depending on the weather and other conditions.
Hawaii is home to three of the tallest waterfalls in the United States, so it's better to be safe than sorry while exploring them.