Darla Dee Cossitt | Powell Tribune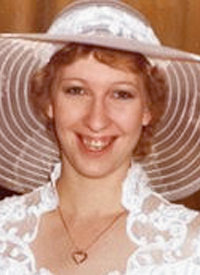 On Oct. 31, 2022, Darla Dee Cossitt peacefully passed away after a long battle with metastatic breast cancer. She was 63 years old. Darla never stopped fighting and for many years was a regular fixture at craft shows around the Big Horn Basin, bringing joy to many with her handpainted holiday ceramics. 
She was born on Jan. 29, 1959, in Evanston, Wyoming, to Lin and Janice Adkins. She spent her childhood in Evanston, and in 1980 met Frank, whom she would marry in 1981 and spend the rest of her life with. Frank and Darla would create a family in Evanston and move to Powell in 1991. Life in the Powell Valley allowed Darla, Frank, Josh and Jamie to spend many weekends and summer vacations camping and exploring the many surrounding mountain ranges. 
Between fellow ceramics and camping companions, Darla had many good friends. She and Frank would meet many of them in the Bighorns every summer for the last 23 years for an annual weeklong camping event. She loved listening to 70s music, decorating for holidays and spending time with her children and grandchildren. 
Darla is survived by her husband Frank Cossitt of Powell; her son Josh Cossitt (Jena) of Cheyenne; and her daughter Jamie Cossitt (Wade) of Powell; grandchildren Brandon, Connor, Michael and Trenton of Powell; sister Debra of Ogden; and brother Curtis of Evanston.
She was preceded in death by her parents, Lin and Janice Adkins; her sister Krissa Warren and her brother Craig Adkins
A celebration of life will be held Nov. 12 from 1 to 3 p.m. in Powell at The Commons, located at 135 N. Bent Street. While flowers for the celebration are appreciated, please consider donating in her memory to The Big Horn Basin Cancer Foundation to assist other cancer warriors in need. A check with a memo for "patient assistance" can be mailed to Big Horn Basin Cancer Center, 1025 Ninth Street, Cody, WY 82414.