Create The Perfect Tech Travel Bag With Accessories For Every Device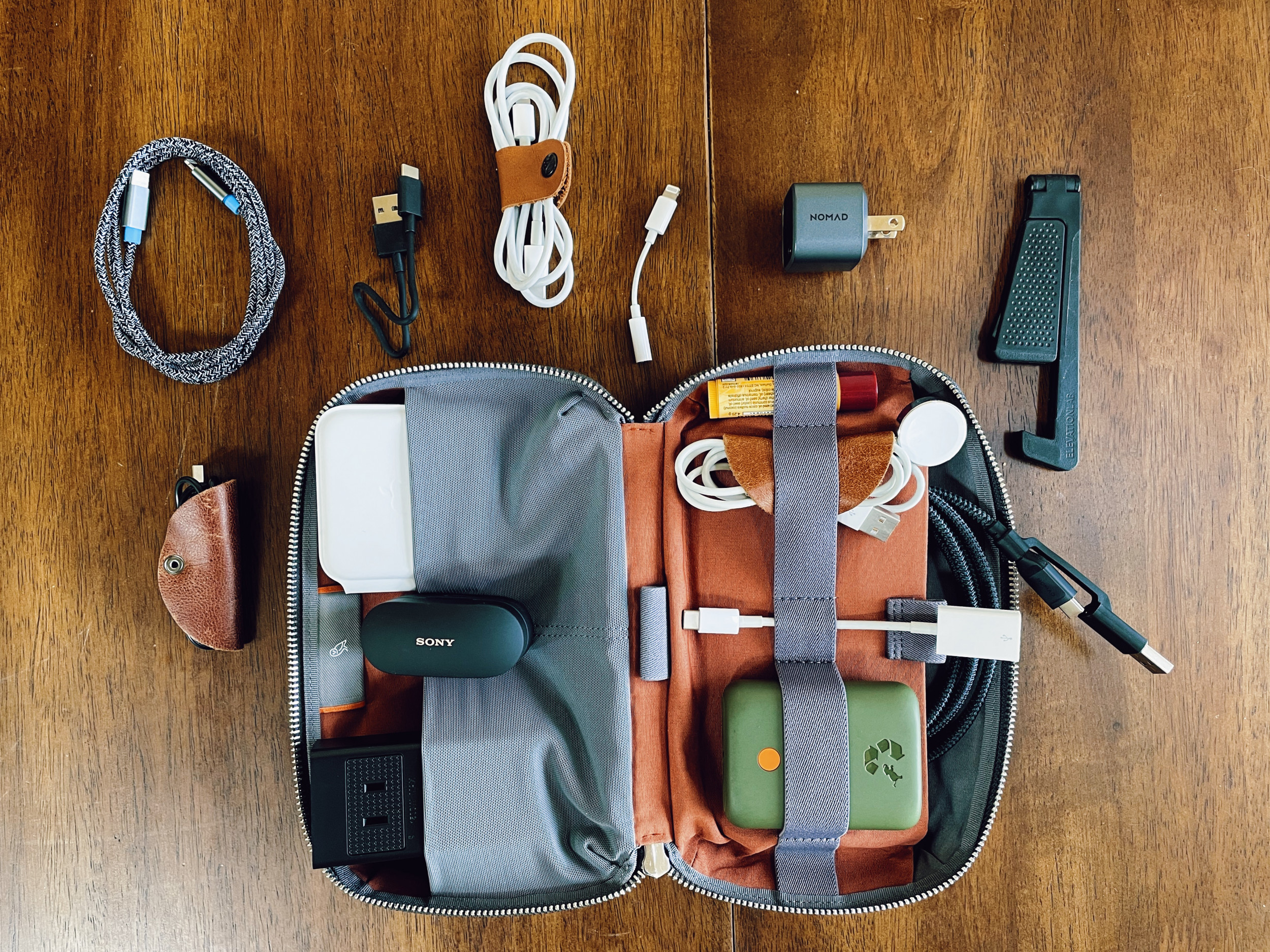 Having a small bag filled with all the tech accessories, such as cables, chargers and adapters, you need is an essential life hack. It's a wonderful feeling knowing exactly where all your gadget pieces reside and keeping them easily accessible.
I've covered different tech pouches extensively in the past and love the idea of crafting the perfect accessory bag. The ultimate goal is to come away with a small bag that you can grab at a moment's notice and feel comfortable knowing it has everything you need to power your devices.
People carry a lot of different devices, and there is no perfect way to pack a tech pouch, but I've compiled some products below that are compact and efficient. Some people will need more Lightning Cables than USB-C ones or might not need an Apple Watch charger, but the ultimate goal here is to carry the minimal amount of accessories with a wide range of uses.
To expand on that goal, I value versatility and comprehensiveness with these picks. You should be able to take your electronics pouch to Starbucks and work for a few hours or travel with it for a week. It should contain everything you could need. That means being able to charge headphones and charge a laptop with the same cable. Also, being able to pack in a few dongles/adapters for the occasional use.
Under $20
These low-cost accessories should cover a lot of the basics. Even if, theoretically, you could get by with a single USB-C cable to charge a laptop, iPad, Android phone and noise-canceling headphones, you should probably have at least two with you in case multiple devices need to be charged at the same time. I would recommend two varying lengths.
You'll notice I have a 6-inch cable on the list. If you're using an external battery pack, a long cable isn't usually necessary. Plus, the space a short cable saves in a pouch is useful.
The Elevation GoStand is a compact way to prop up a phone or small tablet, great for traveling. If you use an iPhone, you might also want to consider a Lightning Adapter for wired headphones—just to cover all scenarios.
$21 to $50
A wall charger is the lifeblood of your travel accessory bag. It can be as large as you need it to be, but there are so many great compact options that it's worth getting a good one. My recommendation is to pick one with two or more ports, like the one from Spigen, listed below.
The chargers from Anker and Belkin are both powerful enough to charge a MacBook Air but almost half the size of the one that comes in the box with the computer.
The Aer Slim Pouch is a great choice to keep your accessories in. The pouch doesn't unzip completely, so it can be used in the standing position—great for desk use. On the other side is the Incase organizer made from recycled water bottles. It has a lot of stretchy straps and pockets but remains thin. Plus, it can unzip to lay flat.
A portable battery is always great to carry for power when you're not near an outlet. The Nimble Champ isn't bulky or heavy but still supplies 10,000 mAh of extra battery capacity for devices.
Nomad's USB-C cable is more expensive than other options, but it comes with different tips, so you might use it to save space in a small pouch. Speaking of a small pouch, Bellroy's Classic Pouch can work for electronics accessories just as well as it can for makeup and toiletries. It does it all with an understated style.
$51 and Above
There are a few premium accessories that can pull double duty. Apple's MagSafe Duo, for example, is a very compact option to charge an iPhone (with wireless charging) and Apple Watch using a single Lightning Cable.
Twelve South's new StayGo mini is also a versatile hub to help save space. The hub provides a headphone jack, USB-A, HDMI and a passthrough USB-C port for power. You can use this small multi-port adapter on an iPad Pro or a MacBook laptop. It can also be used with an extension cable or directly into the device.
My favorite wall charger at the moment isn't cheap, but it is extremely powerful. Hyper's newest charger is stackable, meaning more than one can be plugged into each other to create a mega charger. The 65-watt version has two USB-C ports and one USB-A port. (The 100-watt version adds more power and a third USB-C port.)
Of course, as yet another pouch option, the Tech Kit from Bellroy is a lovely choice. It's spacious with plenty of pockets but should fit in nearly any backpack or messenger bag.
Newsweek may earn a commission from links on this page, but we only recommend products we back. We participate in various affiliate marketing programs, which means we may get paid commissions on editorially chosen products purchased through our links to retailer sites.