Classy to camping: A Rockhampton accommodation guide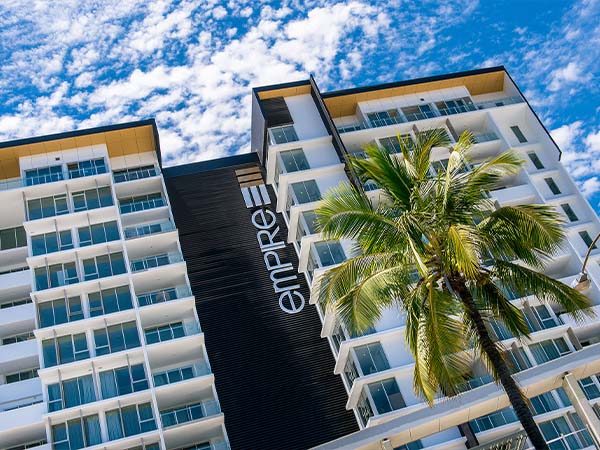 Last updated . 13 February 2023
Discover the heritage heart of Central Queensland with a stay in sunny Rockhampton
Rockhampton is a regional city bursting with history, fresh produce markets and green spaces. It's the perfect base to explore the Capricorn region, with its quaint beach towns and verdant national parks. Whether you're looking for a laid-back hotel or a holiday apartment to call home for a while, here are the best accommodation options in Rockhampton.
Serviced Apartments
If you'd like to feel at home during your stay in Rockhampton, opt for one of these stylish serviced apartments. You'll be able to cook up a feast in your own kitchen with fresh ingredients from Rockhampton's markets or chill out on your balcony in the evening with a beverage. Here, we've rounded up the best apartment accommodation in Rockhampton.
Empire Rockhampton
Standing grand beside the Fitzroy River, Empire Rockhampton is the newest and largest apartment hotel on Rockhampton's riverfront. With water views, sleek interior design and a rooftop pool, it's no surprise that Empire is Central Queensland's most awarded hotel. Rooms range from one-bedroom apartments to three-bedroom suites, making for the perfect base for couples or families large and small.
Quest Rockhampton
Nestle into your own apartment overlooking the Fitzroy river at Quest Rockhampton. Bed down in a cosy studio, or spread out in a spacious executive apartment where you'll have your own balcony to admire the views over the river and the distant Berserker Mountain Range. Just add a bottle of wine, and your evening plans are complete.
The Edge Rockhampton
Enjoy comfort, convenience and simplicity at The Edge Rockhampton. Also located by the Fitzroy river, spacious rooms await. If you want to keep up your fitness routine without facing the Rockhampton heat, there's an onsite gym with gorgeous river views as well as a plunge pool where you can cool off.
Hotels and Motels
Rockhampton is the heritage heart of Queensland. Whether you prefer a historic hotel with character or a stylish modern establishment, there is a hotel or motel to suit every style of traveller. Here's are our picks for the best hotel accommodation in Rockhampton.
The Criterion Hotel Motel
The Criterion Hotel has been sitting pretty by the Fitzroy river since 1889. If you opt to stay here, you'll be walking through some of the same rooms that have played host to guests such as Queen Elizabeth II and the Duchess of Gloucester. Simple yet cosy pub-style accommodation awaits, with a great bistro on the ground floor should you find yourself feeling peckish. If you've got a penchant for a hotel with character, the Criterion Hotel might just be for you.
Denison Boutique Hotel
The Denison blends modern comfort with authentic heritage charm, offering quaint rooms that exude romance. Dating back to 1885, the hotel retains many of its original features, including the classic iron-lace verandah. You'll find the rooms furnished with antique-style pieces like four-poster beds, love seats and a two-person spa. If you're looking for a romantic escape, the Dension will certainly fit the bill.
Mercure Rockhampton
Enjoy sleek, modern design at this iconic hotel chain in the historic centre of Rockhampton. The Mercure is located by the river, so you can opt for a room with a view. There's a pool and a fitness centre, so you can enjoy a little bit of 'you' time while you're at a home away from home.
True Blue Motor Inn
Motels are a staple of Aussie road trips. And True Blue Motor Inn encapsulates that Aussie spirit in more ways than just its name. Here, you'll find comfortable, affordable accommodation that's no-frills yet friendly and loaded with amenities. The motel offers hearty breakfasts and optional packed lunches, as well as a swimming pool and a spa.
Heritage Hotel
The walls of the Heritage Hotel sing with history. The 1900s Federation-era building is a gem of Rockhampton's heritage architecture trail on Quay street, with balconies framed by a lattice of iron lace. The heritage hotel offers simple and affordable accommodation with comfort and character to boot. Bed-down in one of Rockhampton's historic buildings, located in the heart of the city.
Airbnbs and Holiday Rentals
Feel like a true local with an Airbnb or holiday rental. We've rounded up the best Rockhampton accommodation if you're after a stay that will get you feeling right at home.
Liberty Cottage
Dressed in modern white, this cosy cottage sports chic design and personal touches that evoke the building's heritage character. Here, you'll be cosseted in the leafy suburb of Allenstown, with Rockhampton Botanical Gardens located just a stone's throw away.
There's a beautiful collection of Australian artwork hand-picked by your hosts, guaranteed to make you feel right at home. If that didn't seal the deal, a timber verandah peppered with pot plants is the perfect spot to wind down.
Guest Suite at The Range
Warm tones, timber flooring and eclectic furniture make this guest suite a lively yet homely place to bed down.
You'll have access to a garden bursting with tropical plants, where the mountains loom in the distance. Best of all, there's a private hot tub from where you can admire your surroundings and soak it all in.
View on Wiseman
Crisp white decor and oaken furniture characterise this beautiful three-bedroom house.
Here, you'll be within walking distance of Rockhampton's Botanical Gardens, sequestered in a leafy and green neighbourhood.
The highlight is the undercover porch, set up with elegant lounges and a gorgeous view of the mountains.
Campgrounds and Caravan Parks
Campgrounds and caravan parks are often budget-friendly, well-located and packed with amenities. What's not to love? Whether you're parking up an RV, pitching a tent, or kicking back in a cabin, here's the best campground accommodation in Rockhampton.
Discovery Parks Rockhampton
Discovery Parks is located a short drive from Rockhampton's CBD, close to plenty of shops and restaurants. Kids will have plenty to keep themselves entertained with a playground, water park and swimming pool and bouncy pillow onsite. If you don't have an RV, there's a range of cabins that sleep between two and eight people — perfect for families of any size.
Riverside Tourist Park
This peaceful campground is located on five acres beside the Fitzroy River, giving you plenty of space to spread out and soak up the Rockhampton sun. Here, you can park up right on the water's edge beneath the shade of luscious palm trees, or opt for a cosy cabin that sleeps up to 6 people.
Heading to Rockhampton? Check out our guide on the best places to eat and things to do while you're in town.