Almost two months to the day, city administration is back with its plan to make up $2.9 million which was cut from the proposed 2023 general operating budget.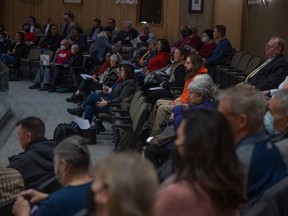 Article content
Almost two months to the day since the municipal budget was set, Regina residents will get an answer as to how the city plans to shave $2.9 million off it.
Article content
During Wednesday's executive committee meeting Barry Lacey, executive director of financial strategy and sustainability, and Niki Anderson, city manager, are expected to present a report on how the city will axe almost $3 million to achieve a mill rate increase of 3.67 per cent in 2023, down from 4.67 per cent.
Article content
According to the report, there are three criteria kept in mind when reducing the general operating budget. The points are: "The savings do not negatively impact service delivery. They are ongoing in nature The reductions will not negatively impact future years' budgets." According to the report this was achieved, but still, there will be cuts.
"It's a significant decrease," said Anderson back in December during budget discussions.
Article content
"There will be impacts."
Among those impacts will be travel and training for city staff, as an approximately 25 per cent "reduction in travel and training budgets" or $500,000 is proposed to be left on the cutting room floor in the report. Also affected will be consulting, which could see a 20 per cent decrease in funding, which equates to $425,000 less than what was anticipated. For salaries and benefits, the city will try to make up $622,000 "through vacancy management." Another $600,000 is proposed to be saved through, what the city described as leveraging alternative funding sources.
The biggest proposed cost-saving measure comes from "operational efficiencies" by way of "Civic Fleet Maintenance" and what is termed "fleet ratcheting," which is reducing "the number of fleet assets."
Article content
That all works out to a proposed saving of $2,931,000 from the originally proposed general operating budget.
City council approves 3.67% mill rate increase for 2023; no new money for homelessness

City council approves $5.3-million budget increase for Regina Police Service
But in between mid-Decemebr 2022 and now the city has incurred two large one-time expenses by way of the warming bus, which the city says cost approximately $125,000, and $500,000 spent by the city to help open a temporary 40-bed shelter in the city's downtown core.
According to the report, to make up for this one $625,000 cost "Administration will be funding these 2023 unbudgeted items through one-time savings from implementing bi-weekly solid waste collection in September 2023." Normally, bi-weekly garbage pick up operates Oct. 31 to March 30 (with the exception of the December holiday period), while it's otherwise weekly.
Article content
Already baked into the mill rate increase is the police budget with a prescribed 1.9 per cent increase. The cuts made by administration will bring the total operating budget for the city down to $539.3 million. Part of the motion to shave off one per cent of a mill rate hike, brought forward by Coun. Lori Bresciani (Ward 4), stipulated cuts cannot "negatively impacting service delivery."
For a homeowner with an assessed property value of $315,000 they can expect to pay an additional $82.08 per year based on the new mill rate increase instead of $104.64.
According to the document before executive committee, city administration has been working to find these cuts since the three-day budget deliberations wrapped up on Dec. 16, 2022. The long, strenuous budget discussions saw dozens of people address council to specifically ask for it to include funding to address homelessness on a housing-first basis, including approximately $25 million for operational funding.
Article content
Council did not budge on that matter, legal action did not compel Anderson to include that funding in the budget.
Wednesday's meeting is set to start at 9 a.m. with matters discussed during committee voted on for a final time at city council on Feb. 22.
The news seems to be flying at us faster all the time. From COVID-19 updates to politics and crime and everything in between, it can be hard to keep up. With that in mind, the Regina Leader-Post has created an Afternoon Headlines newsletter that can be delivered daily to your inbox to help make sure you are up to date with the most vital news of the day. Click here to subscribe.