Church camping movement seeks to spread the word far and wide | Camping holidays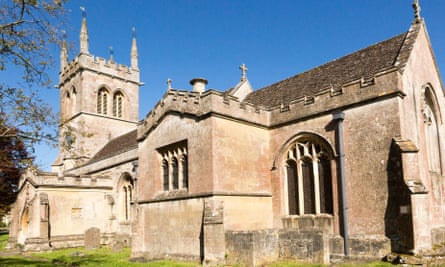 For millennia, pilgrims have taken time out from their epic hikes to overnight in churches, mosques, temples and monasteries to eat, sleep, pray and meditate while recovering from one day's hard slog and preparing for the next. Christians keep up this practice on pilgrimage routes across Britain and Europe.
Now, people of all faiths and none are being invited to "champ" – church camp – in historic churches across England and Wales. The scheme was launched in 2016 by the Churches Conservation Trust (CCT), the charity that protects Anglican churches made "redundant" (closed) and considered at risk. The project offers unusual accommodation to travellers and provides churches with funds to keep buildings maintained.
Last year, 1,500 people (and 200 dogs) slept in champing churches, helping the CCT post record income for the year. It's now seeking to bring in more churches across the UK.
"Champing is still too small to raise significant amounts," says Fiona Silk, who oversees the champing business for the CCT. "But it does generate extra funds for upkeep and repair work and is a way of helping keep a church sustainable.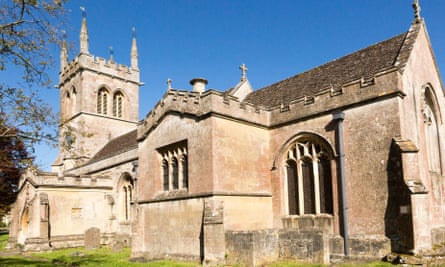 "It's also about providing a warm welcome to people who might not ordinarily go into a church – and supporting rural communities, as visitors will also eat out. Champing can also provide local people with a kind of mission."
Priscilla Moxey, from the parish council at St Laurence in Hilmarton, Wiltshire, says: "The idea that people from far and, indeed, near can come and stay in our beautiful Grade I village church and have the key for one or several nights, enabling them to enjoy and absorb the history, beauty and architecture, is an amazing concept.
"These wonderful buildings need to be used as much as possible; and to see lights on and hear chatting, singing and dancing is heartwarming. I believe that champing breathes life into the fabric and at the same time helps with the maintenance for future generations to enjoy."
The 18 buildings in the champing portfolio are a mix of active and redundant churches. The former still hold regular services and are classified as partner churches; the latter are still consecrated but no longer have vicars and churchwardens. One church, St Mary's in Longsleddale, Cumbria, is a harvest church, fully opening only for the annual festival.
Amenities in redundant churches are typically limited or nonexistent. Running water is a rarity and loos are usually of the dry kind. Visitors sleep on camp beds. There are no curtains, but there may be stained glass to soften the blow of early sunrises. Churches tend to be cold in winter, "ambient" in summer.
The luxuries of champing are the originality of the site, the quirkiness of the architecture and the fact all bookings are exclusive – if you go solo, you have the church to yourself. Rates starts at £49 a night, with 25% off for groups of 8-11 (£36.75) and 30% off groups of 12-16 (£34.30).
Natalie Trapmore, who manages the champing at St Nicholas, a partner church in Berden, Essex, says the scheme has been a lifeline. "It costs £20,000 a year – £55 a day – just to keep the doors open and the lights on. Champing has been a huge help."
She says clients are a diverse bunch. "We get a real mix – families, lots of young couples, older people, people on their own, groups of ladies who come for the weekend. Some come to walk, others to cycle, some just for the unique experience of sleeping in a church. We even had a Dutch couple who came because it's close to Stansted."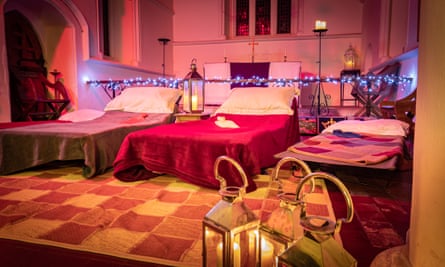 Some guests bring bat detectors to better observe St Nicholas's pipistrelle bats. Trapmore is keen to develop a walking route linking St Nicholas with another champing church, St Mary the Virgin in Stansted Mountfitchet.
"But it's also about using a community asset," she says. "Our church has always been at the heart of our village. My husband, who's a churchwarden, said that when he entered the church after a champing visit the atmosphere seemed different, that it felt like a home rather than just a building."
With ever-decreasing, and ageing, church attendances, champing may be one way to keep buildings alive and forge bonds between locals and "pilgrims", be they secular or otherwise.
"Champing can be spiritual in the way people want it to be," says Silk. "Once you close the big heavy door it's just you and the walls. There's lots of peace and tranquillity. It is extreme unplugging."
Five champing churches to try
St Mary, Longsleddale, Lake District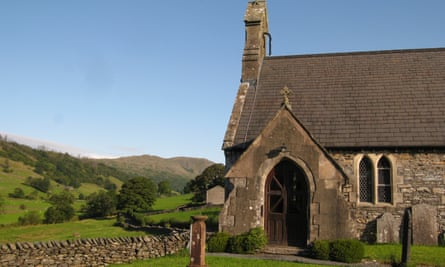 This non-CCT church, pictured above, is in a remote location eight miles north of Kendal, on a backroad through a valley framed by fells. It's an idyllic base for hikes in the surrounding hill country, and off the radar of weekending Wainwright-baggers. Longsleddale was the inspiration for Greendale, the fictional home of Postman Pat and his black and white cat.
St Nicholas, Berden, Essex
This early English gothic church, founded in the 13th century and added to over the years, is rich in architectural details inside and out. It's at the glamping end of champing, with hot running water, a flushing loo and a microwave. The hosts have decorated the nave with fairylights and battery-operated candles to create a warm atmosphere.
St Mary the Virgin, Walkhampton, Dartmoor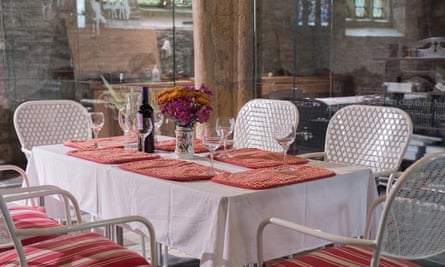 On a hill half a mile from Walkhampton village, St Mary's enjoys a lofty elevation (213 metres) in the south-west corner of Dartmoor. The building faces north-east, an alignment that points exactly to an outcrop known as Gypsy Rock: one author has speculated that this might hint at the site's Saxon origins.
St Laurence, Hilmarton, Wiltshire
At this 12th-century, Grade I-listed church in a small village, guests have use of a kitchenette including fridge and microwave, and a flushing loo. They can also have a continental hamper breakfast delivered to the church door. It's handy for the villages and historic sites of Avebury and Lacock.
St Dona, Llandonna, Anglesey
A church was first built in 610 on this hillside overlooking Llanddona beach and Red Wharf Bay. This plainly decorated but cosy building dates from 1873 and sits in farmland about a mile from the village of Llanddona. The historic town of Beaumaris is nearby.
For more information, visit champing.co.uk