Aldi drops bargain camp gear in summer camping special buys range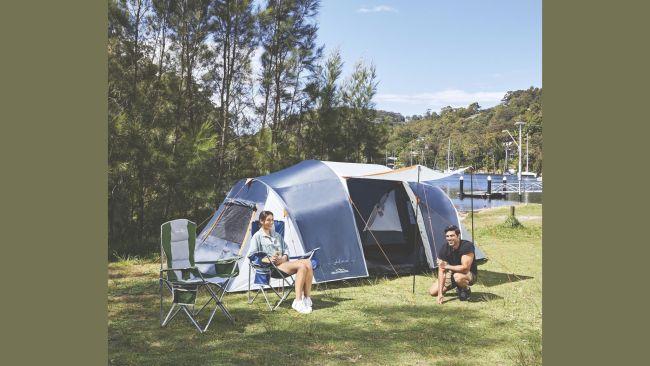 Aldi's summer special buys are back with fresh deals that will let you live out all your beachside camping fantasies.
Camping is one of the most divisive holiday types: most people passionately love it, or passionately hate it. Few are ambivalent.
However, everyone's favourite value supermarket chain has just unleashed a new range that promises to make everyone "a happy camper". The bargains will be on sale from Wednesday, December 28, so they're poised in readiness for those wanting to make the most of summer. All we need now is a little bit of sunshine.
If you're a novice camper, you'll be able to pick up all the basics, from tents and air mattresses through to camp chairs and coolers. Avid campers will love restocking on bits and bobs, including collapsible accessories, tent fans, lights, and tarps. And as always, Aldi has snuck in a few surprises – but we'll get to that in a moment.
Here are the top picks from this year's line-up.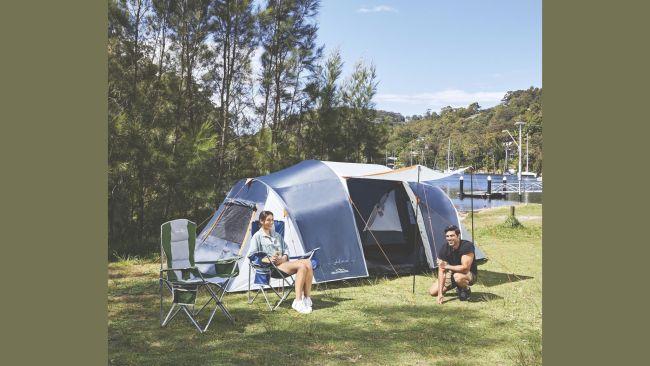 1. Shelter the whole family
The star of this year's summer special buys is the 10-person tent. It has three large internal areas, which include zippered privacy walls and heat-sealed taped seams. Bear in mind that "10 person" means 10 people laying shoulder to shoulder – realistically, it's comfortable for six. However, that means parents can sleep at one end, kids can sleep at the other, can you can have a bit of breathing space in the middle. It's going to be on sale for the bargain price of $169, which you're unlikely to match anywhere else, so if you're planning to take the kids to the bush, this is an absolute steal.
10-person tent, $169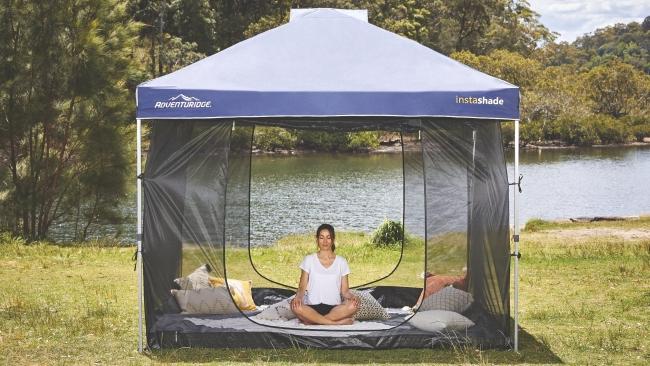 2. Keep the bugs out
One of the biggest adjustments to life outdoors is the daily battle with bugs… and the thick cloud of DEET floating around the campsite. However, this handy 3m x 3m gazebo will give you the upper hand, with an eight-rib umbrella-style construction and reinforced frame. There's plenty of room inside to eat dinner, set up crafternoon activities, or chill out with a good book and a glass of wine. 
Deluxe gazebo, $149
3. Stay cool as a cucumber
La Nina may have subdued the start of summer, but it's inevitable that temperatures will rise. Obviously, step one is to relocate yourself to the beach and establish a campsite. However, the Aldi sale can definitely help with step two (invest in a cooler for your drinks and snacks) and step three (buy a tent fan to keep the air moving at night). It's all the in the name of blissful days and rose-tinted memories.
Rolling cooler, $39.99 and tent fan, $17.99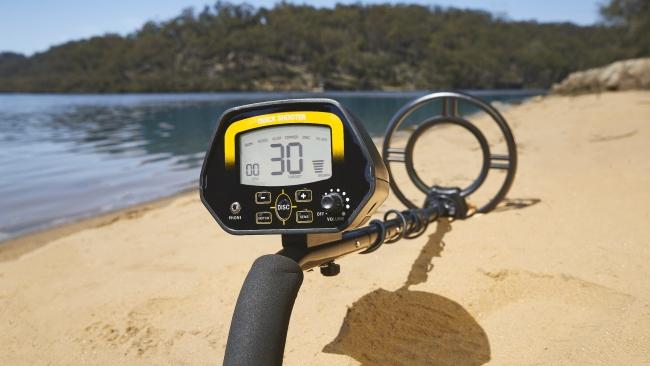 4. Seek your fortune
The best thing about strolling through Aldi is that you never know exactly what you'll find. It could be a trumpet, it could be ski gear, it could be a vacuum cleaner, or in this case, it could be a metal detector. Everyone loves a bit of holiday fun and there's no better way to keep the kids occupied than telling them to hit the sand with one of these. Who knows what they'll find? It's a real-life treasure hunt.
Metal detector, $119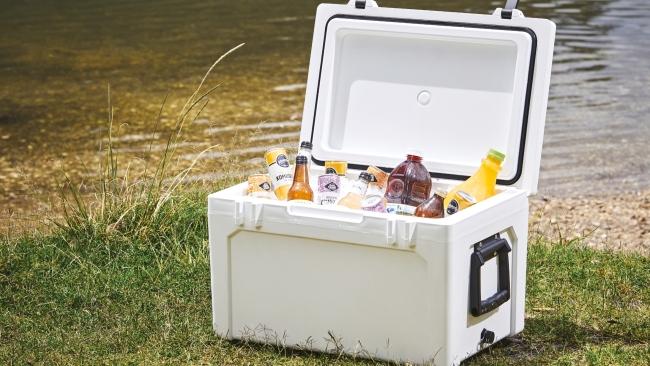 5. Keep your frothies fresh
Sad camping meals are so 1990. Gone are the days of two-minute noodles, tins of baked beans, and spoil-proof tine of tuna. A generously-proportioned ice box like this one will keep your cold ones cold (which is very important) while still leaving plenty of space for meats and treats. Don't forget to throw in a wooden board so you can whip up a delicious Insta-worthy platter on arrival.
50L ice box, $129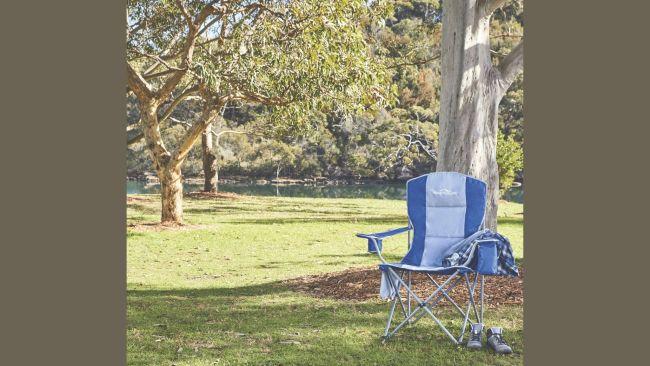 6. Become the camp king
The chair doesn't maketh the camper, but it does make your experience a whole lot more comfortable. A premium camping chair has the capacity to increase your comfort levels, elevate your status around the campfire, and slip straight into holiday mode. This one comes with a built-in insulated cooler and a handy side storage pocket that will make it one of the best camping purchases you'll ever make.
Premium camping chair, $29.99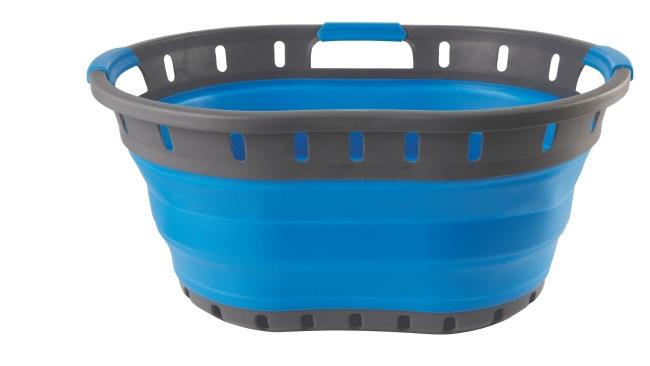 7. Stock up on the basics
As always, Aldi also has a collection of handy bits and bobs on offer. This year, the list includes LED lights ($4.99), three-pack dry bags ($11.99), mosquito nets ($11.99), heavy-duty tarps ($19.99), hatchets ($19.99), queen air mattresses with foot pumps ($29.99), collapsible tubs and buckets ($19.99), and more. In other words, it's the ultimate recipe to create happy campers.
Camping accessories, starting from $4.99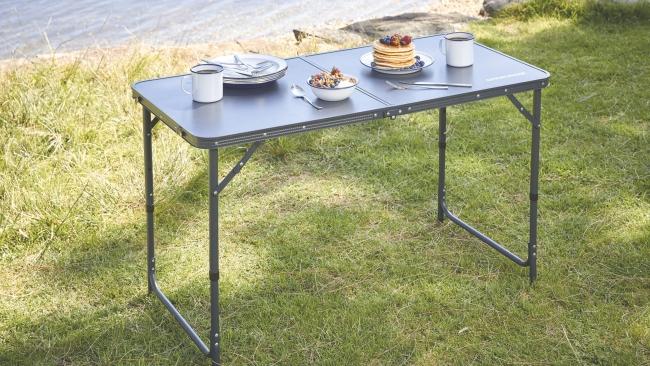 See also:
Australia's best caravan parks and campgrounds for kids
16 easy camping options for an epic Aussie summer
I found Australia's best campsite views
Packing list that can save you thousands while camping