8 literary cities around the world made for book lovers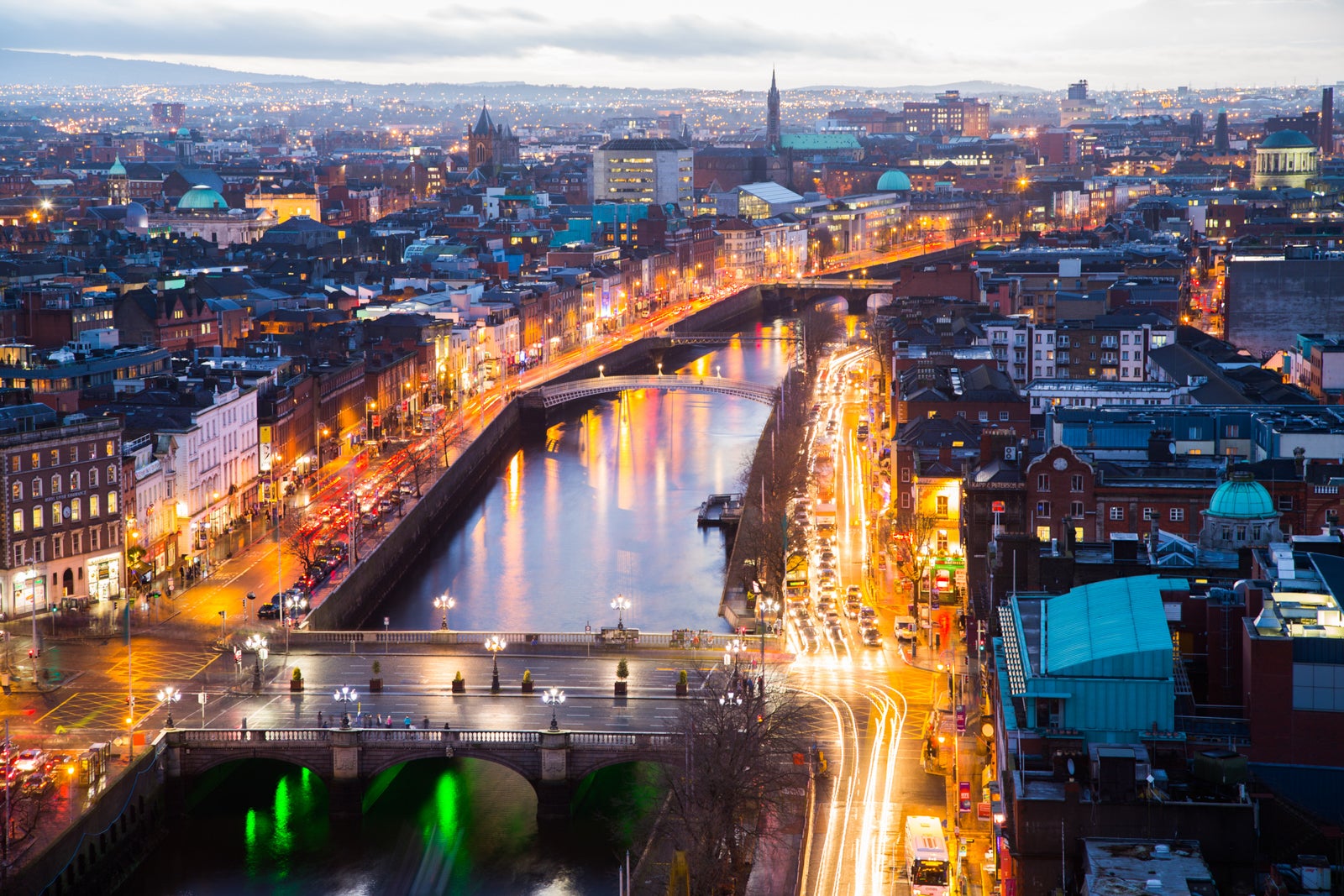 ---
People travel for a wide variety of reasons. Some love to venture far from home to immerse themselves in foodie tours and cultural excursions. Others crave an adrenaline rush by way of an adventure-packed vacation. Then there are those who simply want to spend their days relaxing on a beach in the tropics.
One niche group of travelers that often gets overlooked is lovers of literature. Whether you're a fan of novelists like James Joyce or classic playwrights such as William Shakespeare, odds are there's a destination that will appeal to you.
To help you plan the ultimate literary getaway, we looked near and far to determine TPG's top picks for literature buffs. From historical cities that serve as the settings for some of the world's best novels to destinations that allow you to follow in the footsteps of your favorite author, these eight can't-miss cities are made for literary fans.
Dublin
In 2010, Dublin was named a UNESCO City of Literature for both its centuries-old commitment to the written word and the impact the city's artists have had on world literature. Numerous authors, poets and playwrights, including greats like writer James Joyce, poet Seamus Heaney and playwright and humorist Oscar Wilde, have called this city home. As a result, it continues to draw aspiring writers and literature-loving visitors from around the world.
Where to go: There are many places in Dublin that touch on its literary past and present. The oldest library in Ireland, Marsh's Library, is a must-visit spot. The historic venue, which was founded in 1707, houses a number of important works, including a first edition printing of Isaac Newton's "Principia Mathematica," as well as interesting ephemera like the list of books requested by the library's historical patron Bram Stoker, years before writing his famous book "Dracula." If old manuscripts are your thing, try the Old Library at Trinity College Dublin, which houses the Book of Kells, one of the oldest books in the world. For a lighthearted look at Dublin's literary history, be sure to also sign up for the Dublin Literary Pub Crawl.
Where to stay: Just steps from Merrion Square, a charming little park featuring a whimsical statue of Oscar Wilde, is The Merrion Hotel, a Georgian-era townhome that will have you feeling like you've stepped back in time into one of Wilde's plays. Rates start at $338 per night. For a more modern stay, try The Dean, a cool, casual option located within walking distance of the Museum of Literature Ireland. Rates start at $193 per night.
Related: 11 beautiful destinations to visit in Ireland beyond Dublin
Edinburgh, Scotland
Another UNESCO City of Literature, Edinburgh is known for the many famous authors that have called the city home. However, its connection to literary greats like Sir Walter Scott, Sir Arthur Conan Doyle and Robert Louis Stevenson is not the only reason why you should visit. It's also a destination famous for lively festivals and events that celebrate the written word.
Sign up for our daily newsletter
Where to go: The Edinburgh Festival Fringe is the largest arts festival in the world, showcasing theater, poetry and other forms of artistic expression from across the globe every summer, usually in August. Edinburgh also hosts the Edinburgh International Book Festival in the summer. The book festival offers visitors opportunities to meet a variety of authors from around the world, as well as learn more about the craft of writing — and real lovers of literature can plan sometimes long summer trips in order to catch both festivals. When you're not attending one of the city's literary events, you can check out The Writers' Museum, which celebrates the lives of Edinburgh authors Robert Burns, Sir Walter Scott and Robert Louis Stevenson.
Where to stay: True fans of Stevenson won't want to miss the chance to stay at the Stevenson House, the author's former home that now operates as a lovely bed-and-breakfast. Rates start around $150 per night. For something a bit grander, try the InterContinental Edinburgh The George, which once hosted the likes of Burns and Scott. Rates from $169 per night.
Related: What's faster? Watch us race from London to Edinburgh by plane and train
San Francisco
Best known in literary circles as one of the strongholds of the Beat poetry revolution, an arts and social movement of the 1950s categorized by counterculture themes and made famous by authors like Allen Ginsberg and Jack Kerouac, the City by the Bay is currently home to many of America's best small book publishers. It also has a thriving local bookstore scene thanks in part to this movement and the lasting love of the written word it helped instill in the city.
Where to go: To learn more about how the so-called Beat poets, including Ginsberg and Kerouac, changed San Francisco and the world, visit The Beat Museum. Another literary classic from that era you won't want to miss is City Lights Bookstore, a literary landmark of the city as well as a small publisher in its own right. San Francisco is also home to Litquake, an annual weeklong celebration that sees authors from around the world reading their works in venues all across the city each October.
Where to stay: Hotel Emblem San Francisco, a Viceroy-linked property, showcases a literary theme. You'll find a floor-to-ceiling book wall in the lobby and little nods to the writers of the Beat generation throughout, among other highlights. Rates from $240 per night.
Related: Book this, not that: San Francisco hotels
Tokyo
Japan is where one of the world's first novels was written in the 11th century. In modern times, it has become a mecca for lovers of manga (a style of comics unique to Japan), as well as more traditional literature and poetry. Home to authors like the internationally renowned Haruki Murakami, the city of Tokyo serves as the country's literary center, offering all kinds of sites for lovers of literature.
Where to go: Avid readers should make a beeline for the Jinbocho district of Tokyo to peruse its plethora of bookstores, including Kitazawa Bookstore, which offers a wide variety of books in English for visitors whose Japanese language skills are still a work in progress. Additionally, fans of Murakami can utilize The Murakami Pilgrimage site to embark on a self-guided walking tour that follows in the footsteps of some of the Japanese writer's best-loved characters.
Where to stay: Manga Art Hotel is the perfect place for fans of Japanese graphic novels to rest their heads when they're not out exploring all the literary attractions Tokyo has to offer. Rates start at around $20 per night for a dorm-style room. For book lovers who are into other literary forms, there's Book and Bed. Both options allow guests to fall asleep surrounded by the written word thanks to their extensive collections. Rates start at $35 per night for a single room and $75 per night for a double.
Related: A beginner's guide to visiting Tokyo: Everything you need to eat, see and do
London
In addition to being the setting for many of the world's best-known plays and novels, London is where many legendary works were written. Notable authors like William Shakespeare and Charles Dickens once lived and wrote here, and the city remains a hot spot for writers of all genres, from theater to books to film.
Where to go: Even if you're not a theater lover, Shakespeare's Globe theater, where the playwright first showcased his world-famous plays, is worth a visit. Similarly, mystery fans should make a point to stop by The Sherlock Holmes Museum, which is located at 221B Baker St., the address of the fictional detective. Don't forget to also check out the Charles Dickens Museum. Here, visitors get an intimate look at the home life of one of England's most influential authors.
Where to stay: The Langham, London has welcomed luxury-seeking guests, including literary greats like Sir Arthur Conan Doyle, who mentioned the hotel in his short story "A Scandal in Bohemia," since 1865. The hotel underwent a full restoration of all rooms and suites in 2016, just one year after its 150th birthday. Rates start at $581 a night. Another hotel with a literary pedigree is Brown's Hotel, which the butler of iconic poet Lord Byron opened in 1837. It's drawn a literary crowd ever since, and Rudyard Kipling's "The Jungle Book" is said to have been written there. Rates start at $847 per night.
Related: 10 awesome things to do in London for free
Cartegena, Colombia
The beauty, vibrancy and culture of Cartegena have all had a hand in inspiring local writers like Gabriel García Márquez to pen their literary masterpieces. Today, visitors can walk in their footsteps and see if the city's colorful literary scene might inspire them as well.
Where to go: The Hay Festival Cartagena, a celebration of literature in all its forms, takes place every year in late January, drawing writers from around the world. Fans of Márquez, who is considered the father of the magical realism style of literature, will especially enjoy participating in the Gabriel García Márquez Literature Tour, which visits places that inspired some of the author's work like the Sanctuary of Saint Peter Claver, located near where the author used to live.
Where to stay: Located next door to the home of the city's most famous writer, the Sofitel Legend Santa Clara Cartagena was once the site of the Santa Clara Convent, which in part inspired Márquez's book "Of Love and Other Demons." Today many of the hotel's most charming areas date back to this time, including the Colonial Suites, whose high ceilings and beautiful architecture once housed the resident nuns, and the underground crypt, discovered in 1949 during an excavation of the site before it became a hotel. Rates start at $279 per night.
Related: The best times to visit Colombia
Mexico City
Long a destination that's served as inspiration for writers from around the world, Mexico City is having a literary renaissance. Local writers like Guillermo Fadanelli and Valeria Luiselli have won awards and accolades for their novels, while the city itself serves as a backdrop for creative works from these and other writers.
Where to go: There's an abundance of wonderful bookstores to browse through in Mexico City, but English language speakers might want to start with Under The Volcano Books, which exclusively stocks books written in English. Literature, art and culture collide at the Central Library of the National Autonomous University of Mexico's Biblioteca Central, one of the most iconic buildings in the city. It's known as much for its stunning mural-covered walls as it is for housing one of the largest collections of books in all of Mexico.
Where to stay: In lieu of hotels with specific ties to the city's many literary giants, you'll find several outposts of major brands offering modern, comfortable digs. Bed down at the Mexico City Marriott Reforma Hotel, which offers rates from $107 or 30,000 points per night, or the Hyatt Regency Mexico City, with rates from $96 or 12,000 points per night, for easy access to all there is to see and do in the heart of the city.
Related: 13 things every tourist must eat (and drink) in Mexico City
Havana
The city of Havana has a strong literary tradition all its own. As a result, it has helped spark the imagination of some of the world's best-known writers. While many Americans know that Ernest Hemingway once called this island country home, Cuban writers like José Lezama Lima and poet Dulce María Loynaz are also a major part of what makes this city such a literary hot spot.
Where to go: There are multiple tours in Havana that highlight Hemingway and his time in the country, including a tour of Finca La Vigía, where the author lived from 1939 to 1960. Havana also hosts an annual International Book Fair at San Carlos de La Cabaña Fortress that draws authors and academics from across the globe.
Where to stay: Sadly, the famous Hotel Ambos Mundos, where Hemingway once stayed, is currently closed. However, there are still many beautiful hotels you can make your home base while exploring Havana. Situated in the city center, the Iberostar Parque Central offers modern interiors and gorgeous views of the historic downtown streets just a short drive from the San Carlos de La Cabaña Fortress where the book fair takes place. Rates from $132 per night.
Related: 9 mistakes to avoid during a trip to Cuba