21 best travel organizers for cables and cords 2023
Phones, chargers and cords, oh my! These days, travel isn't as simple as a carry-on bag and a checked piece of luggage. Today's travelers are bogged down with cords, chargers, smartphones and more tech that inadvertently gets lost, tangled, misplaced or — worst of all — broken in transit. Rather than just stuffing cumbersome laptop and phone chargers, adapters and cables into a purse, backpack or laptop bag, keep it all organized with a travel cord organizer designed specifically for tech accessories.
Before you buy, consider how much gear you actually travel with. If it's just you, a laptop and a phone, you can skip the ones with all the bells and whistles and multiple compartments, and instead opt for a simple zip enclosure kit. But if you travel with kids or your partner is constantly misplacing their tech, having lots of roomy pouches and pockets that accommodate multiple accessories ensures there's space for everyone's must-haves.
Ultimately, having a dedicated spot for your tech accessories makes the travel experience more stress-free — and who's opposed to that? Make travel easier and tech more accessible with any one of our 21 favorite travel cable and tech organizers.
Padded for protection and just 1.5 inches thick, the Calpak Tech Organizer has multiple pockets for cords, chargers, phones and headphones, with mesh panels that make it easy to see what's stored inside. Plus, elastic pockets and loops make it easy to access certain items. All of your tech accessories can fit inside this zipper-enclosed pouch, which also has a carrying handle and exterior mesh pocket. Choose from eight shades and patterns that coordinate with Calpak's packing cubes and luggage.
It should come as no surprise that the travel pros at Away have come up with a solution for tech equipment. The Away Tech Case is split into two compartments: a larger, zippered mesh one for laptop chargers and bulkier items and a smaller one for cords, earbuds and other smaller accessories. Elastic loops keep everything secure, so you don't have to worry about anything spilling out. Away's Tech Case is available in three colors to match your favorite piece of Away luggage. And, for an extra $20, you can personalize it with three embroidered letters, making it a great gift item for the frequent traveler in your life.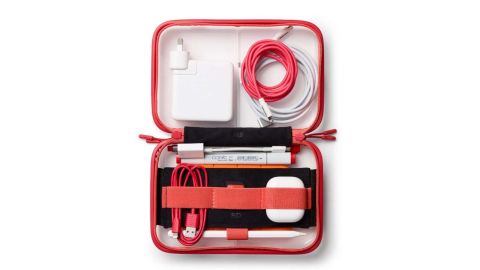 With a translucent shell that makes it easy to see everything stored inside, this Tech Kit will keep you from blindly searching through your bags ever again. A crushproof outer shell with full zipper closure provides protection so you don't have to worry if your luggage gets tossed around during transit. Inside, there's an interior separator with elastic cable organizers and a pocket with enough room for hard drives, power banks, wireless headphones and SD cards. For a quirky take on personalization, you can upload a photo of your pet and the company will print it on the kit for you to take your furry friend along on your next vacation.
The folks at Monos know a thing or two about creating a travel essential — and this Folio Kit is no exception. Available in seven chic colorways, not only does this folio have room for credit cards and a key ring, but it's also got dedicated spots for your tech essentials. Inside, you'll find several elastic loops for charging cords and pens as well as a zippered pocket for smaller items. There are also dedicated pouches that can fit SD cards, travel documents and even space for an e-reader or tablet.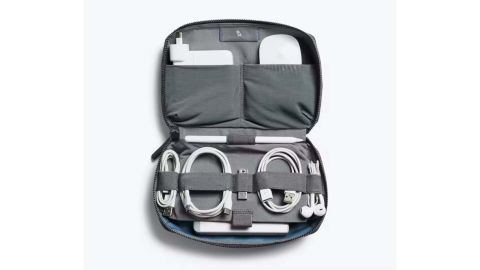 Don't let its compact size fool you. The Bellroy Tech Kit reveals a surprising amount of room for tech accessories, a boon if you travel frequently and need all of your gear with you at all times. Inside the zippered kit, magnetic slip pockets are strong enough to hold the average sized power bank in place, while mesh pockets stretch to accommodate smaller items. Elastic cable organizers keep tangles at bay throughout all of your travels.
With an exterior made of quilted, water-repellent fabrics, the Athena Electronic Organizer looks more like a stylish clutch made for a night on the town than a tech organizer. It's roomy enough to accommodate five cables in elastic bands, a phone in a zippered mesh pouch, chargers, portable power banks and more without feeling bulky. There's even a tiny pocket made especially for SD cards. At just more than $20, this tech organizer is one that you'll take along with you on any trip — even if it's just to the office or a café for remote work.
The interior of this 100% vegan tech organizer is made from Repreve recycled material, which turns recycled bottles into bags. On the exterior, you can expect to find the fan-favorite neoprene material that Dagne Dover is famous for. Inside the zippered large bag, you'll find elastic loops that are designed for cords and chargers, mesh pockets for securing hard drives, small tablets and other accessories and slip pockets that make the perfect home for flash drives. It's no wonder one recent reviewer says, "I never have to question where my watch, iPhone, camera, iPad or son's gaming devices chargers are. It's all in there!" If the large version of this tech organizer is too much space for you, Dagne Dover also offers a smaller version for $50.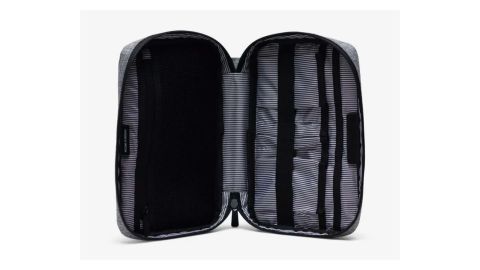 In addition to its pockets and sleeves for cables, phones and chargers, the Herschel Tech Organizer has mesh sleeves perfect for small devices like Kindles, iPads or a wireless mouse. We love, too, that this kit also features a pen sleeve — perfect for when you need to fill out a form during your travels. Available in three colors, this tech pouch is ideal for business and leisure travelers alike.
This affordable organizer is perfect for efficient travelers who like to keep their gear organized and pared down. It features several zippers and open interior pockets, plus slots for USB drives and portable chargers. Made of water-resistant recycled polyester material, it's also got a top handle for easy carrying. Plus, we love that it's compact enough to fit into a weekender bag without taking up much room at all.
This water-resistant nylon organizer provides great value for the money, especially if you travel with a lot of gear or you have family members who do and you'd like to keep everything in one place. It's made of two layers — the larger layer has a whopping 18 elastic loops for cords; five mesh pouches with their own elastic loops to store flash drives and game cards more securely; and a zipper mesh pocket for phones, hard drives, power banks and more. The second layer can accommodate a laptop charger and battery, an iPad or Kindle. Whew!
If you're a frequent traveler whose gear takes a beating and you don't want to spend much to keep replacing things, this Travelwant bag is a great value. For just under $6, you'll get a total of nine compartments inside this waterproof bag made to hold cables, chargers, power adapters and more. Mesh pockets provide ample room to tuck everything in securely, and everything will be kept inside, thanks to a zipper closure.
This sleek leather case is one of our favorites — just look at it! The large version of the Tech Folio from Mark & Graham has one open compartment with three pockets, a button-snap band, a zippered pouch, credit card slots, a pen holder and a pouch that fits an iPad securely. The smaller version ($139) is perfect if you don't need an interior zippered pouch and button-snap band, and it can still fit a smaller iPad. An extra $12.50 nets you a colorful foil debossed monogram, making this a chic gift too.
For the parent who travels with tech-savvy kids who have a hard time keeping track of their stuff, this high-capacity organizer is full of nooks and crannies. Securely tuck away cables, cords, flash drives and power banks in smaller compartments and large accessories such as a mouse and headphones in the roomier areas. A padded sleeve is perfect for an iPad Mini, and two adjustable padded dividers make it easy to customize the bag to suit your gear. A larger version of this bag, which can fit a 9.7-inch iPad or tablet, is available for $28.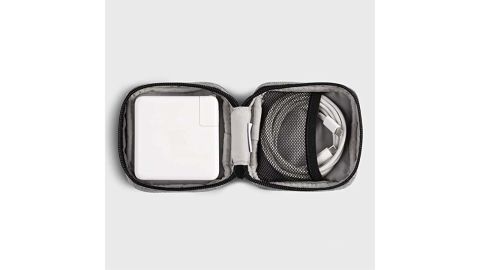 At only 4.5 inches long and wide, this compact organizer is ideal for travelers who travel light and need safe storage for their laptop power bank, cord and just a few extras. A mesh interior pocket can hold cords and other small items, while an open pouch on the opposite side can hold a laptop power bank or other small electronics. The case then zips up to secure everything in place. One Amazon reviewer says, "The build quality seems great; I've taken it on five to six trips already, and I may keep it in my backpack permanently with how useful it is!"
Rather than pack everything in tightly, the W.F.A. Tech Organizer gives your accessories room to breathe with flexible pockets that allow you to accommodate whatever you need. One reviewer says they like how "it separates everything and avoids them getting abrasive marks from clashing with each other." Water-repellant and made of recycled materials, the mustard option looks more like a fashion accessory than a tech hub.
The relatively compact size of this tech organizer belies its true capacity. With 13 compartments in various sizes, it can accommodate everything from cables and chargers to phones, a mouse and a laptop charger — and everything will stay in place, thanks to a dual zipper. One exterior mesh pocket features a zipper for items that need extra security from falling out, and an added exterior front pocket also features a zipper. Choose from five colors and textures, including quilted black and chevron teal.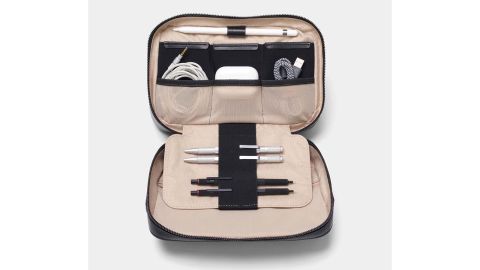 This luxurious full-grain Italian leather kit in a chic olive shade is a fashion-forward way to corral your tech. With room for cables, chargers, SD cards and more, it has a hidden back pocket with room for more. When open, the clamshell front pocket lies flat for easy access to all your accessories. Plus, the waterproof outer shell and full zipper closure ensure your precious items stay safe and secure.
Made of water-resistant nylon and extremely durable, this is the cable kit we imagine Han Solo would have used if there were such a thing in the galaxy's Core Worlds. It packs a punch for its size with two interior compartments and an outside zipper pocket for quick and easy access. Inside, you'll also find a dedicated spot for a travel pen, a zippered pocket and mesh pockets so you know where everything is at a glance.
This ultra-compact hard case is on the smaller side, but it surprises with an interior chock-full of pouches, pockets and other compartments. Store your wireless earbuds, power cords and flash drives when not in use. When you need them again, easy-pull zippers make it easy to access everything. No need to worry if it gets tossed around inside your luggage or carry-on, as this gadget case is made of durable materials. Plus, an exterior handle makes this pouch easy to transport when not already secured in a bag.
Calling all Mac lovers! This water-resistant organizer can store a charger, a mouse, an iPhone, AirPods, a charger cable and an Apple Pencil — with some spare room for extra essentials. Several elastic loops hold everything together, whether you're packing away power banks, charging cables or cases, and a zippered pocket is perfect for smaller items that can get lost easily. Our favorite part, however, is that on the exterior of this zippered pouch is a convenient pocket for storing your passport and boarding pass — and there's even an exterior zippered compartment.
This tech organizer pouch from Peak Design has room for just about any travel essential that you might want to bring. We love that it has space enough for non-tech essentials as well as all of the cords, mouses, power banks and more you might be packing — many travel wallets, passports, boarding passes and more can fit in this pouch. When it comes to your tech gear, there are a number of mesh pockets and zippered pouches. Plus, there are pass-through slots for charging your devices without having to unzip the entire pouch. And, this is something you can expect to use for all of your upcoming travels, as it's guaranteed by Peak Design for life.
Looking for a travel credit card? Find out which cards CNN Underscored chose as our best travel credit cards currently available.