10 Best Lake Destinations With Scenic Views In Canada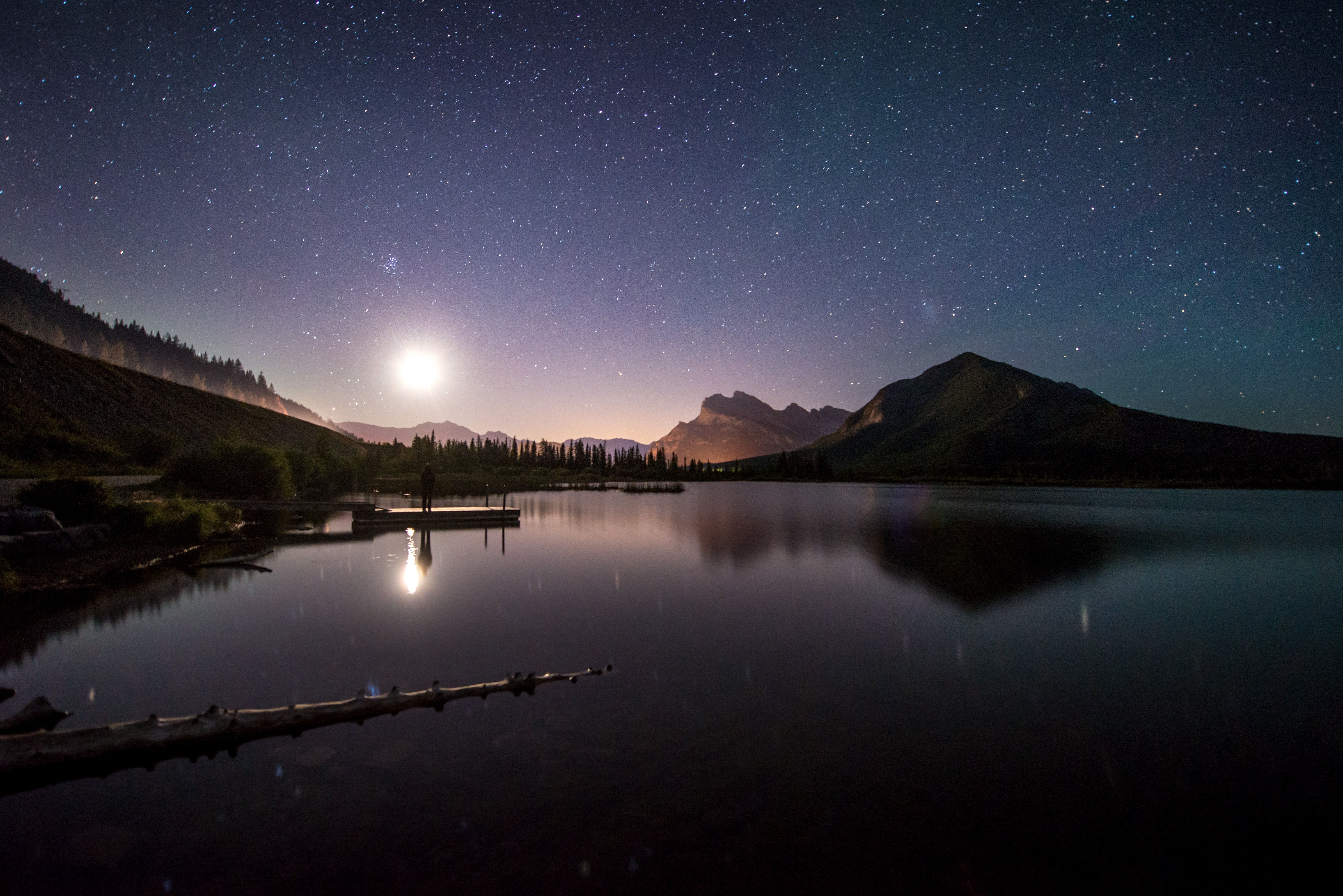 Canada has the most lakes at 879,800, according to a 2016 study by McGill University. From crystal-clear waters to breathtaking landscapes, Canada's lakes offer visitors an array of unforgettable experiences. Its lakes come with their own unique beauty and character. Whether visitors prefer crystal-clear turquoise waters or rugged wilderness, Canada has a lake to suit every taste and preference.
Many of the country's lakes are located in national parks or other protected areas. This means that they are surrounded by unspoiled wilderness and offer breathtaking views of mountains, forests, and wildlife. From fishing and boating to hiking and camping, there is no shortage of things to see and do around Canada's lakes.
10
Lake Winnipeg
Located in Manitoba, Lake Winnipeg is a popular destination for swimming, boating, and fishing. It is the sixth-largest freshwater lake in Canada, with an average depth of only 12 meters and a maximum depth of 36 meters. Lake Winnipeg is relatively shallow, but its clear, blue-green water and sandy beaches attract tourists from around the world.
When Lake Winnipeg freezes over in the winter, it transforms into a completely different landscape. The frozen surface of the lake is often covered with snow, making it a popular location for snowmobiling, cross-country skiing, ice skating, and ice fishing. The lake is home to a range of fish species that are commonly caught during the winter months, including walleye, perch, and northern pike.
Head to Gull Harbour Marina for kayak and jetski rentals, or book a spot on the scheduled charter cruise where you can take in the views of Lake Winnipeg.
9
Great Slave Lake
Canada's second-largest lake, and the deepest lake in North America, is The Great Slave Lake, an incredibly scenic body of water located in Canada's Northwest Territories. It is a popular destination for fishing and kayaking.
The lake's stunning scenery is characterized by crystal-clear waters that reflect the surrounding forests and mountains. The shoreline is studded with sandy beaches, rocky cliffs, and dense forests. All these create a breathtakingly beautiful view. But one of the most iconic features of the Great Slave Lake is its northern lights display, which can be seen on clear nights throughout the year.
Related: 10 Things You Can Only See In Canada's Northwest Territories
8
Lake Ontario
Lake Ontario is the fifth largest of the five Great Lakes of North America, located on the border between Canada and the United States. The lake is also connected to the other Great Lakes through a system of canals and locks.
With its crystal-clear blue waters, stunning sunsets, and picturesque shorelines, Lake Ontario is widely considered a beautiful natural wonder. It attracts visitors and locals alike, providing a blend of natural beauty, cultural attractions, and recreational opportunities. People have plenty of opportunities to enjoy the lake's natural beauty and engage with the great outdoors through its numerous parks, beaches, and scenic overlooks.
Fun Fact:
Niagara Falls is on the Niagara River, which connects Lake Erie and Lake Ontario.
7
Lake Erie
Lake Erie's combination of beautiful beaches, islands, and wildlife makes it a scenic and popular destination for outdoor enthusiasts and nature lovers. It is also famous for its sunsets, which are some of the most spectacular in the Great Lakes region. As the sun sets over the lake, vibrant colors of orange, pink, and purple paint the sky, providing a stunning backdrop for evening strolls along the shoreline.
Lake Erie is also home to many shipwrecks, making it a popular destination for recreational divers and underwater exploration. Some of the most notable wrecks in Lake Erie include the Anthony Wayne, a 19th-century steamship that sank in 1850, and the Wexford, a Canadian steamship that sank in 1913.
Divers can explore the wrecks on their own, but it is recommended to go with an experienced guide.
Related: Visiting Lake Erie's Turtle Island Is a No-Go, But It's Still Unique
6
Maligne Lake
This picturesque lake located in Jasper National Park in Alberta, is the largest natural lake in the Canadian Rockies. It is known for its crystal-clear waters, stunning mountain vistas, and abundant wildlife, and visitors are offered opportunities for hiking, boating, and fishing.
The lake is approximately 22 km (14 miles) long and is surrounded by towering peaks, including the iconic Spirit Island, which is one of the most photographed locations in the Canadian Rockies. The lake has a unique turquoise color due to the presence of rock flour, which is created by the grinding action of glaciers on the surrounding rock.
5
Vermillion Lakes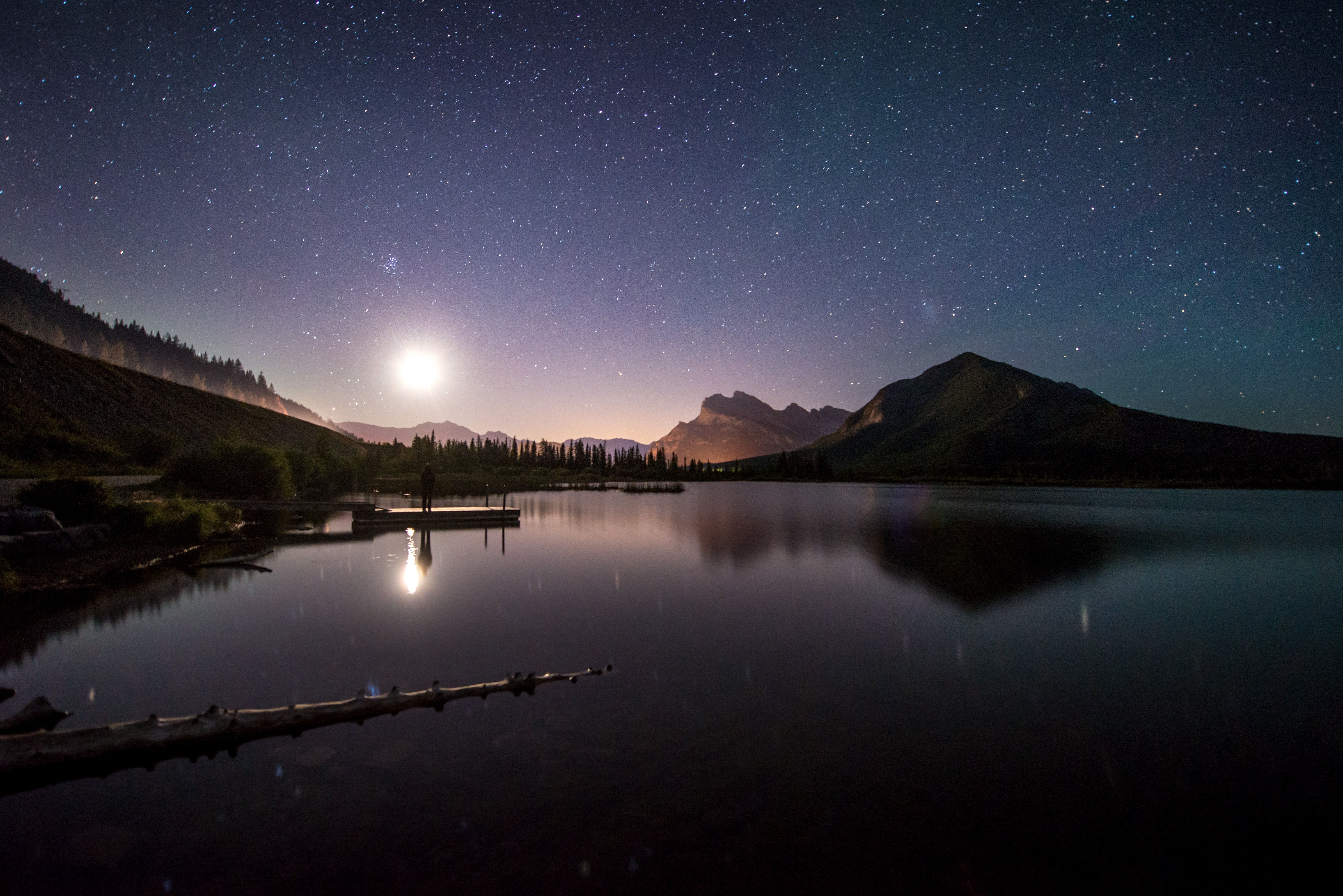 A picture-perfect starry night at Vermillion Lakes in Banff, Canada
Vermilion Lakes is a series of three interlinked lakes located just outside the town of Banff. The lakes are named after the vibrant red color of the surrounding hills, which is caused by iron oxide deposits.
The three lakes are known as First Vermilion Lake, Second Vermilion Lake, and Third Vermilion Lake, with First Vermilion Lake being the largest and most popular among visitors. The lakes are a popular destination for hiking, birdwatching, and wildlife viewing. Visitors can take a leisurely stroll along the shoreline or explore the network of trails that wind through the surrounding wetlands and forests.
The Vermilion Lakes are easily accessible by car or on foot from the town of Banff.
September to April are the best times to see the Northern Lights in the skies above Vermilion Lakes.
4
Peyto Lake
Another most photographed lake in Canada is Peyto Lake, for its vibrant blue-green color and stunning panoramic views. It is located in Banff National Park and is a popular spot for hiking and photography. It can get quite busy during the peak tourist season.
The distinctive turquoise color of this stunning glacier-fed lake is caused by the rock flour or glacial silt that is suspended in the water. The lake is fed by Peyto Creek, which flows from the Peyto Glacier, located in the Waputik Range of the Canadian Rockies. The surrounding mountains, including Caldron Peak, Peyto Peak, and Mount Jimmy Simpson, provide a breathtaking backdrop to the lake.
A viewing platform overlooking the lake is accessible by a short hike from the Bow Summit parking lot on the Icefields Parkway.
Related: 10 Most Beautiful Lakes In Alberta You Should See For Yourself
3
Moraine Lake
Moraine Lake is another stunning turquoise-colored lake surrounded by snow-capped mountains in Banff National Park. The lake is situated in the Valley of the Ten Peaks, which is named after the ten peaks that surround the lake and rise up to over 3,000 meters in elevation. This makes it a popular spot for canoeing, hiking, and photography.
Moraine Lake is a popular tourist destination, particularly in the summer months. The nearby Rockpile Trail provides a short hike to a viewpoint that offers panoramic views of the lake and surrounding mountains. Access to the lake is limited during peak season, and visitors are advised to arrive early to secure parking and avoid crowds.
2
Emerald Lake
Emerald Lake is a stunning glacial lake located in Yoho National Park in British Columbia, Canada known for its vivid green color.
Emerald Lake is a stunning glacial lake located in Yoho National Park in British Columbia, Canada. Its vivid green color is caused by light reflecting off of the minerals in the water. The lake was named by early explorers who were struck by the intense green color of the water.
The lake is surrounded by snow-capped mountains and dense forests, making it a popular destination for outdoor enthusiasts and photographers. Visitors can hike around the lake, fish, kayak, or simply relax and take in the breathtaking scenery.
Pack a poncho when hiking to Emerald Lake; showers are common at elevation. Reach Emerald Lake before 12 noon; that's when the storms roll in.
1
Lake Louise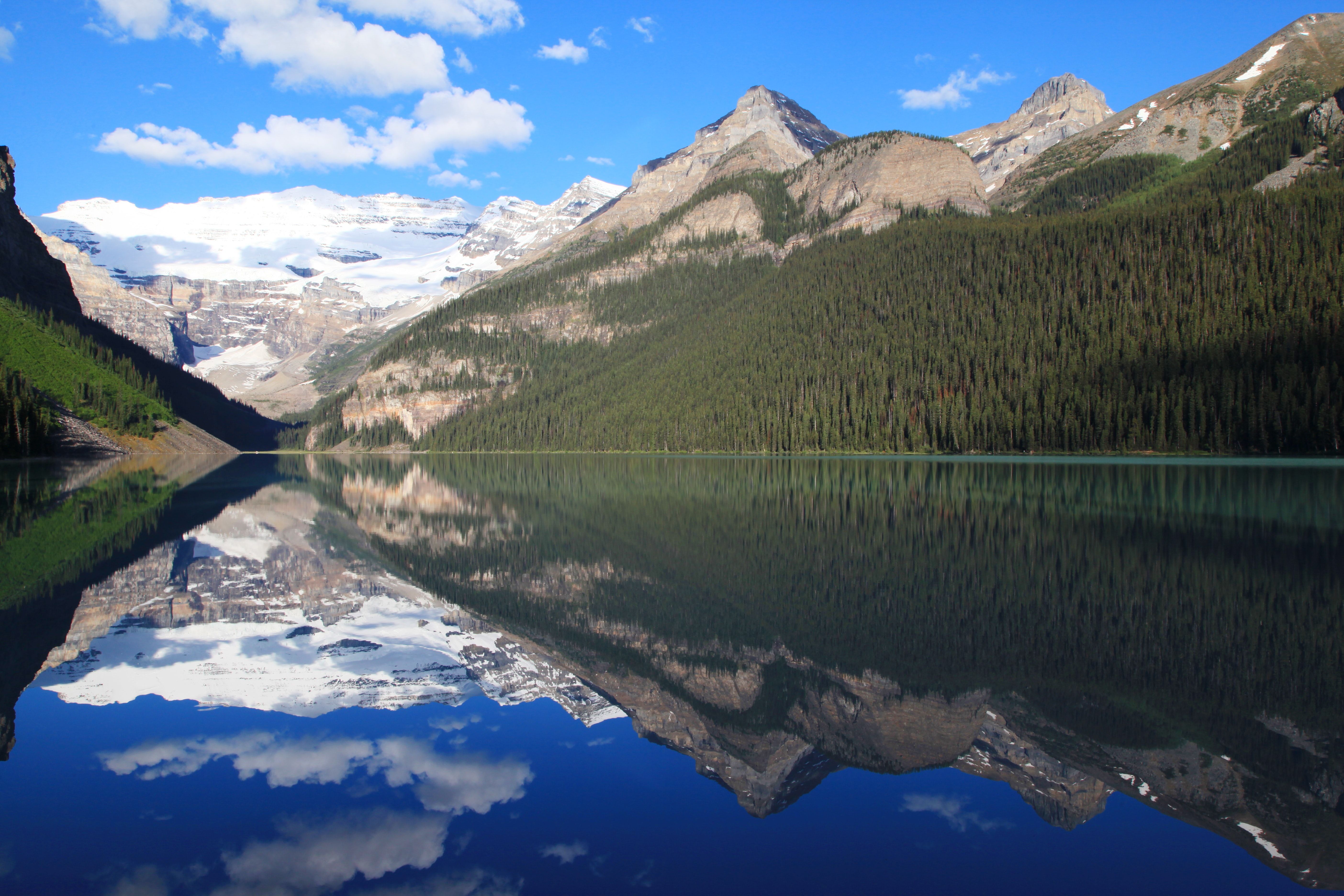 Lake Louise is surrounded by majestic mountain peaks and ancient glaciers.
Located in Banff National Park, Alberta, Lake Louise is one of the most famous and photographed lakes in Canada, drawing millions of visitors each year. It is known for its stunning turquoise color, which is caused by light reflecting off of the rock flour in the water.
The lake is surrounded by the Rocky Mountains and is a popular destination for outdoor enthusiasts and tourists. Visitors can hike around the lake, go canoeing, horseback riding, skiing, snowboarding, or simply enjoy the stunning scenery. It is a beloved natural wonder and a symbol of the beauty and majesty of the Canadian Rockies.
Fun Fact:
At an elevation of 5,200 feet, Lake Louise is the highest town in Canada