Atlantic City is one of the Jersey Shore's best beach towns–and these epic attractions are some of the best (and most exciting) reasons to visit.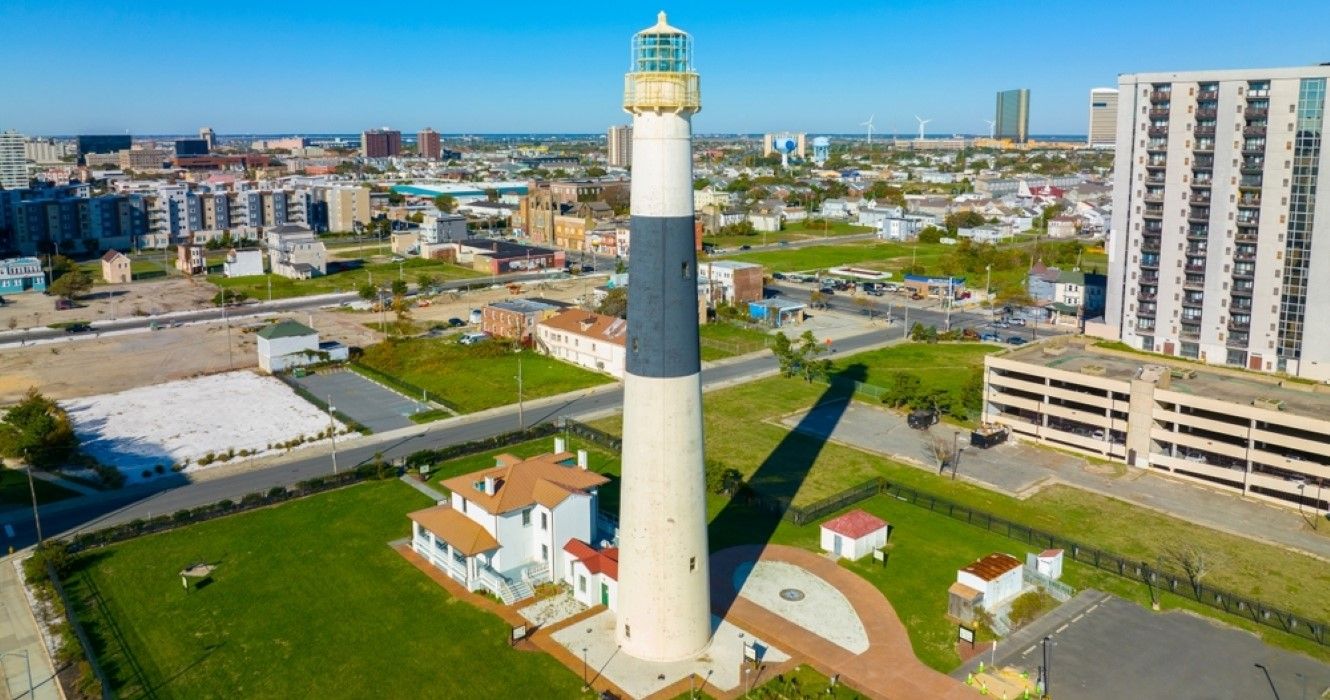 Absecon Lighthouse, Atlantic City, New Jersey
Easily one of the Jersey Shore's most iconic beach towns, Atlantic City has been entertaining visitors for well over a century with its famous boardwalk, glitzy casinos, and scenic Atlantic Ocean location. And while the city's bright lights and grand casinos are packed with top-tier fun and excitement, Atlantic City also has a number of iconic (and historic!) attractions that set it apart as a world-class East Coast destination.
10

Absecon Lighthouse

New Jersey's tallest lighthouse (and the third tallest in the U.S.), Absecon Lighthouse, is one of the most iconic attractions in Atlantic City. Bask in the site's history before climbing the 228 steps to the top to soak up some of the city's most breathtaking views at this AC institution.
Address:
31 S. Rhode Island Ave.

Hours:
Open all year round; hours and opening days vary by season

Admission:
Free to museum, exhibits, and grounds, but Climbing Fees do apply ($10 for Adults)
9

Atlantic City Boardwalk

One of the best reasons to visit the popular NJ beach town is to stroll the famous Atlantic City Boardwalk. The bustling hub for many of Atlantic City's best attractions, including shopping, dining, beaches, entertainment, hotels/casinos, and history, the boardwalk is as iconic as the city itself.
8

Atlantic City Aquarium

A small (but mighty) visitor favorite, the Atlantic City Aquarium is a family-friendly, interactive attraction that's definitely worth a stop—if only for a relaxing respite from the hustle and bustle of the boardwalk (and for the opportunity to touch a stingray, of course!)
Address:
800 N. New Hampshire Ave

Need To Know:
The aquarium is currently closed for renovations and is tentatively set to reopen in Spring 2023
RELATED: First Time In New Jersey? Try Doing These Things
7

The Quarter At The Tropicana

The Tropicana is undoubtedly one of Atlantic City's most iconic casinos—but it's the site's famed destination, The Quarter, that undeniably makes it a standout spot for visitors. Positively packed with a plethora of entertainment, dining, and shopping experiences, The Quarter's Old Havana charm is luxe and dazzling—making it one of Atlantic City's coolest (and larger-than-life) places to visit.
Address:
2801 Pacific Ave.

More AC Shopping:
Tangier Outlets; The Playground at Caesar's
6

Borgata Casino

A larger-than-life hotel and casino whose golden facade makes it a standout on the Atlantic City skyline, the luxe Borgata Casino is a must-visit for those looking for a true luxe AC experience. More than just world-class accommodations, dining, gaming, and nightlife, the Borgata is a true tourist attraction that can't be missed.
Address:
1 Borgata Way

Luxe Amenities:
Onsite Spa; Indoor and Outdoor Pools; Barbershop and Salon; Top Retail Experiences; Charter Flight Program
5

Hard Rock Hotel And Casino

One of Atlantic City's best casino's the Hard Rock Hotel and Casino, an icon of AC glamour and edgy, rock-and-roll style. A true casino giant, this amazing spot is famed for its world-class entertainment and gaming opportunities—but the luxe rooms and top amenities (including a rooftop pool!) are also some of the best on the boardwalk.

RELATED: These Ten Unique Atlantic City Hotels Are Worth Booking During Your Next Visit
4

Steel Pier Amusement Park

A true Atlantic City icon, the Steel Pier Amusement Park is a boardwalk standout whose exciting attractions, epic pier location, and true Jersey Shore feels make it one of the city's most must-visit destinations. Perfect for thrill-seekers as well as visitors seeking family-friendly fun, this high-energy spot is a true piece of Atlantic City history that continues to delight and excite visitors.
3

The Irish Pub

Atlantic City is home to its fair share of glitzy, top-tier dining experiences—however, this bustling beach town also has plenty of historic eateries that are also worth a visit, including The Irish Pub, a true AC icon. Often referred to as "America's Greatest Pub," this historic hangout is worth a visit for those looking for a window into the city's glorious past.
Address:
164 St. James Place at the Boardwalk

More AC Dining Icons:
Knife & Fork Inn; Chef Vola's
2

Storybook Land

Located just a short 20 minutes from Atlantic City, Storybook Land is one of the area's most family-friendly parks and attractions—and is worth a visit if only to experience its quaint, old-timey charm. Perfect for vacationers looking for laidback, low-key vibes, this scenic park is full of old-fashioned family fun.
Address:
6415 Black Horse Pike (Routes 40/322), Egg Harbor Township, NJ

When To Visit:
Summer is the best place to visit to experience all the best attractions; however, throughout the year, the park also hosts a number of special events
RELATED: You Can See (& Play) Atlantic City's Very First Slot Machine At This Casino
1

Lucy The Elephant

The famed attraction Lucy The Elephant is often referred to as one of Atlantic City's top attractions—despite her location in nearby Margate, New Jersey. Six stories high and a spot on the National Park Registry of Historic Places makes the enigmatic elephant a quirky attraction and iconic photo-op that's a must-see for AC visitors of all ages.